This is my second time speaking at this event, formerly known as the Sally Ride Academy. The academies are fairly small, but rich in learning opportunities, and they are geared toward meow learning — learning 2.0.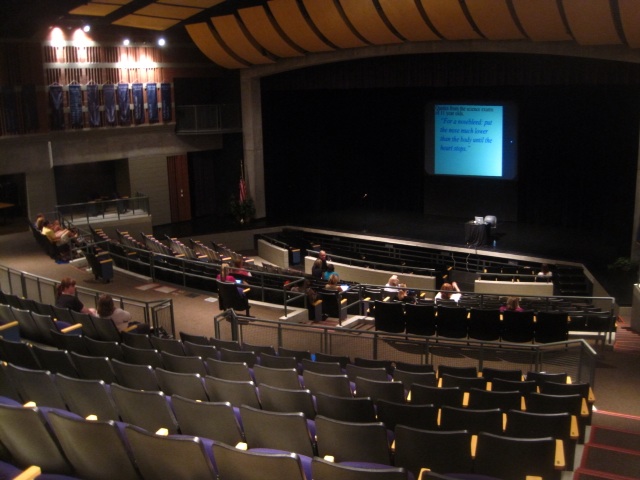 A beautiful venue
Participating educators will learn about learning literacies, and how they can utilize the literacies to engage in ongoing, casual professional development. They will also be exposed to a variety of contemporary information tools, including, but not limited to Interactive white boards (IWB) and other "emerging technology tools," and what they mean to 21st century skills.
But the lion's share of the professional development opportunities are about the learning qand the teaching. Differentiated instruction, assessment, project- problem- and inquiry-based learning, distance learning, and and thinking in mathematics.
I would have all of the participating educators focus in on the learning experience. It is tot easy for use to invent and share wonderful ideas and then fall into the trap of using them to do better schooling rather than empower better learning.
During the 21st century skills conference that I was recently a part of in up state New York a conversation erupted trying to determine the most important 21st century skill. I'm not sure that there really is a most important skill. But it's a worth and useful conversation.
The conclusion was that the mist important skill is learning, that learning is a skill, and since our times seem characterized more by change than anything else, learning will most certainly be something that our children will be continuing to do a lot of. When thinking about the strategies that apply and the initiatives that we implement, we must think hard about the learning experience. Is it a sustainable experience.
My keynote will be about this, the sustainable learning experience, and I'm looking to our students for these. They have grown up in a world of networked, digital and abundant (overwhelming) information, and the it 'native' information experience demands constant learning. What are the qualities of that experience. What makes them so powerful and so compelling? These are some of the questions I will be answering in my presentation.
- Posted using BlogPress from my iPad