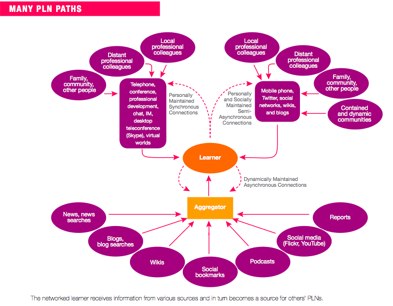 The webinar is over and I can relax.  I get much more anxious about online sessions than face-to-face.
I would just repeat here, an analogy that I made early on, how textbooks (in the old sense) and lectures are like mainlining learning, and how video, animation, and interactive tutorials are like fast food learning — and that none of this is bad.  It's simply not enough — not nearly enough.  We must understand how today's information landscape works and how to work that landscape and its ecosystem such that we can learn from it what we need to know.  It is like cultivating a garden of ideas so that we can learn from it.
Here are some links to resources, some of them I mentioned and some I didn't:
I mentioned a concept map that I used to plan this webinar and also used for the delivery.  I used a tool called xMind, which is a desktop app with versions for Macs, PCs, and Linux.  You can get it at http://xmind.net/.  The xMind maps can be uploaded to their site.  So you can access it here, and there is an embedded version below:
This work, unless otherwise expressly stated, is licensed under a
Creative Commons Attribution-Noncommercial-Share Alike 3.0 United States License
.