It is a pleasure and an honor to be invited back to the Laptop Institute at the Lausanne Collegiate School in Memphis. This is one of those very unique conferences, the quality of which I first saw when I keynoted the state ed tech conference (ACTEM) in Maine a number if years ago. It took me months to realize what was different — what that quality was, even though it was really quite obvious. It was a prevailing sense that anything/everything that was being suggested, introduced, taught, or discussed at that conference could be taken back to the schools and implemented.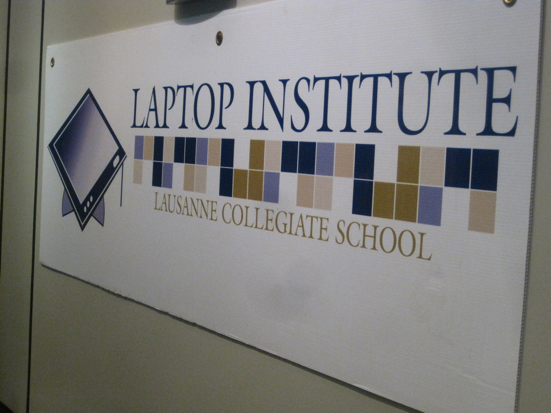 Been really looking forward to this one!
The educators here to Memphis are coming from schools where ubiquitous access to networked, digital and abundant information is assumed. It is a part of the culture of the school. This is a huge distinction in a world — in a country — where most students are still learning via information and communication technology that was invented in the 15th century, and that's if the budget cuts haven't limited access to textbooks.
I find it interesting that I've been asked to give pretty much the same keynote address that I delivered here several years ago. I understand that many of the institute's attendees are here for the first time, coming from schools who send new teachers here every year. But what Intrigues me is that a topic that I first started speaking and writing about nearly ten years ago continues to be a valid and effective target for educators, that learning today should not be done with technology, but with and within a contemporary information environment, one that is networked, digital and information-abundant.
I will also be presenting three concurrent sessions, during each of the two days of the institute. The first will be about something that is often referred to as personal learning networks. It is a set of tools and practices that enable educators to cultivate connections with people and sources of content that help them do their jobs. This is also the topic of my newest book, A Gardener's Approach to Learning.
That will be followed by a session that I am calling Climbing Bloom's Ladder. Here, participants will use an online tool to plot a group conversation about retooling old classroom lessons toward higher order thinking experiences utilizing qualities of our students' "native" information experiences.
At last, we'll have some fun looking at virtual worlds and education. I will admit that I do not enjoy virtual worlds and I'm not very good at them. But out children, especially the younger ones, are coming into our classrooms with a good deal of experience playing and working in these 3D environments. Second Life has more than 13 million residents, nearly a tenth of them having visited the environment in the last 30 days. We can not afford to ignore something that is this compelling.
This work, unless otherwise expressly stated, is licensed under a
Creative Commons Attribution-Noncommercial-Share Alike 3.0 United States License
.