Subscribe
Our Students • Our Worlds
Flat World/Flat Classrooms
Online handouts for a keynote address
Session Description:
For decades, education has been an easy institution to define. It consisted of a set of accepted literacy skills, a definable body of knowledge, and the pedagogies for teaching those skills to willing students who were arranged in straight rows. Today, for the first time in decades (generations of teachers), we are facing the challenge of changing our notions about teaching and learning to adapt to a rapidly changing world. We are struggling to rethink what it is to be educated, to reinvent the classroom, and redefine what it is to be a teacher and a student.
There is much that has changed, and for much of it, we have responded by attempting to hold it back -- to block it. This presentation, by 30+ year educator, author, and technologist, David Warlick, will explore some of these changes and challenges and arrange them as a set of converging conditions that might help us to redefine and retool the 21st century classroom.
---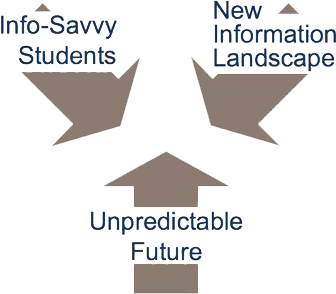 Web Resources
Some Videos You might want to watch to push your thinking
---
Random Resources
---
Three Questions Educating in our Times
In July of 2010, I was one of the keynote speakers for the annual National Principals Leadership Institute in New York City. The theme of the 2010 event was "Exercising Leadership for Our Times" and the conversation was fueled by three questions. In
this short essay
, I attempt to answer these questions from the perspective of the ideas shared in this presentation.
Flat Classroom Energy Sources
Students' Intrinsic need to:
To work in responsive information environments,
To communicate,
To share personal experience & Identity,
To Ask questions,
To Accomplish,
To form community,
To invest themselves,
To safely make mistakes,
To have audience and attention.1
The above list has evolved into what I am calling the "Qualities of the 'Native' Information Experience." It is part of a new presentation called "Cracking the 'Native' Information Experience," where I decode their video game and social networking activities into five qualities, culled from the above list.
The 'Native' information experience is
Fueled by questions,
Provokes conversation,
Is responsive,
Demands personal investment, and
Is guided by safely made mistakes.2
---
Books about Our Student's Information Experience
New Information Landscape
---
This page will list weblogs that mention flat, classroom, and Warlick. If you will be blogging a review or simply sharing your insights about the ideas of this session, please include the words flat, classroom and warlick in the text of the article. Blog entries that mention flat, classroom, and warlick.
1 -Audience Chat, "Our Students • Our Worlds." Miami Country Day School. Multipurpose Room, Miami. 14 Aug 2007. ⇑
2 -Warlick, David. "Technology-Transformed Learning Environments." 2&cents; Worth. The Landmark Project, 12 Mar 2010. Web. 14 May 2010. <http://davidwarlick.com/2cents/?p=2294>.. ⇑
---