I spent a good part of yesterday with a front row seat at the TEDxLondon event held in the acclaimed Roundhouse. But mostly I was in my office, running the livestream through my MacBook air and Tweeting quotes and reflections to my nearly 14 followers on Twitter.
A while back I tinkered around with the code of my personal backchannel tool, Knitter Chat, so that it could capture colearners tagged Twitter posts as well as the audience members' Knitter postings. Just before TEDxLondon started, I crawled into the code and reset it to capture anything tagged with #TEDxLondon between 14:00 and 20:35 London time — and it worked, for the most part.
Anyway, I've been reworking the code on Knitter to handle the volume and export it into Wikispaces, a much more sophisticated wiki service than the PMWiki server that I run. I concluded this morning that neither Wikispaces nor a couple of other high-end community editing tools could handle files of such size, even when divided into three parts for the three sessions. So I went back to my PMWiki server — the one that I use for the backchannel transcripts for my presentations and keynotes.
So here are links to the three sessions. You can edit and insert text if you are not intimidated by the coding. There is a guide at the bottom of the page, if you choose to click edit and enter the password (teacher).
Very Educational!
I also uploaded Wordle word clouds from the three sessions, What's Wrong?, What's Right? and What's Next?
More reflections will likely follow!
NPR calls him an education "technology leading light." Some who know Gary Stager might rather call him an education "bold of lightning," inspiring some and irritating others. Regardless, what ever Gary says, we listen to it — and National Public Radio (NPR) was listening yesterday.
The issue was India's recently announced $35 Tablet for Education, and NPR heard it when Gary tweeted…
Newsflash: India invents schools so its children have a place to store their useless "$35 laptops." #vaporware1
Contacting him as a source for his story (A $35 Tablet For Education? Cost Isn't The Only Factor To Consider)?, NPR contributor, Wright Bryan, asked Gary to expand on the tweet. I'll let you read what he said in the article, which is pretty much what his readers would expect when a fully charged Gary Stager faces any initiative that short-changes learning for the sake of being able to say, "Look how we're advancing education so cheaply."
I want to point you to a part of his statement that really nailed it for me. This short paragraph shows why Gary is so much more of a contributor on Twitter than I am — he can put in a few striking words a quality of ideas that expand my own thinking regarding topics that take me an hour to express on a stage.
He says that a computer,
..especially if it's the only one we can be sure they (students in India) have access to, must be capable of making the poems, musical compositions, movies, radio programs, simulations, video games, scientific breakthroughs and acts of civic participation that we know children are able to create with the right software, support, time and high expectations.2
Boom!
Learning is Work!
..because, today, Work is Learning!
In case you are not reading the comments, last night Gary Stager provided this link to an open letter from Nicholas Negroponte (the visionary behind the the One Laptop Per Child) project.  It was sent to the Times of India.  You can read the text here.
??

Stager, Gary. 24 Jul 2010. Online Posting to

Twitter

. Web. 29 Jul 2010.

[↩]
?

Bryan, Wright. "A $35 Tablet For Education? Cost Isn't The Only Factor To Consider."

All Tech Considered

28 Jul 2010: n. pag. Web. 29 Jul 2010. .

[↩]
I've seen things you people wouldn't believe. Attack ships on fire off the shoulder of Orion. I watched C-beams glitter in the darkness at Tannhäuser Gate. All those moments will be lost in time like tears in rain. Time to die.1

Blade Runner, 1982
Some times I feel like Roy, the dying replicant (robot), lamenting the loss of one soul's experiences — what sites he's seen. We've been witness to some pretty amazing sites in just the last few years, and they have been both tumultuous and exhilarating.
We have been a part of a dizzying array of advances — and yet, change has been just slow enough that we do not see it nor do we think that much about it — amongst our every day endeavors. Of course, this paradox shouldn't surprise us considering that as my country works hard to overhaul its healthcare system, and the world grapples in Copenhagen, to rein in global warming, what holds our attention is the infidelities of a professional golfer.
That said, I feel it is important that we, during this holiday season, be reminded that in the year 2000
You were probably still running Windows 98 on your PC, or OS 8 or 9 on your Mac — on which you were still using Hypercard.
If you used a laptop, you had to plug it into the Internet — and often through a telephone.
E-mail was still THE killer app because there was no MySpace.
To twitter was "to make high-pitched sounds, as of birds."
There was no Firefox, no Flickr, and no Facebook.
The hottest thing going was Napster and the hottest MP3 player was the RIO, from Diamond Multimedia, with 32Mb of audio storage to brag about.  (that's 1/2000 that of today's iPod Touch)
Some of what's happened since 2000 has not been that noticeable, such as genetically engineered corn and applications of nanotechnology.
Some of it, we should have noticed more, such as our exploration of the Saturnian system, and skid marks left on the surface of Mars — and most of our textbooks still call Pluto a planet.
The software that you used came in a box with a paper manual — and you most likely paid for it.
PDAs had a stylus.
No one had a Blackberry or iPhone, and
If you owned a mobile phone — it was just a phone.
You weren't blogging and if you maintained a web page, it was with Dreamweaver or Microsoft Frontpage.
ISTE was NECC and NECC was in Atlanta, and we don't know what was hot, because we weren't blogging it.
We were not worried about China and India, and we'd just gotten through Y2K with hardly a hitch — thanks to people from China and India.
Yahoo! looked like this

CNN.com looked like this

My web site looked like this

..and Google pretty much looked the same that it does now.
Wireless Internet, iPhones, and traffic-displaying GPS would, to many, have seemed "indistinguishable from magic."

What, that we would call astounding (magical) today, may we take for granted ten years from now — and how prepared will the students attending our classrooms today be for that future?

If you were teaching in 2000, then you remember a sense of professional pride, which has been stripped away for political gain.

In 2000, society's most critical endeavor, education, had not yet been usurped by amateurs in Washington, and driven decades in the wrong direction by people who saw no further than the industry-modeled classrooms they'd attended decades ago.
What will 2010 bring? In the next few days, I'll tell you…
Fancher, Hampton, and David Webb Peoples, Script. Blade Runner. Dir. Ridley Scott." Perf. Hauer, Rutger. 1982, Film. [↩]
1872 Portrait photo of John Muir2
As a former history teacher, I think that these conversations with the past — with Tweeple in History — are quite interesting and potentially they are enormous discussion starters in classrooms where discussion is used for learning. A while back I wrote about one that involved John Adams diaries posted on Twitter on the days of the entries during "..a diplomatic trek to Russia as U.S. minister."
I just learned that Calisphere, a service of the University of California with free primary source materials aligned with the California content standards, will offer a similar tweet trek in the voice (text) of John Muir, the California-based naturalist.

For one week in December, Calisphere will quote portions of the letters of renowned California naturalist, explorer, writer, and conservationist John Muir (1838-1914) on Twitter and Facebook.

Hear John Muir in his own words as he travels to California, encounters Yosemite for the first time, and struggles to preserve the open land he made his home. Starting December 1, for a week Calisphere will quote portions of the letters of the renowned writer and conservationist on our social media pages. Each installment or "tweet" will contain a segment of Muir's stirring prose and a link to the original document and transcript.

To hear Muir's story, become a fan on Facebook (www.facebook.com/calisphere) or follow us on Twitter (www.twitter.com/calisphere). Not a member of either network? No problem—both accounts are open for viewing by all.

This online event aims to engage students, educators, and the general public with the recent online publication of more than 6,500 of Muir's letters—a joint achievement of The Bancroft Library at the University of California Berkeley and the University of the Pacific Library. 3
Powered by ScribeFire.
4As a former history teacher, I think that these conversations with the past -- with" data-image="http://upload.wikimedia.org/wikipedia/commons/d/da/Muir_portrait_1872.jpg" data-site="2¢ Worth">
It's one of those ideas that has occurred to me during those moments when a perfect example presents itself, but then loses itself in the stack of other ideas of similar birth and death. But here, at the beginning of the school year (at least in the Northern Hemisphere), it seems like a good time to suggest Blog Worthy Topics. I'm thinking specifically of learner blogs, classrooms where both teacher-learner and student-learner are blogging, and sometimes looking for topics for writing, sharing, and engaging about.
So I want to suggest a Twitter hash tag, #bwtopic. I just did a search of bwtopic in Twitter and it appears to be a unique string.. So, as you encounter a newspaper or magazine article, blog post, speech, YouTube or TED video, or whatever, that seems like an appetizing topic for learners to explore and build on, then Tweet it with the hash tag #bwtopic.
We can follow the suggestions via RSS. Here is the feed (Atom) for a Twitter search for #bwtopic.
http://search.twitter.com/search.atom?q=bwtopic
I'll be posting this feed on the Class Blogmeister Ning network, so that teachers there will have ready access to the latest topics.
Powered by ScribeFire.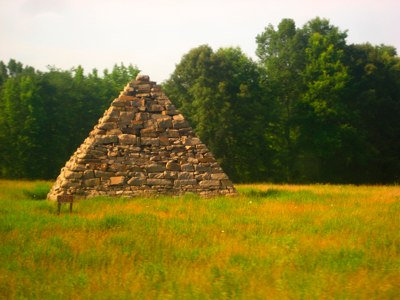 Meade's Pyramid
I used that setting on my camera that take multiple shots, and this is the only one that came out nearly clear.  I've seen it before, but, out of curiosity, I Twitpic'ed it this morning to see if anyone knew what it was.  Here's what I learned.
There is a Civil War memorial near Fredericksburg, VA that is a twenty foot high stone pyramid. It was built in the 1890′s by a railroad company to commemorate the Confederate victory there in 1862. It is right next to the auto-train tracks. It's far away from where the National Park Service wants you to look at it, across a ditch and the railroad tracks. It might be possible to get closer to it, but I have never tried. I think Amtrak has a fence up and the pyramid is either on Amtrak or private land.1
This information was contributed to RoadsideAmerica.com by Willie Zaza in June of 2001.  Someone else added this later.
It's known officially as Meade's Pyramid. It stands 23 feet tall, is built of granite, and was erected in 1898 by the Confederate Memorial Literary Society, who originally just wanted a sign. The railroad vetoed that idea, so the Society built a 17-ton pyramid.
What I find interesting is that I learned of this, in less than ten minutes, by way of Jo Fothergill, from her home, in New Zealand.
Who says learning has changed!
"Mysterious Confederate Pyramid." RoadsideAmerica.com. 14 Jun 2001. 27 Jun 2009 <http://www.roadsideamerica.com/tip/3837>. [↩]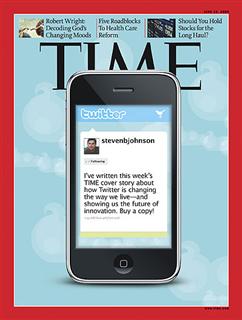 Yesterday, while waiting in line at the Harris Teeter, with the various items Brenda had texted to me, I was mesmerized by the Time Magazine cover to the right. So is Twitter "…changing the way we live?" I was awakened when the cashier started waving her arms to get my attention and as she checked through the milk, broccoli and my special blend of nuts and rice crisps, I mentioned that I was intrigued by the Time cover story on Twitter. She said, "I don't do it. I don't even know what it is."
So it probably isn't changing the way that we live, in any substantial way, but it is a very useful, and for many, a very essential tool for sharing and learning.
There are many ways to describe Twitter — none of them foolproof. But in the context of this series, it would probably be most useful to say that Twitter is micro-blogging. When we blog, we type what we want to say into a textbox, submit or publish it, and our message is available to a global audience.
Twitter works exactly the same way with just a few differences. First, and perhaps foremost, Twitter messages (or tweets) are limited to 140 characters. So the messages are short, taking little time to write and little time to read. Another distinguishing feature is that you can not comment on tweets in the same way that you can with blogs. However, you can reply to specifics tweets, which automatically places @tweeter in the message, tweeter being the user name of the person who posted the original statement.
Another important difference is that although tweets are technically available to a global audience, under most circumstances, the only people who automatically receive your tweets are people who have clicked to "Follow" you. This concept has created an interesting authority dynamic, where your "importance" is based on the number of followers you have compared to the number of people you follow. The formula is flawed in a number of ways. For instance, I do not follow very many people, 62 at present. So my importance is deceptively high. But it is interesting, none-the-less, this sense of measuring and drawing meaning from our information landscape.
So, the first thing you have to do is to set up a Twitter account. Here is a YouTube video that will walk you through the process. It's easy.
The second thing to do is to start following some people. There are a number of services on the Internet that can help you find people to follow. Twellow is essentially a directory of Twitter users. Click [Browse] and then click [Education]. This reveals a number of subcategories, such as e-learning, educational toys, teachers, librarians, etc. If you are a librarian, clicking that subcategory will list the nearly 5,000 school librarian Twitter users, listed in order of their number of followers, so those at the top of the list, with thousands of followers, may be good folks to follow — initially.
Another service called Twits Like Me actually match the nature of your tweets to those of others, intelligently suggesting potential friends to follow. Make sure you are logged in to Twitter, and then type your username into the Twits Like Me textbox and click [Who is Like Me]. The service kept timing out for me so there may be a significant problem with the service — or it may have just been me. You might also try MrTweet. I've only just signed on, so we'll see how it goes.
For the purpose of the upcoming National Education Computing Conference, we can find people who are already tweeting about it, by going to Twitter Search. This is a search engine for the Twitterverse, and typing in necc with a click of the [Search] button reveals a list of the most recent Twitter messages that mention the four letter string. Scan the messages, looking for people of interest. Click their usersname and in most cases you be able to read all of their recent tweets. If it looks like someone who might help you have a better NECC experience, then click the [Follow] button just beneath their icon.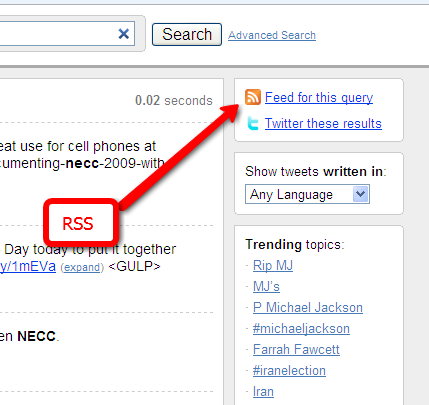 ..and here is the power of Twitter — that the entire conversation can be searched for the latest that is being said on virtually any topic. And if you have been following me, you've probably already trained your eyes to catch the little orange RSS symbol. So we can follow tweets related to NECC as well as blogs. Below is my NECC Netvibes page with NECC tweets coming in.
Following your Twitter conversations can be difficult. Fortunately, you are not limited to continuously updating the Twitter web page. There are a number of third-party applications, Twitter apps, that monitor your Twitter account for you, notifying you of new tweets from friends. The Twitter web site has a listing of applications here, one of which I am especially fond of, called Tweetdeck. In fact, I think I learned about this application at NECC last year.
Tweetdeck offers versions that run on Macs, Windows, Linux (a bit of a bear to install), and now for the iPhone. Like most clients, it will list tweets from the people who follow you, and enable you to post your tweets through the application. However, Tweetdeck is unique in that you can create additional panels to list other categories of tweets, such as replies to your tweets, your direct tweets (Twitter message posted directly and privately to another users — d username). You can also have a panel for specific Twitter search results and Tweetdeck recently added Facebook status updates. The application pretty much takes over your entire screen and adds to my near-constant lament — "Too many channels!"
But, hands down, Twitter will make NECC a more valuable experience for one and all.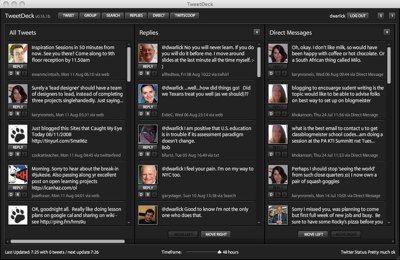 Click image to enlarge...
I've only got about four minutes before I head over to the school (after six hours of delays yesterday) :-(
But I had to stick this one out there.  I'm probably way behind on this, but it could, upon further exploration, change my Twitter habits.  I confess that I don't have it on all the time.  I don't Tweet a lot.  For me, Summize (now search.twitter.com), has turned this global, runaway conversation into a research tool.
Enter Tweetdeck.  This interface seems to do an excellent job of dividing out my conversations.  One column for general tweets, one for replies from my tweets, and one for direct mail tweets — and there's room for more columns.
Can't wait to work with this one more, but got to go catch my ride.
Added Later:  BTW, the URL for Twitterdeck is:
http://www.tweetdeck.com/beta/