Click the word cloud to enlarge
NCTIES
is my state's
International Society for Technology in Education
affiliate (
ISTE
). It stands for North Carolina Technology In Education Society. They will be holding their annual conference this week at the relatively new Raleigh Convention Center. In the last few years the state capital's downtown has become a descent place to hold a conference. More restaurants, museums, night life and many more people living downtown, making the streets safer.
I finally went through the conference program yesterday and was struck by several trends that seemed apparent during that scan. So I thought I'd spend a few minutes this morning doing a casual frequency analysis.
Number of term mentions in the conference program
Term
2012
2013
Trend
SD
Game, gamilfy, etc.
14
73
3.5
iPad or iPads
34
68
2.1
apps
25
49
1.5
Common Core
15
42
1.6
resources
72
42
-1.8
Web 2
67
34
-2.0
play
6
34
1.7
Professional Development or PD
65
34
-1.9
free
37
33
-.2
engage
33
33
.0
Google
61
32
-1.8
1:1
77
30
-2.9
Apple
8
22
.9
Collaboration or Collaborate
24
22
-.1
Twitter
10
15
.3
iOS
14
14
0
tablet
5
13
.5
blog
28
11
-1.0
Minecrqaft
0
8
.5
Android
2
1
-.1
laptop
11
1
-.6
In a casual counting, I found 205 concurrent presentations being made during the conference including the student showcases and not including the two keynotes. Of those 205, 51 of them (24.5%) are being delivered, at least in part, by vendors. 35 are being delivered by presenters representing elementary schools, 20 by presenters from middle or intermediate schools, 15 from high schools and 14 from universities. I am especially happy to see so many presenters from five of our state supported universities, two private universities and one community college.
The happening place in North Carolina seems to be Rowan-Salisbury Schools with 14 sessions being facilitated by 33 district educators. Also notable is Union County Schools with 7 sessions and 18 educators.
I'm doing one session. But hopefully, I'll be setting a productive tone for the conference.
I'm looking forward to seeing old friends at NCTIES
Added March 5
I finally found a list of last years presentation descriptions, and searched for the frequency of the terms in this table (above and left). I inserted a column for the 2012 conference and then added a column with arrows to indicate the trending up and down. To quantify the change, I added a final column with the number of standard deviations of the total change. This sounds like I know more about statistics than I really do.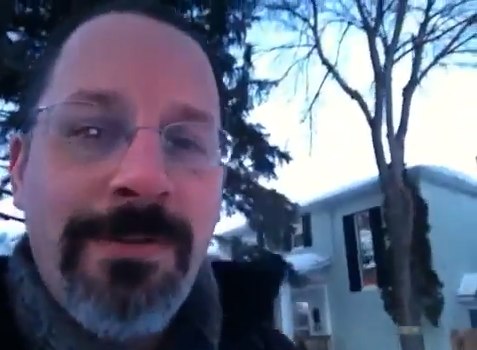 Darren Kurpatwa delivering his WhileWalking episode 73
My friend, Darren Kuropatwa, mentioned me in one of his "WhileWalking" video reflections, referring to one of the conversations we had at Educon last week. I love his new reflections series for many reasons, not the least of which is the delightful sound of Canadian snow crunching as he walks.
In that conversation, on the last day of Educon, he told me about how students were using Google docs in preparing their presentations and how convenient it was that Google built in an image search tool that returns only Creative Commons licensed media and even includes citations for the images that can be pasted into the document.
I was less than thrilled about this and Darren, in his reflection, wonders why. He's asking if there is a relationship between my reluctance about Google's bundled services and why many educators resisted their student use of calculators decades ago. It's an excellent question, which I guess is why it occurred to Kuropatwa, while tundra-walking.
There is a very real relationship between the emergence of calculators in the early 1970s and the rise of the World Wide Web, dynamic search engines, and smaller useful information tools like Creative Commons licensers and citation generators. But to understand why I feel Darren's described scenario is, in ways, counter to the mission of education, I need to briefly define that mission, as I see it.

A sliderule like the one I used as a high school student
A continuing factor in my own reflections is the fact that from my time as a high school student to the waning years of my career as an educator, the tools for working with information have advanced from sliderules to tablet apps – an astounding revolution in information and communication technologies, from sticks to chips. Our mission is to prepare our children for jobs, lifestyles, tools, processes, problems and goals that we can hardly imagine. We're preparing them for the unimaginable.
I am certain that their lifestyles will be (is) fueled by the daily practice of learning and that the mechanisms of that learning will be constantly and sometimes rapidly evolving.
Many of us were fairly certain that calculators would be a prevailing information processing tool in our students' future, as we know that our children's future will continue to afford them a vast and dynamic aggregation of information – that also obliges them to new and interesting ethical responsibilities.
Each of these advances in information and communication technology warranted a role in our children's formal (and informal) education.
Now, my objection to Darren's scenario has little to do with Google's purported desires to dominate the world of information, or even the fact that Google has made research, production, and attribution easier – as was implied in several tweeted responses to Darren's post. We should probably be concerned about the dominance of one company in any realm of interest, but there's nothing wrong with "easier."
What concerns me is how these tools might be packaged to help children do school work, at the expense of helping them learn to use information to do real work.
If Texas Instruments had created a curriculum-friendly calculator, one designed to help children learn math, as apposed to using math to work numbers, then I might have had the same objections – though I can't confidently speak for the 22-year-old me.
What I believe today is that our children need to be developing a learning lifestyle, with the skills and habits of utilizing a tumultuously shifting and advancing information environment and the unimagined opportunities that an unwritten future provides. This is the mission of education.
Darren has invoked the best word for my thinking, that learning should be be "deliberate," as deliberately authentic as possible.
Kurpatwa, D. (Performer) (2013, February 7). Whilewalking 73: Should we be deliberate?.WhileWalking. [Video podcast]. Retrieved from http://www.youtube.com/watch?
Before Educon's conversations begin, we get to spend the day at the Science Leadership Academy (SLA), attend an evening panel discussion at The Franklin Institute (see Pulver) and see the opening keynote address – this year it was Philadelphia's new Superintendent, Dr. William Hite.
..and I'll say here that among the many regularly scheduled annual educator learning events, Educon's unconference is probably the richest experience, anywhere, anytime. This is not to say that regular conferences with presenters and keynote speakers are not valuable. They are essential, because they facilitate opportunities for learning that Educon does not. But to listen to smart people and to be able to push and pull on what they are saying, well, it just wrinkles my brain.
Master photographer, Kevin Jarrett, captured this picture of me and Joyce Valenza catching up.
One of the greatest features of Educon is the chance to catch up with friends, whom we see almost daily in the networked eduverse, but with whom we rarely get to shake hands, huge, and enjoy extended conversations, unconstrained by 140 characters limits – and that's not to say that we ever get to finish our conversations at Educon, because there are always new ones that attract our attention.
We also get to visit classes and talk with SLA teachers. I especially enjoyed talking with Matt VanKouwenberg, about his engineering classes. His process reminded me of the vocational education classes I took in high school, how we all learned many of the same lessens by working on distinctly different projects. He told me that each class starts with a few minutes of sharing, where each student or team reports on where they are, barriers they are facing, and what they are learning (think the first five minutes of each episode of LA Law). He said that it often surprises the students to discover the similarities in what they learn, regardless of what they are working on.
I also enjoyed talking with one of my favorite SLA teachers, Meenoo Rami, an English teacher. Rami teaches a class about Storytelling, which appears to be not about fiction writing, but about how we use stories as a device for communication. I think that this is an often overlooked tool for expressing ourselves, even by many of us who are supposed to be master communicators. Too often I hear keynote and featured speakers simply telling us what to believe, rather than helping us discover our own beliefs through plot and surprise. Never underestimate the power of a good surprise.
Near the end of the Friday night panel discussion, Pulver said that, "The future is unwritten!"
When considering our challenges as educators and the future challenges of our students, we must come to believe that anything is possible. We're not preparing our children for the 21st century. We're preparing them for the age of opportunities, when almost any problem can be solved and almost any goal can be accomplished. This affects so much that is involved in formal education.
[click to enlarge]
While claiming my best seat
(its that hearing thing)
for one of the first conversations, and reflecting on Friday's panel and Saturday morning's keynote, I quickly drew up the diagram on the right. Even though, at the highest levels, we'd all deny it, our job, now, is to prepare our children to take tests. Education has become a competitive endeavor, pitting nation against nation, state against state, district against district… and the point system for that competition is test scores.
This implies a purpose behind education that has little to do with an age of opportunity. Instead students learn to read in order to follow instructions and to learn in order to fit in to someone else's competitive machine. To be ready for an age of opportunity, children must learn to read so that they can learn to do something that they couldn't do before and to learn in order to make their own machine.
One of the greatest ah ha! moments of the event, was when Philadelphia Schools Suerpentendent, Dr. William Hite said, "Today, teachers do not need to be content specialists nearly as much as they need to be context specialists."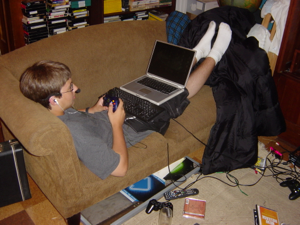 Plugged in with iPod, head set to communicate with game guild members, game controller, game keyboard to text players without broadband, and a laptop for IMing.
Several years ago, I wrote a blog article describing a picture that I'd taken of my son, in the TV room, wrapped up in his "technology." I'm including the picture here, since he is no longer a minor and I can no longer so easily peak in on his techventures.
In the article I suggested that it wasn't technology that defined his experience nearly as much as it was the information that he was playing with. It continues to be a central theme of my work, that it's a new information experience we should be facilitating for our learners, not simply applying technology to old teaching pedagogues.
A few days ago, an old friend from my state agency days, John Spagnolo, gave me reason to revisit that article, when he commented with some questions that got me to thinking.
Among them was:
How have "smartphones" and cellular connectedness changed the nature of information over the past 8 or so years since this was written?
I think that one significant change that has occurred over the past seven or eight years, is that I, and many other seasoned adults have, for various reasons, begun to utilized this networked, digital and abundant information environment. I often say to friends, as I slip my phone back into my pocket, that we live in a time of no unanswered questions. The answer is almost certainly waiting in our pockets or on our laps. My cellular iPad has become a welcome and valued companion as my wife and I drive across North Carolina to visit with family and old friends. It helps us to continue conversations about the news, movies, the best route around Charlotte and settle minor arguments.
For my son and daughter, I suspect that their use of these connective tools has not changed significantly over the past several years. They cultivate networks of friends and acquaintances, which have probably grown with my daughter, whose interested have expanded, and grown smaller with my son, whose interests have narrowed and become more focused. They use Twitter more and Facebook less, and are probably more likely to be interacting with friends via a specific application, such as a game or Pinterest category.
I also wonder if, in many instances, we might be finding more creative ways of using this new info-landscape than our children.
Spagnolo also asked,
How does your son connect to and interact with his information today?
I suspect that both of my children interact with information more through games and through specific applications. I was so terribly disturbed a few years ago when smart people started suggesting that the Web was dead, that apps were changing the way that we used the Internet. But apps have certainly changed the way that my children use information and I find myself preferring to use Amazon and Craigslist apps instead of their respective web sites.
Apps have become an intriguing new avenue of economy, that I've suggested to me son, where people are making a living by designing highly specialized and compelling tools for using and playing with information.
Finally, he asked,
Has the nature of information influenced the emerging "appropriate technologies" like the digital learning object called an iBook?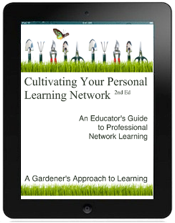 My knee-jerk response is, "Not nearly enough." This current push toward digital textbooks, urged on by our Secretary of Education, concerns me. I worry that we're engaged in a race to modernize schooling, rather than a sober and thoughtful imagining and designing of learning materials and practices that are more relevant to today's learners (ourselves include), today's information landscape and a future that has lost the comforts of certainty, but become rich with wondrous opportunities.
What I enjoyed, though, about my experience in publishing an iBook was learning to hack some features into the book that were not part of Apples general instructions for using their publishing tool. This is the ultimate opportunity of digital learning objects and environments, that they can be hacked into new and better learning experiences by information artisans who see what's there and what it can become.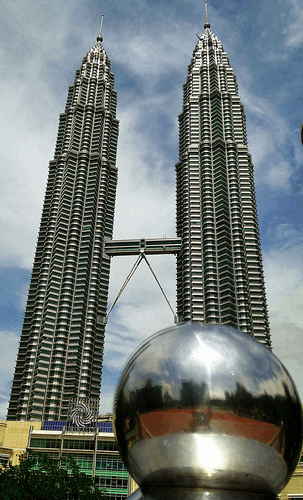 My reflection is fuzzy, but what's up ahead is clearly promising.
It is customary for us bloggers to write a year-end article, announcing our top ten "whatevers" for the year just ending. I've read some good ones written by smarter and more aware people than me. I would point you particularly to the series at Hack Education, written by Audry Waters – who is a true ears to the ground educator/journalist.
Me? Well I just haven't been paying that much attention, applying myself more to specific production projects, including, but not limited to the 2nd edition of Cultivating Your Personal Learning Network (print | Kindle | iPad). Teaching myself to create an interactive iBook has been one of the most authentically enlightening educational experiences I've had in a very long time.
At any rate, at this point in my so-called career, I'm not apologizing for spending my time doing what I feel like doing. So, being less than qualified to list the top ten of anything for 2012, (did I mention this, or this, or this?), I'm going to come at it from a different angle.
Here are my hopes and wishes for 2013!
I hope that we come up with a better target phrase than, "preparing our children for the 21st century." It's so 20th century, and we have, after all, got more than a tenth of the new century behind us.
I hope that we can articulate a clearer distinction between personalized learning and differentiated (individualized) instruction. To often, when I hear people discussing personalized learning, they are actually talking about instruction. One is about becoming and the other is about being done to.
I wish that we would really start using our hands more, that this whole maker subculture, some how, starts to become an integral and defining part of the culture of schools. Let's replace our 30 pounds of textbooks with a tablet computer and a kit of personal hand tools.  
I hope that we learn to bring fun back into learning, by recognizing the learning that happens when we're having fun.
I wish that the institution of education would stop taking itself so seriously. Our efforts to make ourselves more important by introducing complexity into the process just makes teaching less enjoyable — and it irritates the customers.
I hope that teachers and administrators find ways to purposefully learn more and learn more in front of their students. ..to become "public learners."
I hope that we get digital content right and not simply convert it to digital. I wish that we could stop using the term "textbook" and find something less suggestive of a teaching object. What would you call a learning object?
I fervently hope that we find a way to redefine and assess mastery, not by counting right answers, but by observing what students can accomplish by using good answers.
I wish that schools of education could stop preparing prospective teachers for a 30-year career by simply readying them for a typical classroom of today. We need teachers who are ready to adapt and adopt almost any opportunity that arises, willing and able to retool their classrooms every day. The best we can do is to prepare prospective educators for the first five years of their career (at best) and assure that they are skilled in persistent and self-directed professional development.
I wish that we might begin to see that the mission of education should not be our assurance that every student successfully learns the same things. It should be our assistance in helping every student discover and become the best person that he or she can be.
Here's to an enlightened new year!
Wonder
I've played this card before and do so often in my talks. It's a way of establishing some credibility from a not so surprise corner — my age. I've long believed that part of my appeal as a speaker is that I'm this sixty-year old guy saying these radical things, instead of a thirty-something, representing a new and strange generation. It goes something like this.
"When I entered the classroom, as a history teacher, the personal computer had not been invented. Calculators cost $200 and they were advertised as 'A Gift for a Lifetime.'"
But if it had been suggested to me back then, that within a few short years I would be working with desktop computers, and within as many short decades I'd be typing this on a black slab of metal and glass, on a keyboard that magically appears and responds to my touch — well, it would have seemed FANTASTIC!
Oh readers of mine, there seems little reason to believe that this rate of rapid change will end any time soon. Technological advancement will continue — and more importantly will be the increased opportunities for new ways to work, play, live and love — and perhaps even new reasons to recognize the humanity in all of us.
A few days ago I wrote a blog article about what I was taught in school that I've never needed to know. My intent was to suggest that there is much that we require our children to learn today that they will never need to know.  This challenges us as we try to authoritatively answer their perennial question, "Why do I need to learn this?"
Among the answers I received were, "So you can read a newspaper or instructions at work, write letters to the editor, to friends and family, and make change." I learned so that I could work and participate in a mid-twentieth century democratic community.
What if my teacher had said, "Because one day, you will be writing books." "One day you will be programming computers!" "One day, for just about everything you do, you will need to learn something new." It would have seemed FANTASTIC!
..and this is the critical element that our institutions of education have missed or ignored –– that we are preparing our children for the FANTASTIC!
It's another theme that runs through much of my writing and speaking, that, "We are, for the first time in history, preparing our children for a future that we cannot clearly describe." The conclusion that I usually draw is that, "The best thing we can be teaching our children, is how to teach themselves."
What do we teach them to be prepared for the FANTASTIC?
"We need teach them WONDER!"
It's why so many of my generation have so much difficulty with all this change. We don't have WONDER. ..and without WONDER, we fall back on fear and betrayal.
Yet, our schools are required to teach, under the pressures of short-sighted, government-mandated, high stakes tests, that our children's world is a known place, with few surprises, and fewer unamswered questions. Their school is a place where we provide answers and our children's questions and curiosity are mostly ignored — at best.
You can't test WONDER.
My solution?
Flip the classroom.
But I'm not talking about just flipping when you teach and when you re-enforce. Its more fundamental than that. Ive often questioned the sense of making students learn the math and then giving them the word problems. We should, in almost all disciplines, start with the word problems, and then help our learners develop the skills and habits required to fulfill their wonder. Help them invent the math that solves the problem, invent the grammar that conveys the emotion, explore the geography and history that explains why, discover the science that fulfills the WONDER.
You can't test that.
But I think you'll have graduates who are ready to own their future.
I'm getting old and starting to reconsider some of the positions and issues I've tried to champion over the years.
I was reminded of this last night, while Michael Coghlan, from Adelaide (where it was the next morning) was interviewing me for their Design for Flexibility project. At the end of the interview, he asked if I had seen the landing of the Curiosity Rover on Mars and the reactions in the control room at JPL. I said that I had and then went off on this old-man reminiscence about "back before satellites, when we hadn't even seen the Earth from outer space, and now we carry around in our pockets, blah blah blah."
Then he said, but did you see the excitement, hear the yells of triumph, the hugging and hi-five'ing — and I realized that I had missed his point entirely. These really smart people had worked for months, together, breathing the same air, experiencing the same thrills and let-downs, listening the the vibrations of their actual voices. Not only would these engineers have been unable to celebrate their accomplishment in such a way and with such zeal if they had all been working remotely and virtually, but they may not even have wanted to.
Many of us become excited and energized by the magic of technology — and rightly so. But we must be careful that living and working through networks should never be our preference. It should be the alternative that enables us to bridge gaps, to accomplish things that we never could before.
We should cherish and celebrate the electricity of eye contact, the warm affirmation of a smile and the agreement, even if to disagree, that a handshake acknowledges.
I've set about writing several takeaway blog posts in the last few of days and never getting to finish them.  So I guess I'll just write this one big one.
First, I mentioned to a number of people at ISTE about my plans to gradually scale back my traveling and start searching for my next passion – over the next five to fifteen years. However, after this conference, reflecting on the conversations, presentations and panels, keynotes, and especially factoring in the changes in how conference attendees use their own ICTs for learning there — well, what could possibly compete with this.
There is so much left to do — so many trajectories that we need to change. As Zhao asked, "Why are we (USA) reaching so low?"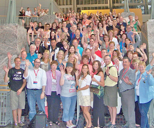 The SocialEdCon (formerly known as the EduBloggerCon) began with casual conversations among people we knew and people we didn't know. I had to sympathize with Steve Hargadon's having to reign us in to a slightly more structured set of conversations.
My first was prompted by "What do you think when you hear the term 'educator entrepreneur'?" The prompt was mine, and the question was poorly asked. I learned that the word, entrepreneur, has connotations that I had subconsciously suppressed, namely that people think that entrepreneurship is typically practiced for the sake of profit. I could make a case for different kinds of profit – and one of the participants shared her business card, which had  printed on it, "Edupreneur." One of my takeaways was a list of qualities of the educator entrepreneur (if I might continue to use that term). This is by no means conprehensive, and its value is in the fact that it came out of a conversation. Educator-entrepreneurs are,
Self-directed
Take control of their time
Model their entrepreneurship for their students
Do not make excuses
Take responsibility
It was also agreed that there should be three goals of the educator-entrepreneur:
To make their classroom a place where the community wants to be
That children are learning things that their community didn't know – and wants to know
That they help their students to brand their classrooms
I also attended a conversation about how to make education "trend" – and realized, once we got into it, that we were covering some of the same territory as a similar conversation last year. My new take-away was how Facebook can, and has, become an effective way of extending the education conversation into the greater community, as educators are frequently friended by people who are not educators. I was also reminded of my own conclusion from last year, that the "media" is doing little to help us — and that perhaps we should be competing with the media for ears and eyeballs through the new avenues and compelling communication tools we have increasing access to.
Yong Zhao was nothing short of phenomenal. He didn't really teach me anything new, but I come to these conferences for new language and new stories, and he more than satisfied me. I was especially impress by his description of the Easter Island statues. In his telling, the statures were built to impress, but their construction used up the island's resources, resulting in their society's decline — No Stone left behind.
Yong is very good at telling stories, whose real meanings do not emerge until the final punchline. Ewan Macintosh said that its a story with two punchlines. Zhao's message was simple. "Why is china not celebrating?" And, "Why have we lowered our standards to compete with Shanghai?"
I could go on with more sessions that I attended and conversations I had, but one of the aspects of this annual conference that always intrigues me is the "buzz." What was the buzz of the ISTE 2012? I asked a few people I respect for their thoughts, and the most common response was Flipped-Classroom. Although there were several sessions about the topic (almost as if any proposal, mentioning the concept, go accepted), the flipped-classroom has been around for a few years.
I'm not sure it could be called "the Buzz," but ISTE12 might be thought of as the year that personal fabrication or 3D Printing fisrt made a commanding appearance. There were a number of exhibitors who featured related software and hardware. Wednesday also saw a fabrication playground that drew a larger and more enthusiastic gathering than any of the others, in my observation.
I wonder if Personal Fab may be a next big thing — and that's not just in our classrooms.
I was scanning through an infographic the other day from Occupy Educated, called "The Illusion of Choice." It tells the story of how six media giants control 90% of what we see, read and hear.
Because you're curious, they are GE, Newscorp, Disney, Viacom, Time Warner and CBS.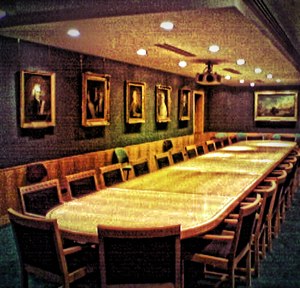 Is this where the future of education is being planned –  corporate boardrooms?
I could go on and on, as many have already, about the threat this poses to a nation, formerly known as "Democratic."
But – might there come a time, when we see at the bottom of this infographic how 90% of our schools are controlled by, say, three corporations, three boards of directors instead of local boards of education.
Thousands of educators, from around the world will be gathering in San Diego next week to share, teach and learn, tell stories, celebrate, eat and drink and leave, knowing more about supporting their students in their learning journeys. We'll be talking about pedagogy, emerging and cool technologies, school and classroom management, creativity and games, and our students – and how to motivate them to want to make learning a lifestyle. We will also share stories about the multitude of barriers we face in promoting a progressive retooling of our classrooms.
But I have come to worry about a greater threat to the democratic foundations of education, a threat so big, so strange, and so insidious, that it is going largely Un-noticed.  It is so large and comes from such high places that I hesitate to do more than whisper it.  I am not a cynical person.  But people whom I admire and respect have gone this far and for some time now – and I will too.  I fear that there is, and has been, an organized and orchestrated effort by people in high places (and low places) to privatize education in America – to take over our classrooms.
Let's look at this from a corporate entrepreneurial point of view.  According to a recent U.S. Census report, funding going to U.S. "public" schools in 2008-2009 totaled 591 billion dollars, with $55.9 billion coming from the federal government, $276.2 billion from states and $258.9 billion from local sources.  In many powerful circles, that translates to almost 600 billion dollars that are certainly being poorly spent by the "government" – and with zero bankable profits.
We're being convinced that:
The U.S. is falling behind other nations in education – that  our schools are failing.
The success of schools and education can be precisely measured and quantified by a corporate testing industry and the constant testing of our children.
Teachers, protected by labor unions, do not know what they're doing.
Business can do it better.
Each of these are so easily debunked.  But exposing their fallacies does not tell a story, and stories are what we need.  Are you a story?  Are you successful in your work and happy in your family and friends.  If so, then YOU are the measure of the success of your education – not the tests you took 5, 10, 15 or 40 years ago.
For me, I'm going to ISTE to find new language and new stories for proving that the purpose of education is not to prepare our children to be weighed and measured at the end of each year, but to prepare them for their future – and in ways that are as exciting as their future has the potential to be.
Oh yeah!   I'll also be looking for cool new tech.
I spent Wednesday morning at the "Every Teacher Every Learner" conference in College Park Georgia. The event was organized by Woodward Academy and mostly for private school teachers from the area. I talked about contemporary literacy (learning-literacy) and about new pedagogies.
In reviewing and commenting on the backchannel transcript this morning, I ran across a comment/question that deserves a little more exploration here. The question was:
"Should the tools and environment drive the learning or vice versa?"
It's a common question in the greater edtech conversation that begs the answer, "No! the learning drives the tools." My answer, which I inserted into the backchannel, was "Both!"
One of the mistakes that I believe we make is believing that the principle purpose of these information and communication technologies is to enhance education – as we've known it. This is a reasonable assumption and the way that we have all promoted technology for education since the early '80s.
However, personal computers and the Internet are the pencil and paper of our time.  Like pencil and paper, the productive use of these technologies will not end at graduation.  We continue to use them as we continue with our lives and work.  They are our prevailing tools of accomplishment.
But perhaps even more important to this discussion is the fact that we are preparing our students for life-long learning.  Many, if not most of the students I graduated high school with (more than 40 years ago) went to work in the textile mills of my hometown, fully expecting to spend the next 35 years doing pretty much the same job – a job that required almost no continued learning.  Of course, those jobs have moved thousands of miles south and west – and my former classmates who continue to be employed accomplished it by learning new skills, and learning to continue learning new skills.  
It is a defining quality of a time of rapid change, that you live a lifestyle of learning.
The readers of this blog live that lifestyle, and we know that information and communication technologies have changed the way that we learn.  We learn from large and small networks that we create and cultivate with machines that we carry under our arms and in our pockets.
If it is a learning lifestyle that we should be preparing our students for, and if these tools are a principle mechanism for that lifestyle, then to that degree the tools should drive the how and even what our children are learning in school.
keep looking »