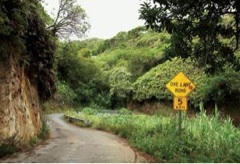 I found this photo on the Internet. I was to scared to stop and take a picture.
I do not believe I have ever, EVER been as frightened as I was yesterday driving between Kahului and Kapalua on the Kahelili Highway. It was mostly one lane, mostly on the side of the mountain and mostly unmaintained – no guard rails. There were yield signs all along the road, but no intersections.
When you encountered traffic, and could find room to let them pass, the wave you got from the driver was that of sweat-on-the-brow relief, especially from folks who appeared to live in the area. What surprised me were the venders tucked back in the hollows, in brightly painted old panel trucks, selling fresh vegetables, fruit and probably industrial grade sedatives.
I got about a quarter of the way to Kapalua, where the rational side of my brain yelled, "Turn back!" But the terrified, knuckles clawing at the lava rock walls said, "Hell No! I'm not going through that again, no matter how far I have left to go." Fortunately, about a third of the way there, it turned back to two lane.
Now that I've read up on the road, I count my self partly lucky and mostly stupid!
Click the image to watch video
As I ready myself for a new year with the best intended resolutions, hopes, and wishes, I was reminded of the bigger and far more eloquent mechanisms and rhythms that are performed around us every day — every second. It puts into perspective my daily thoughts, when I see that the stars and the sun, the warmth and the cold, and the clouds keep on coming, under a momentum that was nudged into motion billions of years ago.
Click the photo to the right to view this magnificent time lapse video by Ansgar Rudolf and Till Credner.
Happy New Year!
..from 2¢ Worth.
Powered by ScribeFire.