This is a slightly different twist on yesterday's blog post.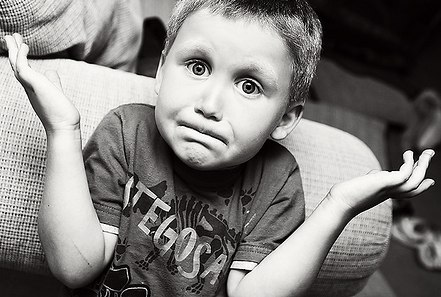 I Dunno, (cc) photo by Marinda Fowler
Yesterday, I was listening to Steve Hargadon's chat with education writer Audry Watters, a weekly podcast conversation on what Watters' has been writing about, recent news stories related to education and the various conferences they have recently attended and worked. I'll put a plug here for Steve's upcoming Hack Your Education tour (the blog entry) to cities across the U.S. I'm hoping to make it to Philly or Washington.
Their (nearly) weekly podcast conversation is an excellent way for me to keep up with happenings and from an angle that I often learn something new from. Hargadon and Watters' takes on things suit my 60s "question authority" sentimentality and the passion I have for the toolbox that computers have become for me.
They both mentioned something yesterday (or during Friday's recording) that I immediately identified with –– but have since turned around in my head. Recently interviewing Education Week's founder and former editor, Ron Wolk, Steve asked if any of the major political candidates were speaking substantively about education. After a moment, Wolk replied, "No!" –– and Steve and Audrey agreed that the script on education was pretty much the same across the parties: accountability, global competition and achievement (as measured by high-stakes testing).
But I got to thinking, "Should we expect to hear substantively conversations about education from political candidates." They're not educators. They do not hold education degrees, earned from schools of education. They do not hold postbaccalaureate degrees of education specialty like half of the teachers in the United States (49.5% in 2007-2008).1
It's a huge part of our problem today, that education in America has been captured and held political hostage by AMATEURS, whose message on the subject has more to do with the rhetoric that will earn them votes than deep and risk-taking conversations about the nation's problems. What's worse is that part of their message seeks to demonize the very professionals whose leadership we so desperately need. We have lost confidence in ourselves as educators and sometimes even bought into the global education reform movement's (GERM) spittle –– with exceptions (Chicago).
It would make me happy to hear a candidate say,
It's clear that the institution of education in this country is not working for our children and their future. Even where performance is high, are we merely doing a better job of teaching children to take tests.

I don't know what the answer is. It is not my expertise. Formal education, in this time, is perhaps one of the most complex endeavors that a sophisticated society engages in, and it will take foreword thinking professionals to reinvent the institution.

I promise, if elected president (to Congress, the Senate, etc.) to assemble and consult the best and most progressive minds from the profession, to promote, legislate, and pass the best of their ideas, no matter how untraditional, and do all that I personally can do to make every school a point of pride for every community –– not because of the test scores, but because of the quality and creativity of the work produced and shared by its learners and graduates.
U.S. Department of Education, National Center for Education Statistics. (2012).

The condition of education 2012: Characteristics of full-time teachers

. Retrieved from website: http://nces.ed.gov/programs/coe/pdf/coe_tsp.pdf

[↩]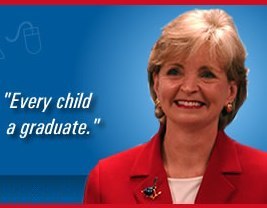 June Atkinson
My state, North Carolina, has a decision to make in November – and it's not a hard one, in my opinion.
It's the race for state superintendent of schools. We elect our state superintendents, unlike many states, and from the time that I graduated from High School until I joined the NC Department of Public Instruction (NCDPI) 20 years later, my state's education system was lead through the election and continued re-election (five terms) of Dr. Craig Phillips, a professional educator. Since he left office, we have elected a number of different superintendents.
For the last eight years, Dr. June Atkinson has held the position. Dr. Atkinson is a professional educator, having served leadership roles at NCDPI since 1976. When I was at the department, I attended several meetings with Dr. Atkinson, who was heading up business education, and observed the respect she had earned from everyone else I knew. Shortly after I left, the morale at the department was boosted when June became Director of the Division of Instructional Services.
Dr. Atkinson was elected to the office of State Superintendent in 2004 and then re-elected in 2008.  During this time we have seen North Carolina's graduation rate rise from 68.3% to 80.2%.
Challenging Atkinson in November is Tea Party darling, John Tedesco. He is not an educator, but he has held a variety of positions –– admirably, several of them have been with charitable organizations. Mr. Tedesco was elected to the Wake (Raleigh) County Board of Education in 2008 and is still serving his first term, a tumultuous four years characterized by secret planning meetings and an often riotous board room. The Wake School Board lost its conservative majority during the 2011 election.
My message is simple. In this time when education is challenged to serve a new generation of learners, within a new information environment and for a future we can not clearly describe…
It is a time for Professionals!
Not for amateurs with an agenda.
Please Support Dr. June Atkinson for North Carolina State Superintendent.
I just facebook'ed a link to dontforgeted.org – but 140 characters were not enough to add my 2¢ worth.
I think that education should be among our candidates top priorities. But our problem is not education nearly as much as it is educating so many children who live in poverty.
When you compare the scores of American children from higher socio-economic backgrounds with nations that do not suffer the levels of poverty that are tolerated in the U.S., then we actually do quite well! For instance, schools in the U.S. with fewer than 10% of their students living in or near poverty scored 551 on the PISA math test, second only to Shanghai, China.
So, at the same time that I think public education in the U.S. should be a top priority, the problems of education won't be solved by government mandates or privatization.
The welfare of all the "people" in the United States is the top concern.
That said, here's the link – http://dontforgeted.org
I am extremely sympathetic to this sentiment. But would we rather close his schools, layoff the rest of his family, leave his continued good health to chance, watch his roads and bridges crumble, continue to arrogantly dominate the consumption of dwindling resources and deface the planet?
I don't know if Obama's spending is going to solve our problems. I do not know if we possess the creative energy to leverage that spending for change. But I am certain that giving money back to the rich, turning a blind eye to irresponsible greed, invading the wrong country, grossly underestimating the strength and resolve of Al-Qaeda and the Taliban in Afghanistan, and continuing to divide this country did not and will not work.
I watched a little bit of Fox News — "know thine enemy." I try not to vent my political views here, but I'm tired, my judgement is probably diminished, and I'm getting worried.
I report all of my income to the government. They get a lot of it and I wish that it wasn't so much. But I'm not complaining. I am lucky to be in a position to be able to pay a lot of taxes. I am proud to pay it. It is my patriotic duty.
America does not come cheap, and its costs are more than the blood that we so eagerly celebrate. It's our work, our dedication to a great experiment, and our patriotic willingness to invest in that experiment — to invest in this country. It is my opinion that those who seek offices of power by promising lower taxes are selling out the country.
The government is not perfect. It is far from perfect. ..and this country is very sick. But anyone who says that the medicine should not taste bad, that the cure is simple and cheap, that it's the doctor who is responsible and not the disease — is actually trying to sell you something else!