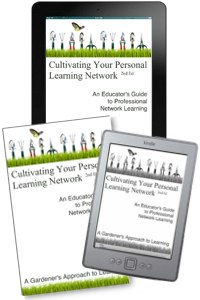 CYPLN in 3 Formats
It is with great pleasure and no small amount of relief, that I announce the second edition of Cultivating Your Personal Learning Network: A Gardener's Approach to Learning – formerly known as A Gardener's approach to Learning: Cultivating at our Personal Learning Network. Switching the title and subtitle was the idea of my wife and business manager, Brenda. She'd long felt that "A Gardener's Approach.." did not clearly describe the content and function of the book.
This second edition started innocently enough when, with an afternoon to kill, I downloaded Apples iBooks Author (iBA) software, a free download that helps us create interactive iBooks for publishing through the iBooks book store and iTunes. Since it was my latest book, I dumped the text of Gardener's Approach.. into iBA and started playing. My initial reaction was not that different from what I initially though if iBooks. They glow and flow, but provide little opportunity for the reader to talk back, which I believe should be a core goal for the next generation of learning content. The iBooks I'd seen were still primarily intended for top-down reader-passive content consumption.
However, when I started factoring in the great fun I've had with Apple Keynote's dazzling animation capabilities and the ability to insert keynotes into the iBook, I continued to play, adding animated tutorials for some parts of the book.
I initially struggled with the HTML feature of iBooks, which I couldn't figure out for the life of me. I've been coding in HTML for nearly 20 years. They I learned…
It seems that what iBook Author means by HTML is actually Dashboard Widgets, which are small programs that can be downloaded and installed on your Macintosh computer and run in the background – and now in the widgets space on later versions of Mac's OS. They have come in nearly every category of software, but are usually utilities such as calculators, calendars and clocks. I saw no use for any of these utilities in my book, so I set out researching and teaching myself how to write my own dashboard widgets.
As I played (which is what learning often feels like to me), ideas started forming for interfacing my iBook with the web and specifically with web pages that would give readers the ability to add and comment on their own stories of networked learning. It was at that point that I was hooked.
Of course, reading through the book, I learned how dreadfully out-of-date it was, so I started editing and rewriting major portions of CYPLN and adding at least one chapter. After all, the first edition was written before the Apple iPad launched. So, after many edits and re-edits, with the tireless assistance of Brenda, and the launch of Bookry, which provides a tool for creating much slicker widgets than I was writing, I've published Cultivating Your Personal Learning Network 2nd Ed, in print, ebook (for Kindle), and iBook (with color, motion, and conversation).
The most interesting part of this endeavor was the act of using many of the skills and techniques described in the book in order to learn how to publish it in these new formats and with these new features. My own PLN grew.
I hurriedly produced the video below as an introduction to some of the features of the iBooks version.
The print and ebook versions, like the first edition of CYPLN, feature QR-Codes, which give the reader access to many of the features of the iBook – without the flair.
One concept that jelled for me during the proces was that of scale. Because the ebook and iBook versions of CYPLN was digital, weightless and so easily distributed, I've decided to price for scale. So the iBook and ebook (Kindle) versions are only $2.99 (USD). Since the print version (259 pages) must be produced and shipped, I have to charge a little more, $8.99, which gives me a profit similar to that of the digital books.
This will take you to a page with links to the various purchasing venues: http://goo.gl/EUu7B
Enjoy!
I've been struggling over the past few weeks with a complete redesign of my PLN presentation. I am keeping the title (A Gardener's Approach to Learning), since that's what I called it for my ISTE proposal, some distant months ago — and for other more obvious reasons. I've delivered versions of the upgrade at other conferences recently, and, well, it's not ready yet.
One element I would like to add is pruning your PLN or learning garden. The best I have done so far is to suggest some philosophical guide lines, but little of practical value. So I spent much of yesterday searching for tools that enable us to more scientifically analyze our learning networks, specifically our Twitter communities (or megalopolises). I was starting to get rather depressed at failing to find what I was looking for — and inspired. You see, when I'm looking for a technical solution to a problem, and I can't find it, then I start wanting to build one. This is not good, because I am desperately trying to simplify my life here/now at the tail end of my career.
But building a new tool? Wow! What fun that would be.
Anyway, I found the right search expressions this morning (4:00AM). It's amazing how much a good four and a half hours of sleep can do for the old noggin. Of course, this serge of cognitive magnificence will last for only about an hour and a half.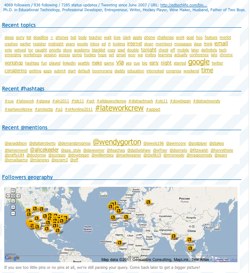 So here are a few of the interesting tools I found. To start with, let's say that you've run across a blog entry that's caught your interest and you are considering a click of his Follow Me link. You have to wonder if this educator actually limits his work thoughts to his blog, and reads and tweets for his favorite Twitterlebrities. To see, just paste his screen name into foller. You are rewarded with the blogger's basic specs (number of friends, followers, status updates, etc.), a word cloud of most tweeted words, recent hashtags and mentions. You can also view a map indicating his geographic reach (see right).
Another tool for measuring the potential of a new deep thinker is Klout. Probably more of a vanity oriented tool, Klout does do a nice job of breaking down a person's influence by topic.
Another tool with a potential to help us cultuvate our learning gardens is Twolo, which allows you to enter keywords of interest and receive a list of Tweople you might want to follow. There is a fee after four days, which is not surprising considering how important social media has become to the marketing industry. No worries. Twitter has recently incorporated the same service with Who To Follow.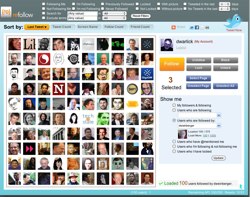 Of course adding new members to your network is not pruning, is it? One of the most interesting tools that I happened upon was refollow. When you link in with your Twitter account, you get a wallpaper of the deep thinkers whom you follow. To cut back your network, you can sort the layout of avatars by their last tweet, tweet count, follow count, and friend count. It's reasonable to assume (though not always appropriate) that the people who are most paid attention to, or are paying attention to other deep thinkers , are the most useful for your own learning. This is certainly not always true, but it is a measurable aspect of one's networking. I found that I was following eight people who hadn't chirped a single tweet and several who'd not tweeted for 8, 10, and 15 months. There's more that you can do, but to actually act on your community (follow or unfollow) there is a fee — reasonable if I were engaged in marketing an important brand.
If gaining and keeping a following is important, then TweetEffect might be useful. Essentially, you enter your Twitter screen name and it scans your most recent tweets and aligns them with your follower activity. In other words, which tweets seem to have attracted people, and which made them turn tail and run. I learned that in my last 195 status updates, I lost followers seven times and found new one eleven times. It seems that my announcement that I was finally adding Oklahoma (48) to the state's I've worked in, compelled eleven people to leave my friend list. Still trying to figure that one out.
- Posted using BlogsyApp from my iPad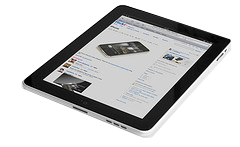 I got my notification email the other day from ISTE, concerning my conference proposals.  It was yesterday afternoon before I mastered my apprehension, and took a look.  "Cracking the 'Native' Information Experience" was rejected.  Drat and double Drat.  I spent the better part of last week working on that presentation — an important one, I believe.  It seems that we are spending a lot of time talking about 21st century learning, 21st century education, and 21st century skills, but not so much about what it actually looks like.  I'd wanted to talk a bit about 21st century pedagogies and suggest that our learners 'native' information experiences might be a good place to look for examples.
My backup proposal, what I'd hoped might be a second presentation, "A Gardener's Approach to Learning: Cultivating your Personal Learning Network," was accepted.  I'm a little disappointed, because this seems like an old topic, at least for folks who attend ISTE.  I could be wrong.  The folks at ISTE do know what they are doing.  So I guess I'll need to try to bring a different angle to the issue, something new in technique, approach, and justification.  I suspect there is still room.  Because as some of the Tweets I've gotten recently seem to indicated, back home, the idea of teachers acting like learners is still unconsidered and even, in some rare instances, considered an antithesis to their vision of teaching.
All that said, I am pleased and privileged to be on the speakers roster.  Reviewing the statistics on acceptances by strand I feel even more honored.
So, see you at ISTE in Philly.
Today, I will facilitate a learning session at the TechForum in Atlanta. The session is called Promoting & Supporting PLNs for Professional Development. The original focus of the session was personal learning networks. But coming down to the line, I've come to wonder if schools and districts could or should promote personal learning networks. My own notions of the concept have an individual, with specific and shifting problems and goals, crafting and maintaining an array of connections to information resources and other networked learners, generating new knowledge through the conversations that he or she engages in. ..and it's personal.
I am adjusting my focus away from PLNs and toward techniques for crafting a culture of learning in our schools and other learning environments.
Here are just a few suggestions for administrators for promoting schools that provoke learning in every person who passes through the doors:
Fill your school(s) with learners.While interviewing prospective employees, ask them to "Tell me about something that you have learned lately." "How did you learn it?" "What are you seeking to learn more about right now?" Also ask how they learned it. To what degree and with what proficiency are they utilizing networks.
Open your faculty meetings with something that you've just learned – and how you learned it. It does not have to be about school, instruction, education managements, or the latest theories of learning.
Make frequent mention of your Twitter stream, RSS reader, specific bloggers you read. Again, this should not be limited to job specific topics.
Share links to specific TED talks or other mini-lectures by interesting and smart people. Then share and ask for reactions during faculty meetings, in the halls, or during casual conversations with employees and parents.
Include in the daily announcements, something new and interesting (Did you know that a California power utility has just gotten permission to sell electricity from outer space?).
Ask students in the halls what they've just learned and how they learned it, and if they would mind writing something up about it for the school web site.
Plant around the school and especially in the library curious questions that might spark a desire in learners (How many steps does a centipede have to take to travel a foot? Who was the youngest person to sail around the world?).
Ask teachers and other staff to write reports on their latest vacation, sharing what they learned – and publish them on the school web site.
Ask teachers to devote one of their classroom bulletin boards to what they are learning, related or unrelated to the classroom.
Talk about the role of research in learning and encourage learners and teachers to engage in independent research on topics of personal interest. Persuade some to submit, for the school web site, multimedia reports about what they've learned and how they learned it..
Learn what the parents of your students are passionately learning about, and ask them to report (text, video, Skype conversation, or in person to be recorded).
Plant a mystery in your school with hidden clues that require further research on the part of learners.
Find ways to be playful at your school — and perhaps feel less grown-up. (see Do Grown-ups Learning?)
This is an update of a list I posted a number of months ago.
Lauri Bartels, of Neuron's Firing and tech educator at Rye Country Day School in New York, wrote yesterday…
I am in the midst of doing a massive clean out of my desk space. Several times a year I get an overwhelming urge to pare down "stuff", and this current not-quite-mid-August motivation is that school begins in just three weeks. And so it was that I came upon my yellowed print out from Friday, February 17, 2006.
It was a blog post that I'd written back in 2006, and Brenda brought it to my attention after netting it in a Google News Alerts she has set up for me. The post is about personal learning networks, but focuses on the school culture, policies and teacher attitudes that facilitate casual self-directed professional development. In "OK, No More Staff Development," I write, and Laurie quotes in here post, that..
(we) need to strive for a school environment where teachers:

Have the time to reflect and retool (at least three hours a day),
Have ready access to local and global ideas and resources that are logically and socially indexed,
Have the skills to research, evaluate, collaborate, remix, and implement new tools and techniques (contemporary literacy), Are part of an ongoing professional conversation where the expressed purpose is to provoke change (adapt),
Leave the school from time to time to have their heads turned by new experiences,
Share what they and their students are doing with what they teach and learn — their information products and relics of learning become an explicit and irresistibly interwoven part of the school's culture.
Thanks, Laurie, for bringing this out from under the cover of my archives link.
I'm sitting at Starbucks right now, working on "A Gardener's Approach to Learning," and I happened to glance at my Tweetdeck for inspiration — and boy! Illinois educator, Greg Noack says,
Why is it that, the more I learn and meditate on HOW kids learn, not what they learn. The less I have in common with other teachers.1
I immediately agreed and was inspired, as I usually am, when someone puts into words (140 characters) something that's, until that point, been little more than fleeting thought.
But then, it occurred to me that an important and interesting question is, "Why?" Why is Greg and why are so many of us asking the question, "How do our students learn?"  Certainly good teachers do that as an ongoing part of differentiating their classroom learning experiences.  ..and it may simply be because we are talking a lot more and a lot more loudly about our professional reflections.
But if we are asking those questions more today, then why?  Why today?  ..when supposedly the purpose of my university experiences, my degrees, was to teach me how my students learn.
I'd like to suggest just a few possible reasons, and then let you have at it, while I continue my book writing.
We are recognizing that our students will be moving from their formal education into a world that we can hardly imagine.  We are paying a lot more attention — and that's us learning.  How do I do it better?  How might my students do it better, as a lifestyle rather than just something to do at school.
We are teaching within a rapidly changing information environment, and the technologies that facilitate the information's flow are advancing — just about every day.  We either learn it or ignore it — and many of us believe that ignoring it is professional malpractice.
And I have to wonder if working, playing, socializing, and dreaming within such a responsive environment literally turns us into a learning species — not that we weren't before.  But learning, in this kind of information environment, is just about as common as breathing.
Learning is at the core of teaching today — and just about everything else.  So we're thinking about it more.
What do you think?
Noack, Greg. Twitter. 19 Dec 2009 08:11. Web. 19 Dec 2009. [↩]
A bridge is a sticky connector only if people need to get to the other side2
It appears to have started with a Facebook status update from Science Leadership Academy Principal, Chris Lehmann.

When having audience is no longer novel, simply having one is no longer motivating. We still must help kids have something powerful to say.
Saskatchewan educator, Dean Shareski, continues the point in a blog post, Why Audience Matters, followed by fellow Canadian (Snow Lake, Manitoba), Clarence Fisher in his post, Those Formerly Known as the Audience. Finally, it all came to my attention, when Jeff Utecht tweeted a link to his installment on the conversation, Audience as Community. I strongly recommend you read all three of these blog posts because, together, they cover a wide range of reasons why audience is important to student learners.
My immediate response to the whole issue was a mild disagreement with Chris' initial post. He may be right, and he's certainly in a better position than me to see it first hand. But I've had numerous Class Blogmeister teachers say that "classroom" as audience seems to be just about as motivating as arranging for people around the world read and respond.
I suspect that the world-reach thrill of blogging might be novel and might wear off. But it occurs to me that the true power of working within an audience, as opposed to performing in front of an audience (writing to the teacher, what you thing the teacher wants to read), is the power of conversation. It's knowing that somebody (even the guy in the next row) is reading what you are writing (not measuring it), and that the reader may respond to what you've written, pushing you to rethink and respond back.
It's the potential of adding something valuable to somebody else's thinking — the potential of becoming valuable.
I usually mention three qualities of personal learning networks when I do presentations on the subject — that PLNs are:
Personal — They're shape and function is completely up to the the ongoing needs of the learner.
Both Spontaneous and Directed — Some learning experiences can result from careful cultivation of the network, and some simply happen because you are connected.
Connective — The network of people and sources are held together not by wires, routers, and HTML links. It is a network of ideas.
It's this last one, connectiveness, that I think may be pertinent to this conversation. There has to be something between the network nodes besides the concept of audience. There has to be something sticky there, something that helps, something that offers value, an intrinsic reason for the conversation. If you are connecting your class to another class in Scotland, then there needs to be something in the perspective or experience of those Scottish students that helps your students accomplish their goals, and it must be a goal that is more than academic or schoolie. It has to be a goal your students identify with — that they want to accomplish.
This network of ideas is one of my favorite aspects of personal learning networks. The people I am connected to are not part of my network because we look the same, speak the same native language, follow the same religous doctrine, or share identical cultural traits. We connect through our ideas, because what we do provokes us to share those ideas, and we all benefit. Even the photo that I include at the top of this post comes from a temporary PLN connection with Janusz Leszczynski, simple because he (she) once took a picture of a bridge and labeled it bridge and I, months later, was looking for a picture of a bridge to symbolize connection. The ideas were experienced at different times, but the ideas' stickness lasted on.
Powered by ScribeFire.
3It appears to have started with a Facebook status" data-image="http://farm4.static.flickr.com/3046/3865004558_6aaf47505d.jpg" data-site="2¢ Worth">
Leszczynski, Janusz. "Alexandria Bridge." Janusz L's Photostream. 28 Aug 2009. Flickr, Web. 23 Nov 2009. <http://www.flickr.com/photos/januszbc/3865004558/>. [↩]
Leszczynski, Janusz. "Alexandria Bridge." Janusz L's Photostream. 28 Aug 2009. Flickr, Web. 23 Nov 2009. <http://www.flickr.com/photos/januszbc/3865004558/>. [↩]
Leszczynski, Janusz. "Alexandria Bridge." Janusz L's Photostream. 28 Aug 2009. Flickr, Web. 23 Nov 2009. &lt;http://www.flickr.com/photos/januszbc/3865004558/&gt;. [↩]
This was definitely one of the most interesting places to present — and I've presented in some strange places. There was no real sense of the front of the room, which worked well, as I wanted participants to be just that, actively engaged in the conversation.
If you've been missing my blog, well I have too. The last couple of weeks have had me either preparing, traveling, or conducting workshops, keynotes, or presentations — in some of the farthest flung points of North America — at least from the perspective of this small town boy. I won't go into details except to say that they were most thankful at my bringing North Carolina weather to Edmonton Canada (67F / 19C).
My work was mostly full day sessions with school leaders and leadership teams, and my expressed goal was to help them achieve a mindset necessary to move their schools and school cultures into more effective and relevant use of their growing technology. Typically, I talked about and demonstrated aspects of:
Contemporary Literacy — Don't think about how technology has advanced. We might get further by thinking about how information has changed: what it looks like, what we look at to view it, how we find it, where we find it, what we can do with it, and how we communicate it.
Contemporary Literacy & Teaching — What does the new information landscape mean to us in our jobs, and how might we use it to improve and grow in jobs? How do I utilize my own new literacies to create and maintain my own ongoing professional development, to cultivate my own personal learning network?
Cracking the 'Native' Information Experience • Hacking the 'Native' Information Experience — What are the qualities of our students outside-the-classroom information experiences? How do they use information to work, play, converse, and learn? What do those actions look like outside the classroom, and what might they look like inside?
The three mostly separate topics linked together amazingly well. One of the big pushes in Canada seems to be "student engagement." They want to engage their students in learning, and this vision is coming very much from the Provincial Ministries of Education, at least in the few provinces I've worked with lately. But getting that vision to the classroom is an enormous task. It's like "integrating technology." What exactly does "student engagement" look like? What do you see when you walk into such a classroom? Does "student engagement" automatically result in better learning?
I find that when I just start writing with no particular aim in mind, it often results in what I think are my strongest blog entries. Doesn't seem to be happening here. So I'll close with some shifts that I closed a webinar with last week. They are shifts that come largely from literacy in a new information landscape, maintaining a personal learning network, and paying more attention to our students 'native' information experiences.
Shifts in Education
Not that we stop doing one and replace it with the other. This is not a dicomedy
F r o m
T o
• Classroom/Workshop Learning (time/place-based)

Network Learning
• Institution Dependent Learning
Independent (self-directed) Learning
• Literacy
Learning Literacy
• Lifelong Learning Skills
Learning Lifestyle
Powered by ScribeFire.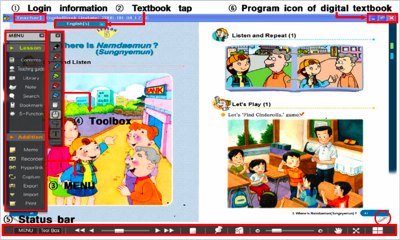 (cc) image from WikiCommons by Persiatj
I often write about the need for a new type of textbook, one that is digital, interactive, social, open, and a product that actually results from student learning as much as student learning results from the product.
I frequently get comments of agreement, stating the need for digital text books with video and audio and interactive objects — and I agree whole-heartedly with these observations. I think that this is exactly the direction we need to be going in, and these are things that need to be said again and again. But I think that our ultimate goal need to go way beyond just interactive glow and motion.
This is fast food for learning!
Now don't get me wrong. There is nothing wrong with fast food in moderation. It solves problems. Often I am thankful for a MacDonalds sandwich, with two hours to go on the interstate — hold the fries please. And it's too often that I get to my hotel room at 8:30, been speaking and then traveling all day, not had anything but a mini bag of prezel'ets on the plane since breakfast — and I'm thankful that Papa Johns is just a phone call away — an extra thing of garlic sauce, please.
But my preference is fresh food prepared in a real kitchen. I grew up in a small town in western North Carolina. Even though it was a small town (three stoplights), I was a townie. You could tell townies from country kids, because they wore flannel shirts and bluejeans and you never saw them at "The Pool." We wore cloths from Belks downtown (or for us it was Sears in Shelby).
Townies didn't have gardens. Real townies wouldn't have a garden. The only townies with gardens were parents who grew up on the farm. We never had a garden in our yard (my mother's dad worked at a train station and my father's was a shop keeper). The folks across the street had a garden, and we thought it was an eye sore (never mind the huge bold spots in my parents front yard for first, second, and third bases, home plate and the pitchers mound (where there's a Pin Oak tree now.)
My wife grew up in Charlotte (the Big City), but both her parent grew up on farms and they had a garden. Brenda tried for years to get me interested in growing a garden but to no avail — until the hot spring afternoon when she marked off the space that I would no long have to mow, if we had a garden there. I became a lover of gardening that day.
My daughter in the garden NOT fertilizing it.
In the following months I learned the joys of planning, digging, building, and planting a garden. We decide up front to go organic (we were wearing flannel and jeans then, calling it "grunge"), and I discovered the thrilling challenges of cultivating what was essential a small ecosystem, where plants could be arranged to protect each other, rotated to leave nitrogen, not just absorb it, added to draw insect eating birds and bugs, and I learned to enjoy the brand new flavors of fresh produce — much of which never made it to the kitchen.
When I grew up, my mom got here produce from the hyper-organized, standards-driven grocery stores, where the food was arranged in straight rows, and packaged for easy storage and consumption. We ate exclusively canned and frozen vegetables — and I never learned the true taste of asparagus, until I had it right out of the garden, steamed just a bit with a pat of real butter melted over it.
This is the kind of learning that I am engaged in right now, a learning style that requires me to understand and treat my information environment like an ecosystem, where I cultivate the information, directing it to interact with other information in ways that bring me the ideas that I need to keep doing my job. Sometimes I have to look it up. And not being an especially strong reader, video and audio come in hand — and I love the art of a well executed data visulation. The fast food solves problems. But learning in a time of rapid change requires us to become information gardeners.
Sounds like the beginning of a new book ;-)
Powered by ScribeFire.
I crave routine.  For the past week and a half, I have started my morning with a bowl of Cream of Wheat (It's better than grits) followed by a mile walk to the local Starbucks, a bag (above) over my shoulder.  Unpacked, I have my mobile office — Acer Netbook with Ubuntu waiting for login, a wireless mouse, and a mug of Cafè Americano.  I'm writing a new book about network professional development — how learning is like gardening ;-)
Tim Holt recently wrote an interesting entry (Do I Trust the System Enough) in his blog, Intended Consequences.  In it, Tim describes his plans to write a book for administrators about a particular type of professional development.  He is planning to follow my example of self-publishing the book, hopeful that "..enough people purchase it so that (he) can put (his) kids through college."  My experience with self-publishing has been almost entirely positive and fruitful.  I'll never make a living at it, and I'm still working on my son's tuition, but writing for yourself is a true pleasure.
His central question, however, is an interesting one — a "test of faith."
I talk a lot about collaborative work. I talk a lot about sharing. I talk a lot about using professional networks to enhance learning and your professional work. So here is a perfect example of something that I can put "out there" for my PLN to critique, add to, subtract from, tell me I am full of it, or give me a pat on the back. I want folks to work with me through the process, to share, to be part of the product. Everyone would get credit.
There are a number of notable examples of books written publicly on wikis or in similar environments.  I'm not absolutely sure, but it seems that one or more of Lawrence Lessig's books were written publicly, as was Chris Anderson's The Long Tail, through his blog.
But Tim is concerned.
..I just hesitate putting it out there because I keep thinking that it is going to be ripped-off before it is done and someone will take my idea and run with it.
I'll say here that I have been working on a short (hopefully) book about networked professional development for a little over a week now, trying to take advantage of an almost three week stint with no traveling.  I explained a little more about the project in my comment on Tim's blog.
But that asside, I also tell a story where several years ago someone (I do not recall who) sent me a package with a note asking if I was aware of this.  The note indicated the page number, in a paperback book enclosed in the packaging, for a chapter which was, word for word, an article I had written a few years earlier and published through a now defunct online journal.  I was furious and immediately shot off an e-mail to the publishers, who were in India.  There was never a reply to that e-mail. I quickly settled down, realizing that there was nothing I could do that would be worth the expense, and I forgot about the whole episode until now.
Things are different now, aren't they? India is not nearly so far away.  I would probably have no more success with the publishers.  But today, I have a blog.  And many of the readers of my blog have their own blogs.  And we could fill the edu-blogosphere with our indignation about an instructional technology book that so blatantly plagiarizes the work of another.
I think that Tim has a valid concern.  He is talking about investing a lot of work into a project — A LOT OF WORK, and he has a right to be concerned about the property that will result.  But our community is so much more transparent today that if I were considering writing my book publicly, fear of theft probably wouldn't stop me.
Powered by ScribeFire.
keep looking »