Click the word cloud to enlarge
NCTIES
is my state's
International Society for Technology in Education
affiliate (
ISTE
). It stands for North Carolina Technology In Education Society. They will be holding their annual conference this week at the relatively new Raleigh Convention Center. In the last few years the state capital's downtown has become a descent place to hold a conference. More restaurants, museums, night life and many more people living downtown, making the streets safer.
I finally went through the conference program yesterday and was struck by several trends that seemed apparent during that scan. So I thought I'd spend a few minutes this morning doing a casual frequency analysis.
Number of term mentions in the conference program
Term
2012
2013
Trend
SD
Game, gamilfy, etc.
14
73
3.5
iPad or iPads
34
68
2.1
apps
25
49
1.5
Common Core
15
42
1.6
resources
72
42
-1.8
Web 2
67
34
-2.0
play
6
34
1.7
Professional Development or PD
65
34
-1.9
free
37
33
-.2
engage
33
33
.0
Google
61
32
-1.8
1:1
77
30
-2.9
Apple
8
22
.9
Collaboration or Collaborate
24
22
-.1
Twitter
10
15
.3
iOS
14
14
0
tablet
5
13
.5
blog
28
11
-1.0
Minecrqaft
0
8
.5
Android
2
1
-.1
laptop
11
1
-.6
In a casual counting, I found 205 concurrent presentations being made during the conference including the student showcases and not including the two keynotes. Of those 205, 51 of them (24.5%) are being delivered, at least in part, by vendors. 35 are being delivered by presenters representing elementary schools, 20 by presenters from middle or intermediate schools, 15 from high schools and 14 from universities. I am especially happy to see so many presenters from five of our state supported universities, two private universities and one community college.
The happening place in North Carolina seems to be Rowan-Salisbury Schools with 14 sessions being facilitated by 33 district educators. Also notable is Union County Schools with 7 sessions and 18 educators.
I'm doing one session. But hopefully, I'll be setting a productive tone for the conference.
I'm looking forward to seeing old friends at NCTIES
Added March 5
I finally found a list of last years presentation descriptions, and searched for the frequency of the terms in this table (above and left). I inserted a column for the 2012 conference and then added a column with arrows to indicate the trending up and down. To quantify the change, I added a final column with the number of standard deviations of the total change. This sounds like I know more about statistics than I really do.
It's an odd title for a blog entry, but it's how Ken Shelton, Thursday's keynote speaker pronounced our NCTIES conference. North Carolina's ISTE affiliate, NCTIES has hosted what has become the primary focal event for folks interested in education, technology and other aspects of retooling classrooms in this and surrounding states.
Shelton delivered a high energy and courageous keynote.  He walked up on stage with his computer bag and hooked everything up after being introduced and with us watching. Astounding!  I insist on connecting and testing everything an hour before the speech begins.
Empty Metal Chair
The high point of the conference, for me, was being lucky enough to get into Shelton's photography workshop on Wednesday morning. The biggest part of the session was a photo safari along Fayetteville Street to the old Capital Building, and then back down Salisbury street. It was wonderful being tutored while actually wandering around and taking pictures.
On Friday, Ken asked me if I'd noticed any improvement in my photos from the beginning of the walk to the end. Always taking such questions seriously, I thought hard and honestly said that I couldn't think of anything in particular – not the polite thing to say. But with some reflection, I can say the my eye improved, that is to say that I got better at finding photos to be made, rather than snapshots to be taken. You'd have to have taken the workshop to understand the distinction. (Hope you're reading this, Ken.)
It was great seeing and talking with some old friends from the old days, but there were not very many.  Being a conference that I have attended for many MANY years, I have a basis for impressions that seem important to me, and one of them was the youth of the NCTIES attendees.  I know that it's partly my advanced age that causes this feeling, but someone else commented to me about the number of classroom teachers who were attending this conference – and most of them were very young.
This conversation compelled me to post the following tweet, "Sitting with P. Sheehy, L Gillispie & C Lawson & thinking, 'Any sufficiently tech savvy teacher is indistinguishable from a wizard.'"
Another thing that impressed me was the technical sophistication of most of the attendees. They were imaginative, tech-savvy educators, who were open to new ways of using their skills and their tech to create new learning experiences for their learners.  It was exciting.
This sense of rising sophistication was most apparent during an unconference session I facilitated on tablets in the classroom.  It was not a structured as I would like, and, as usual, I walked away feeling that I had not done my job.  I hadn't taught anything.  I'll never get over that.  But the ideas flew and grew and partly at the bidding of several attendees who played the devil's advocate better than I could have.  The bottom-line message, to me, was that our learners deserve convenient (easy & fast) access to today's prevailing information landscape to practice relevant learning.
..and this brings me to the last impression I'll report here, and that was the overwhelming prevalence of tablet computers.  I asked others, who agreed that there seemed to be more people with iPads and other tablets in their hands at the sessions and keynote than laptops.  In fact, at some points, laptops seemed to be the exception.  It's all bringing into focus a term that I'm seeing more and more, that we are entering the post-PC era.  I'm not sure I entirely agree with the picture that evokes, but I do not recall seeing any tech rise in prominence so quickly.
Thanks to the conference committee at NCTIES…
I have felt bad about not blogging lately. It's partly because of travel, but mostly because of three projects that have drawn most of my attention lately. One of those has been preparation for the NCTIES conference later this week. It's a special event for me because NCTIES is the ISTE affiliate for my home state and also because it is an especially successful conference. This year's featured speakers include Richard Byrne, Patrick Crispen (regular), Rushton Hurley, Peggy Sheehy, Kathy Schrock (regular) and Tammy Worcester, with a kickoff keynote by Ken Shelton.
One of my presentations will explore instructional potentials of data visualization and infographics and in preparing for this session, I found one of the coolest things I've seen in a while.  I ran across the link via Nathan Yau's Flowing Data blog, where he quoted Jeffrey Winter…
There was an idea floating around that continuously following the first link of any Wikipedia article will eventually lead to "Philosophy." This sounded like a reasonable assertion, one that makes a certain amount of sense in retrospect: any description of something will typically use more general terms. Following that idea will eventually lead… somewhere.
Winter's explanation of how he accomplished a test for this idea made it sound easier than I'm sure it was.  But the outcome was an intriguing mashup where you can type in a word or numerous words separated by comas, and his app will thread through the first link in each linked-to article until it reaches Philosophy.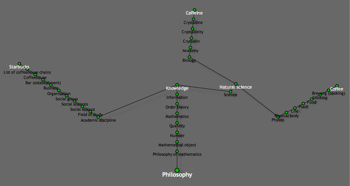 Sitting in Starbucks, I looked for logical connections between Starbucks, coffee and caffeine. (click img to enlarge)
What struck me as I played with this data visualization, was how this operation meshes with our notions of curriculum and of libraries.
When information is scarce and education is defined by knowledge delivery, then the job of curriculum and of libraries is to package content into subjects and units and dewey decimal classifications.
When I watch seemly unrelated topics threading their way to a common subject and re-examine Boyack, Klavans and Palen's Map of Science, which shows how various disciplines are interconnected by citations, it seems clear to me how schools and libraries need to become more like learning-literacy playgrounds than managed corals.
But that's me!
Early Registration at NCTIES in Raleigh
Last week was the NCTIES conference.  NCTIES (North Carolina Technology in Education) is the ISTE affiliate for my state.  They use to be NCAECT, and I understand that there was another acronym before that.  But Thursday they launched their 40th conference, and I do not remember being a part of any anniversary conference with a number that high.
Before the conference, I lamented on all the people I've worked with from across who I'd miss because they have certainly retired.  But I was surprised at the number who were still at it, mostly informing me that they were retiring in May or August  or some other of the next 9 months.  But it was also trilling to see the folks who were back for the 40th anniversary.
But on to my reflections.  It occurred to me this morning that I can tell when I have been fully engaged in an education technology conference by the number of times I remember asking, "But why?"  Here's a typical exchange.
"We've bought iPads for our alternative school kids."
"Cool!  But why?"
"We're trying to get them to read more, and we believe they will read more if its on an iPad."
"Why do you think they'll read more with an iPad.  Is reading what's cool about using an iPad?"
"UUUUH!"
"Why do you want the students to read more?"
You get the gist — and I know that I am doing a lot more reading since I got my iPad.  But it's not because the text glows.  But that's a different blog post…
Another thing that was interesting about this conference was my ongoing and often playful quest for the next cool thing — the next "buzz."  It's more of a game for me, a cool hunting sort of thing.  After all, most cool things in educational technology grow cold, hopefully before we start to integrate and effect instruction.  Anyway, I got an inkling of two cool things here at this conference. One was the topic of my session on infographics and data visualization.  Of course, in my preparation for the session, I realized that there is nothing new about this stuff.  We've been doing data visualization for years through geographic information systems or GIS with products like ArcGIS.
It was my first planned presentation on this topic, and it did not go as smoothly as some of my more practiced topics — as a number of demos didn't work out as well as I'd hoped (starting to justify the purchase of Camtasia for my Mac ;-).  What got me wondering about the impact of this is the fact that Kathy Schrock, one of the other featured speakers of the conference, was in the audience and she told me that she is planning a similar (better) presentation on the same topic for an upcoming large conference ("A Picture is Worth 1000 Words: Using Infographics as a Creative Assessment").  If I think it's cool and then Schrock sees it's pedagogical value as a learning tool, well, you've got something there…
Jason Standish
Timothy Smith
Talking about QR-Codes
The other cool thing that seemed to be buzzing throughout the conference was QR-Codes.  Part of it was the interesting way that the presenters, Jacob Standish and Timothy Smith of Charlotte Mecklenberg Schools preceded the conference with QR-Codes in their conference wiki page and their YouTube video introduction (blogged about here).
QR-Codes have actually been around for more than a decade, and I have used them on presentation slides for over year, though, until recently, only recognized and used in Singapore and Hong Kong.  But the buzz in Raleigh was palpable and it was contagious.  During their session, you could feel the excitement in the packed presentation room, and the scurrying of educators rushing up with their smart phones held up, and seemingly bowing down to this new great thing.
It was exciting and more than a little funny.  It's like I told my son (who attendeed the last day of the conference), "You're going to be with people who are passionate about what they do.  They don't have jobs — they have a mission.  You don't see this everyday, and I double you'd see it anyplace else in the field of education."  And it was certainly true NCTIES.
As for QR-Codes and infographics, only time and our capacity to innovate will tell.  I have some big questions about QR-Codes, and one of my next articles will likely take a more critical, but certainly not a dismissive look at this application.
Here are some fairly rough notes from a workshop I attended on video games in education, presented by Lucas Gillispi. My comments are boxed and italicized.
On top of everything else that was new to me with this session, I got to operate an Alien computer.
I'm sitting in a session about World of Warcraft, being facilitated by Lucas Gillispie, from Pender County Schools (far eastern part of the state). His blog is EduRealms, where he talks about games and learning. Lucas has worked with Peggie Sheehy, who started with SecondLife and is now exploring the learning that happens in games like World of Warcraft. Their guild in WoW is Cognitive Dissonance.
"Education needs a Cataclysm," he says. There's double entendra here. See this. In the traditional classroom, its about teacher, textbook, and workshops. WoW has built-in resources, fan sites, blogs, facebook, and twitter feeds, WoWWiki (second largest wiki in the world), custom apps, etc.
I wonder how many of those game-resources would work for formal learning. – dfw
In formal education, mastery must occur within allotted "seat time." Achievement is constant in games such as WoW. The traditional classroom is about "No Talking!" In the game it's about collaborating and sharing. Everyone's talents bring something to the team. Slackers will fail and will fail their team. Guilds provide a larger community. Plus the game is differentiated. You choose the style of play (learning) that works for you. "World of Warcraft players crave assessment," rather than dread it. In the traditional classroom, failure is punitive. In games, failure is expected. Failing at a quest means you re-try, as often as needed.
So what makes it engaging. Gee says that its in your regime of competence — hard but doable. (see this summary of Gee's principals of learning.)
So "What if school was more like a game?" Gamification is term being used to make. Look at Epic Win, as a way of turning everyday tasks into a game.
Hmmm! But isn't school actually like a game? Students who do well are not always your brightest and most resourceful, but they're the ones who play the game well. I'd rather suggest that we change the rules of the game, and perhaps even the rule of the schooling game, to include some of the pedagogies of WoW and other compelling and deep games. – dfw
Gillispie and team were recently contacted by a philanthropic organization from Washington state who'd been watching what they were doing through his blog and twitterings. They asked him to submit a proposal for funding for gaming laptops (Alienware). "look kids," he'd told the students, "Here's someone who is paying attention to you and what you are doing."
It occurred to me, then, that Pender County is not, to these students, the same place that their parents grew up. For many of them, it was a padded world that was effectively insulated from the outside world (I speak from experience from having grown up in a similarly rural area.) Because of their experiences with WoW and other networked learning experiences, Pender County is a gateway to a much broader and richer world. ..and that richer world is available to them, even if they choose to always live in their rural community.
The theme of their project is "A Hero's Journey." Students are "Heros," teachers are "Lorekeepers," and grades are "experience points." Interesting that experience points, which are is almost like currancy that is accumulated. You start out your experience with the game as a poor and weak character, gaining in strength and skill, resulting in more wealth.
A question immersed from the conversation that I think was quite important. Why do we not grade our students in the very same way? Why have we not always graded our students in the same way? Why not have grades (or what ever we'd call it) that reflect learners growing wealth of knowledge and skill, rather than measuring discrete sub-knowledge and sub-skills? We couldn't answer that question. – dfw
Here are some of the things they are doing as part of the class:
Character Tweets: Students tweeted from the perspective of non-player WoW characters. They're projecting into another character and determining perspective For instance, there's a girl who wonders a specific road selling bread. What does the world look like to her.
Propaganda/Ads: Students used photo editing to create ads aimed at WoW characters.
Research and argumentative writing: So what would happen if Hobbit characters (which they're required to read) were living in WoW.
Fan Fiction: Writing a story from inside the plot of the game.
Very cool session!
I do not believe I've seen this before, a YouTube video intro to an upcoming conference session. It's probably common, though more apt to come to your attention in anticipation to a "local" edtech conference.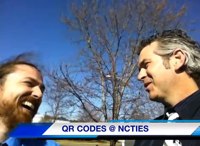 This week the North Carolina (My home state) ISTE affiliate is hosting its 2011 educational technology conference, NCTIES for a packed house — and it's a short bus ride from my home.
NCTIES is an anual event, which I missed last year because I had agreed to keynote a conference in Singapore for ISTE. ..and coincidentally, that Singapore conference was my first presentation where the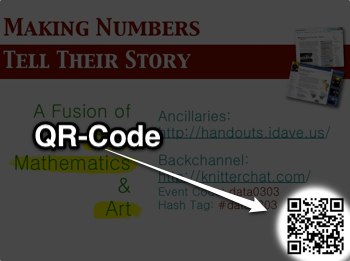 The opening slide for one of the new presentations I'll be doing at NCTIES this week.
audience didn't squint with confusion at the QR-Code on the opening of my slidedeck (or Prezi document). When the image appeared on that day, about 350 smart phones shot up out of the audience, each capturing through its built-in cameras, the URL embedded in the code and loading my online handouts for use during the address. I say, "coincidence," because on Friday Jacob Standish and Timothy Smith, both of Mecklenberg Schools (Charlotte), will be doing a session called "QR Codes and Why they matter to education."
What I've not seen before was an @technology_tim tweet, launched just before 10:00 PM last night,
Feb 26, 9:52pm via Twitter for Mac

Presenting at #NCTIES updating our info page! bit.ly/QRncties1 #yam #CMSk12 Who else presenting?
Click the bit.ly link in the tweet to see the YouTube video they're using to introduce and promote their presentation. Again, this might be common, but it's the first time I've seen it. I've often suggested that teachers might create video commercials for their classrooms or even as introductions to upcoming units of study. But I don't think that a commercial for your conference presentation has occurred to me.
I hope I'm able to attend their session. Although I've not thought a lot about QR-Codes in education, the idea of hyperlinking physical objects to the digital world intrigues me.
So I guess it's two ideas that may be reaching their time, teacher-produced video commercials and QR-Codes.
Attendee of my workshop being a Personal Learning Network
I have to say that last week's NCTIES conference was one of the most valuable conferences I've worked in a long time — and it was a treat to be able to use Raleigh's new and quite impressive Convention Center. The only complaint I had was about the projectors and displays. The featured speakers presented in two nearly identical rooms that were visually striking, roomy, and cozy at the same time. However, there were no drop down screens, and we had to project onto a side wall that was entirely too small and uncomfortably angled. I think that this is the sort of thing that you learn the first time you use a new venue.
A little less forgiving were the Promethean IWBs that were installed in the other presentation rooms. The worked quite well, but were intended for classrooms, and were simply to small, and even more frustrating, to low to be useful to attendees sitting further back than the forth row. It was a technology conference, and part of the point is to be exposed to new technologies, but not at the expense of the teaching and learning that is at the heart of conferences.
The information experiences that help to define our

Digital Natives

:
Responsive
Measure Accomplishment
Values Safely Made Mistakes
Demands Personal Investment
Rewards with Audience & Attention
Provokes Communication
Is Fueled by Questions
I was satisfied the the results of my sessions, two of which were more unconference in nature than presentation. The first of these sessions, ambitiously entitled something like Foundational Structure for Learning 2.0, sought to build a framework, so to speak, for formal learning experiences that take advantage of specific qualities of our students outside-the-classroom information experiences, or native information experiences. The qualities, which resulted from an extended activity I did with teachers in Irving,Texas several years ago (read more here).
I described each element by illustrating how it might manifest in a particular video game or genre of game, while operating within a social network, or engaging in conversations via IM or text messaging. For instance, I showed a rather richly adorned player avatar from an MMORPG, to illustrate measured accomplishment and personal investment, and a video clip from Justin TV (Ustream-type service, where kids broadcast their video game play, while engaging in conversation with a global audience, illustrating audience and attention.
The conversation that followed this brief introduction revealed some aspects of these experiences that had not occurred to me — which was, of course, the purpose of the activity. I asked the audience to work for a few minutes in groups and to come up with a story that illustrates what formal learning activities that incorporate these qualities might look like.
Now that I think back, none of the stories were imagined, but true life learning stories, some of which mutated from traditional assignments into something more interesting. For instance, one person told about her son, who was preparing a report for sociology, and his questions could be answered only from web sites that were blocked by the school's filtering system. He resourcefully found a way to redirect the content of the sites into his classroom through sites that were acceptable. I wish I could remember how he did that. He also put together a way to digitally survey his classmates, to collect further data to support his study. His activities were fueled by questions, demanded personal investment, and he used the web to provoke communication.
What most resonated with me came out of conversations about responsive information experiences. I showed a nostalgia-evoking video of Pong and a Facebook thread to illustrate this quality. Most of the stories incorporated responsiveness in that they involved students writing or in some other way producing for an authentic audience. One of the attendees, a rather precocious youngster from a middle school in Union County, described a project from his class, where students produced videos (don't remember the topic), and then invited their parents to come in on evening to watch and talk about what they saw.
As I often do, when the teller exclaims how motivated the students were, I ask, "Why!" "Why did it excite you to have your parents see your videos." What came out of these follow-ups was a fairly dramatic distinction between authentic audience and teacher as audience. When writing, let's say, to the teacher, you are communicated to be evaluated. Assessment is the outcome, based on some set of expectations involving skills and/or knowledge.
However, when writing to an authentic audience, what you are trying to earn is not an evaluation (though there may be one coming in the process). What you are writing for is a response, and that response will be directed toward what you have invested in the work, not just the facts you have included or the skills you have demonstrated.
One difference that occurs to me is that when delivering to the teacher, you are working for for correctness. When delivering to an authentic audience, you are working for value. It's not an either or, of course. We should be striving for both evaluating of learning and response to value.
Powered by ScribeFire.
I have the privaledge of sitting in the audience during the opening keynote for the 2009 NCTIES annucal conference (use to be NCAECT). The keynoter will be Vickie Davis of Georgia. I'm sitting here with Kathy Schrock and Meg Ormiston — and trying to concentrate on the task at hand.
The organization just gave $3000 to three schools to be used in "disrupting" their classrooms. ;-)
Now introducing Vickie Davis, and I'm impressed with what she has accomplished in only a few years. I didn't know that she has just published her first book, Click Smart.
Vickie's up, and we're all clicking. Sounds like crikets in the woods. "If you like something, then click it."

"…and you never get payed enough.." click click click click. Interesting. Here class now has space in an OpenSIM, called Digiteen Dream Team. Got to learn more about this. The only schools I've found that are using OpenSIM are private schools.
Just saw an amazing video produced by Peggy Sheehe, at: http://tinyurl.com/cte5zk


Hmmm! What is a teacherpreneur? Teachers in Finland, best education in the world, select their own textbooks.
Vicky is delivering a very passionate speech in support of strong professional teachers, willing to own their classroom and retool them for the 21st century.
Powered by ScribeFire.
I have right fond memories of my time at the Naace 2008 conference in Torquay, England, this time last year. This is partly because both Brenda and Martin went with me, train'ing through the country side, the day we spent in St. Ives, and the nearly 24 hours we spent learning the subways of London. Then there was the part that was the hospitality of the folks at the conference. Honestly, I felt so far behind where those folks were, not so much from practicality as in the direction and momentum for change for schools in that country.
Last year, the Rt Hon Jim Knight MP, Secretary of State for Children, Schools and Families, presented the opening keynote from Second Life™. I was blown away by the (political) courage involved in that. This year, he'll be interacting with conference attendees via Twitter. I can't help but believe that when our department of education (not just edtech) is interacting directly in the conversations of in-the-trenches educators in U.S. schools, we might, then, start seeing progress and momentum.
Naace 2009 is taking place right now, and I've added Twitter tracking to Hitchhikr. Naace can be followed at http://hitchhikr.com/?id=410.

From the convention center web site
Speaking of U.S. conferences, North Carolina's ISTE affiliate, NCTIES (use to be NCAECT) starts their conference tomorrow, here in Raleigh. I'll be working all three days, and spending the night at home ;-) Keynotes will be Vicki "Cool Cat Teacher" Davis and Meg "Writer" Ormiston. Invited speakers include:
I didn't have to be invited. I'll be doing some of my regulars, a pre-conference workshop on PLNs and my virtual worlds session. However, I'll be doing a new one, called The Foundational Structure for Learning 2.0, and I'm still working on it. Also, for fun, Will Richardson and I will be doing a conversational (unconference) session together, back by popular demand from a similar session two years ago.
NCTIES can be hitch hiked to at: http://hitchhikr.com/?id=408
Anyway, it will prove to be an adventurous three days of conferencing in Raleigh, named for Sir Walter, the great British colonizer, and watching Naace, this year in Blackpool, England.
Powered by ScribeFire.