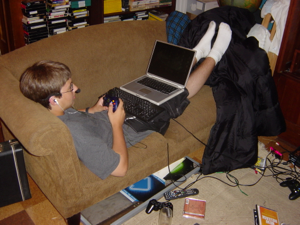 Plugged in with iPod, head set to communicate with game guild members, game controller, game keyboard to text players without broadband, and a laptop for IMing.
Several years ago, I wrote a blog article describing a picture that I'd taken of my son, in the TV room, wrapped up in his "technology." I'm including the picture here, since he is no longer a minor and I can no longer so easily peak in on his techventures.
In the article I suggested that it wasn't technology that defined his experience nearly as much as it was the information that he was playing with. It continues to be a central theme of my work, that it's a new information experience we should be facilitating for our learners, not simply applying technology to old teaching pedagogues.
A few days ago, an old friend from my state agency days, John Spagnolo, gave me reason to revisit that article, when he commented with some questions that got me to thinking.
Among them was:
How have "smartphones" and cellular connectedness changed the nature of information over the past 8 or so years since this was written?
I think that one significant change that has occurred over the past seven or eight years, is that I, and many other seasoned adults have, for various reasons, begun to utilized this networked, digital and abundant information environment. I often say to friends, as I slip my phone back into my pocket, that we live in a time of no unanswered questions. The answer is almost certainly waiting in our pockets or on our laps. My cellular iPad has become a welcome and valued companion as my wife and I drive across North Carolina to visit with family and old friends. It helps us to continue conversations about the news, movies, the best route around Charlotte and settle minor arguments.
For my son and daughter, I suspect that their use of these connective tools has not changed significantly over the past several years. They cultivate networks of friends and acquaintances, which have probably grown with my daughter, whose interested have expanded, and grown smaller with my son, whose interests have narrowed and become more focused. They use Twitter more and Facebook less, and are probably more likely to be interacting with friends via a specific application, such as a game or Pinterest category.
I also wonder if, in many instances, we might be finding more creative ways of using this new info-landscape than our children.
Spagnolo also asked,
How does your son connect to and interact with his information today?
I suspect that both of my children interact with information more through games and through specific applications. I was so terribly disturbed a few years ago when smart people started suggesting that the Web was dead, that apps were changing the way that we used the Internet. But apps have certainly changed the way that my children use information and I find myself preferring to use Amazon and Craigslist apps instead of their respective web sites.
Apps have become an intriguing new avenue of economy, that I've suggested to me son, where people are making a living by designing highly specialized and compelling tools for using and playing with information.
Finally, he asked,
Has the nature of information influenced the emerging "appropriate technologies" like the digital learning object called an iBook?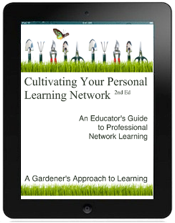 My knee-jerk response is, "Not nearly enough." This current push toward digital textbooks, urged on by our Secretary of Education, concerns me. I worry that we're engaged in a race to modernize schooling, rather than a sober and thoughtful imagining and designing of learning materials and practices that are more relevant to today's learners (ourselves include), today's information landscape and a future that has lost the comforts of certainty, but become rich with wondrous opportunities.
What I enjoyed, though, about my experience in publishing an iBook was learning to hack some features into the book that were not part of Apples general instructions for using their publishing tool. This is the ultimate opportunity of digital learning objects and environments, that they can be hacked into new and better learning experiences by information artisans who see what's there and what it can become.
Click to link to the original Washington Post graphic
In 1986, I was the director of instructional technology in a rural school district in North Carolina, a job that hadn't existed when I'd started teaching only 10 years earlier. Thanks to researchers at the University of Southern California, we now know something about the state of technology ten years into my career.
For instance, In 1986, 41% of the world's computer processing power was in pocket calculators. Personal computers made up 33%, with 17% going to servers and mainframes. A whopping 9% powered video game consoles. According to that study things had changed dramatically by 2007. The amount of the world's processing power residing in personal computers had doubled, to 66% and calculators had disappeared from the picture. Video games accounted for 25% of the processing power and new comers, mobile phones and PDA (which didn't exist when I was director of technology), held 6% of the world's computing power. Servers and mainframes dropped to 3% and supercomputer weighed in at 0.3%.
But the real sign of change is in information. Back in 1986, the world held 2.64 billion gigabytes of information — and 2.62 of them resided on analog media (paper, film, audiotape and vinyl and videotape.) The growth of information soured over the next 16 years, when, in 2002, the amount of digital content exceeded the information we stored with analog technologies.
By 2007, our quantity of information had risen to 294.98 billion exabytes of information, and only just less than 19 of them still resided on analog media. If you took only the paper — and film, audiotape and vinyl used to store information today, it would account for only 0.004% of the world's content. That means that anyone, whose schooling and experience has not included the skilled, responsible and practiced use of contemporary information and communication technologies, well for more than 99.6% of the worlds information, they are practically illiterate!
What it means to be educated has been flipped on it's side!
I just had an interesting experience with my in-laws. We met them at a diner in Shelby for breakfast and over eggs, toast, and grits, Alvin told me that his Internet wasn't working. So we agreed to stop by their house on the way out of town.
When we arrived, I went straight to his boy-room (the man never got over his childhood, and has always bought interesting things for himself) and pulled out my laptop to test his WiFi. No problem. Then I went to his Toshiba laptop, and again, no problem. We talked a bit more, and I discovered that it was his iPod Touch he'd bought himself for Christmas that was the problem. (I'll say here that I hope that this stuff is a lot simpler when I'm 92)
So I ended out solving his problem by reminding him of the button he needed to touch to bring up Safari. We continued to talk and I did the whole, "Now here's my current killer-app." And then it occurred to me.
"Have you ever used YouTube, Alvin?"
He thought for a minute, and then mentioned a video he'd used to learn a line dance (I also, hope I'm dancing when I am 92). He told me that he had found the video through a Google search. So I pulled up YouTube, talking about what a wonderful learning tool this was. I typed in iPod Touch tutorials, and a whole slew of videos came up. I clicked into a number of them, including one on how to move YouTube videos into your iPod Touch.
And here's the interesting part. All of the videos were produced by boys, around the ages of 10 to 12. So I turned to Alvin and said, "You can learn to do most any thing you want with your iPod Touch her, as long as you're willing to learn from a 10 year old."
- Posted using BlogPress from my iPad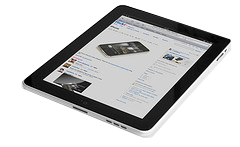 | | | |
| --- | --- | --- |
| WikiLeaks Mirror Site | vs | UCF Answer Leaks |
This is one of those blog posts that's probably going to get me into trouble. But when has that stopped me.
Today, it's about Wikileaks, a topic that, until very recently, I didn't give much thought to. There are two main reasons I have virtually ignored this issue.
One, I haven't read the leaked files and, therefore, do not know if what they include information that truly endangers the lives of people or merely reveals information that is embarrassing to the U.S. military and/or present or past administration(s).
The second reason, and more regretful one, is that I can't fully trust those who have read it, neither our administration (the first U.S. administration with genuine integrity in a very long time, in my opinion) and certainly not the media (who is in the business of selling fear, in my opinion).
So I ignored it, except that it reveals an information environment that has changed, and, therefore, requires a change in the climate of how we conduct ourselves locally and globally. I successfully ignored it until just before my banquet speech at the Farm Cooperatives Conference near Denver two weeks ago — Wow, I had to stop and think too hard to remember where that was.
One of the organizers asked me, before the talk, if I would be willing to answer any questions about Wikileaks during the Q&A at the end of talk.  From his expression, I must have reacted the same way I did when Belmont High executed an onsides kick, the end of the season, right into my 17 year old arms.  Guys who play center, don't carry the ball.  Coach said my eyes got bigger than my head — and the same probably happened when asked to comment on Wikileaks.
I didn't get the question, but I started to think about it — and even more so when I linked from a tweet by Joyce Valenza to an article (UCF Cheating Incident Sparks Debate about Academic Dishonesty) in the Miami Herald about a cheating scandal at the University of Central Florida. So I got to thinking, is there any way that this college cheating episode might be compared to Wikileaks — and here's what I came up with…
Issue
Wikileaks
Answer Leaks
How are they the same?
Both stories involved the (covert) leaking of information that was supposed to be secret and secure.
Why are they important?
Damages U.S. foreign relations & endangers lives (?)
Jeopardizes the students' preparation for business world and the reputation of the school (?)
Information revealed
U.S. Handling of Iraq & Afghanistan Wars and more
Answers to test questions on Entrepreneurship (MAN4802 MAN 4720 UCF)
Dangers

U.S. soldiers & allies killed or wounded
Damage to U.S. foreign relations
Embarrassment to U.S. administration

Business school graduates unprepared to be entrepreneurial leaders
Graduates having gained knowledge without working for it
Loss to school reputation

Morality?
Two factions – Those who are morally indignant about the leaks and those who morally support them.

(I do not know enough about the episode to have an opinion though I'm pretty sure that Wikileaks itself should not be held responsible)

Two factions – Those who are morally indignant about the leaking of test answers (cheating) and those who believe that it wasn't cheating.

(I do not know enough about the episode to have an opinion)

Objective of the leaks
Transparency: "The truth is out there"
Practical: To accomplish the goal – pass the test.
There is certainly a lot more that I could say about both stories, but not without a lot of speculation.  I do know that today's information and communication technologies have changed the climate of how nations and people should conduct themselves, and secrecy no longer empowers governments to conduct themselves in ways that they would prefer to remain secret.  I am also fairly certain that much of what happens in school testing has less to do with preparing students for their future and more to do with the business of schooling.  So I am left with two questions.
If the actions revealed by Wikileaks endanger people today or tomorrow — then why?
If passing that test by studying test answers from previous semester tests instead of lectures and assigned readings does not jeopardize the future success of business school graduates — then why not?