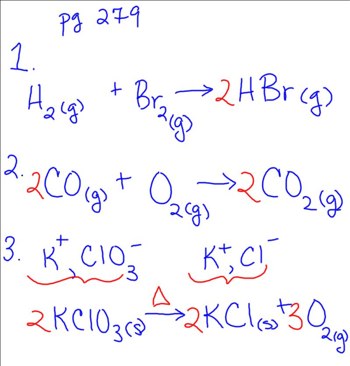 I've never needed to know how to balance a chemical equation. I am glad that I was exposed to the process & it's meaning.
I ran across an interesting Edudemic blog post yesterday, 10 Things Students Won't Need to Know When They Graduate.  I've listed the 10 below, but do go and read the article's explanations.  The author, Bob Dillon, hits on something that is central to the motivation that drives much of my work.  How much of our children's precious childhoods are we wasting teaching them things that they'll never need to know.
Perhaps the most fun that I have in my public speaking is telling stories.  The purpose of most of these stories is to trick the audience into a particular line of thinking and then surprise them with the recognition that they've been here before – but that they've come in through a unfamiliar door and it all looks different from this direction.  My follow-up line is, "Now what do our children need to be learning today to be ready for this?"
10.
How to use a mouse
9.
The difference between bullying and cyberbullying
8.
Memorizing MLA and APA styles requirements

(I'd like to think that I had a hand in that.)

7.
How to find basic reference materials in the library
6.
Developing film, taking the perfect picture
5.
The vocabulary terms land line and dial
4.
The propaganda techniques used in thirty second television commercials
3.
How to read a paper map.
2.
How to place data onto a CD or DVD
1.
How to read the movie listings in the newspaper
(Dillon, 2012)
I had initially planned to invite you to add to Dillon's list of things that students won't need to know.  But the fact is that one reason we, as educators, do not readily recognize this compelling truth and try to make sense of its profound implications is that we can not predict what our children will need to know and not need to know.  It would be nothing more than speculation.
So again, "What do our children need to be learning today?"
Several ideas spring to my mind as I try to unfold this.
Our children need to learn something.
What they need to learn is no longer as important as it use to be.
Increasing the stakes on what they learn does little more than punish our children for our own arrogance.
If what they learn today may not be useful to them tomorrow, then how will they continue to learn what is?
How they learn has become much more important.
Perhaps the most important thing we can help our children learn, is how to teach themselves.
For the fun of it, lets try an experiment.  Rather than speculating on what our children will not need to know, I'd like you to comment on this post with an answer to this question,
What were you taught when you were in school that you have never needed to know?
I'll post a couple of comments to start things off.
Thanks!
Dillon, B. (2012, August 27). [Web log message]. Retrieved from http://edudemic.com/?p=25495
"Future-Ready Students for the 21st Century"
It's the title of the goals document for the North Carolina State Board of Education and it begins with, "..every public school student will graduate from high school, globally competitive for work and postsecondary education and prepared for life in the 21st Century."  I'd love to ask that appointed body, "What does this mean and how does it translate to the "what" and "how" the children of this state are being educated?"
A few mornings ago, I was working in my office on a fairly redundant task, which usually affords me the opportunity to pay attention to a podcast or partial attention to a movie or TV episode, usually playing over the air to my iPhone.  The 3 1/2 inch display provides less distraction than my iPad or computer screen.
On that morning, I was playing 2010, the sequel to Stanley Kubrick's 1968 film "2001: A Space Odyssey. I've enjoyed re-watching 2010 over the years because it has more dialog and slightly more action than the original.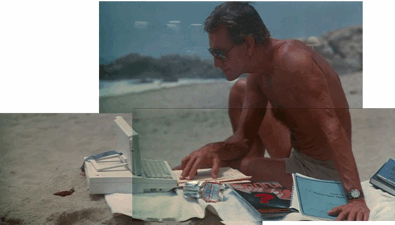 Composite of the scene's camera pan.
What struck me that morning was a scene, where the hero scientist, Dr. Heywood Floyd (Roy Scheider), is sitting on the beach preparing for his upcoming journey to Jupiter, studying reports, an issue of OMNI (which stopped publishing in 1995), and a portable computer (see right & below).
Notice the computer the former chairman of the American space Agency is using and consider that the scene depicts "mobile computing" in the year 2010 – from the perspective of a film produced in 1984.  More than anything else, the computer resembles Apple's forgettable Mac Portable, launched only five years later.  Scheider's 21st century machine perhaps even more closely resembles its more contemporary Apple Iic, with a flat four-inch display and parallel ribbon cable connecting the two.
| | | |
| --- | --- | --- |
| | | |
| Predicted Mobile Computing for 2010 | Apple IIc – 1984-1988 | Mac Portable – 1989-1991 |
It is also worth noting that the 1968 film predicted human spaceflight to Jupiter in a 460 foot spaceship by 2001.  
Discovery I, from 2001: A Space Odessey
These are two fairly unimportant and dramatized examples, but if living through half of the 20th century and a tenth of the 21st has taught me anything, it's that most attempts to accurately describe what we will do, how we live, what's important to know, and what we care about 30, 20, or even 10 years from now, is at best a challenging intellectual exercise, and a worse a gross display of arrogance.  
Yet, isn't this what our institution of education is attempting to authoritatively do, predict what our children need to be taught today to be ready for a future we can not possibly accurately describe.
Tom Whitby addressed this a few days ago in How We Teach Trumps What We Teach.  He questions our concern for content, assessment and data, saying,
Maybe "Content is King" merged with "Data is King" does not add up to a learned individual. Maybe the focus on content, so that education can be easily assessed by Data is really the wrong thing that we should be analyzing. Maybe, how we teach, is a much more important element in learning than what we teach. Maybe the data is totally correct about what it is assessing, but what it is assessing is not what we should be looking at. 
We need to be much more willing and humble enough to say, "Maybe," a lot more than we do in education.  But even Tom, I believe, does not go quite far enough.  He refers to becoming a "learned individual," when Eric Hoffer's famous quote comes much closer to my view, that..
In times of change, learners inherit the earth, while the learned find themselves beautifully equipped to deal with a world that no longer exists. 
How our children learn is critical today, not so much as a point of pedagogy, but for the development of a distinct and most important skill – learning.
The job of education should be to wean children from the teaching, helping them to become, at graduation, independent, skilled, inspired, and responsible learners eager to adopt and adapt to changing conditions, turning uncertainty into opportunity.
Being future ready will not happen because of the rigor of ramped up standards.  It will happen by scaling back the standards as the education years pass, focusing on passion, and providing students with the support, opportunity and facility to learn and to make themselves experts in their shifting fields of interest, fields that educators skillfully usher them through.
A Kevin Jarrett Photo of Elizabeth Davis
Several days ago I submitted a proposal for an EduBloggerCon unconference session asking how social media and social networking might help to define digital (next) textbooks. To help seed this conversation I asked folks, via Twitter, from the train on Friday, to share some defining characteristics of old paper printed textbooks. As the responses flew in, I combined and edited them into more positive descriptions such as standards aligned, focused, unbiased, durable, etc.
Next I created a Google Form survey that asked unconference participants to read a characterization statements about old textbooks and write in comparative characterizations of next textbooks. For instance, if Old textbooks are NARROWLY FOCUSED then Next textbooks are…
This morning I culled through the responses, mixing, matching, and editing them together into a defining set of comparisons.  Admittedly, this listing reflects my own biased sense of where textbooks are going.
Old Textbooks
Next Textbooks
•
Old textbooks are STANDARDS-ALIGNED.
Next textbooks will be synaptically aligned to the learning needs and experiences of their users.
•
Old textbooks are CENTRALLY-AUTHORITATIVE.
Next textbooks will establish authority as part of the learning practice.
•
Old textbooks are SAFE & COMFORTING.
Next textbooks will demand and provoke new learning (and teaching) through surprise.
•
Old texbooks are STABLE.
Next textbooks will be fluid, dynamic and ever adapting to learning experiences and shifts in the world, about which we are learning.
•
Old textbooks are ERRORLESS (error ignorning).
Next textbooks will admit errors and will socially self-correct.
•
Old textbooks are NARROWLY FOCUSED.
Next textbooks will be broadly focused through logical and interdisciplinary connections and by adapting to the behaviors of their users.
•
Old textbooks are UNBIASED (self-proclaimed).
Next textbooks will admit their multi-bias, and will invite and share reader interpretation.
•
Old textbooks are PERSONAL/ASOCIAL.
Next textbooks will invite and facilitate conversation and, in appropriate ways, adapt and grow through the conversational behaviors of their users.
•
Old textbooks are MANUFACTURED.
Next textbooks will be co-created, cultivated, and grown by learners and master-learners.
•
Old textbooks are DURABLE BY THEIR RESISTANCE TO CHANGE.
Next textbooks are durable by their adapting flexibility.
•
Old textbooks are HEAVY.
Next textbooks will weightlessly make themselves available to any learner, anywhere, anytime.
•
Old textbooks are VISIBLE.
Next textbooks will glow, grow, and flow, seamlessly reflecting the world through the eyes of a learning community.
Books were the predomimant tools for learning in my education — not comic books
Photo by cobalt123
I have a short trip today. It's a quick flight down to Atlanta on Delta Airlines and then a rental car over to Athens for a Georgia School Superintendents Association conference. Apparently, about thirty Georgia superintendents have been on a vision quest, to find meaning in the wilderness that is the 21st century. Their shaman guides have included Michael Horn, Tony Wagner, Marc Prensky, and Hall Davidson. My job is to bring it full circle — back to the basics.
They've learned about the disrupting conditions that plague today's classrooms, a model for the skills that students need to be graduating with, how our students learn differently because of the information experiences they have grown up with, and the compelling technologies that define their/our world. The question I enter with is, "What does it mean to be literate today?"
It's an old but constant theme for me and one that came up several times during conversations I had last week in Atlanta for Technology & Learning Magazine's TechForum. The evening before, David Jakes (the event's keynote speaker) and I were interviewed before a camera — which is still a terrifying experience for me — the camera part. We were talking about technology, and I was feeling my allergic reaction to the continual mention of the "T" word. "It's the information that we need to be talking about," I'm sure that I said. Continuing, "Information has changed, in what it looks like, what we look at to view it, where we go to find it, how we find it, what we can do with it, and how we communicate it." Then it came to me that preparing our children for their future with a little tool time, is be like…
My having graduated from high school in 1970,
In a prevailingly print and publish information environment,
Having only read a bunch of comic books.
I know that my children graduated only a few years ago having only read comic books.
I continue to hear educators say that their schools have no plans to go 1:1. Principals tell them that they will not allow personal information devices in the hands of their students because of the distractions it would cause in their instruction. There reamains, for many, a vast chasm between the world that we are preparing our children for, and where we are preparing them.
I recall also reminding the audience that for years many of use have said that, "Technology is being used well, when the technology becomes invisible."
I would suggest now that technology is being used appropriately only when the classroom walls, textbook covers, and bell schedules have become invisible. ..when that chasm disappears.
The Post-it Man by Tim Ove2
It is customary to offer your new year's resolutions — a custom I usually avoid. Why set yourself up for disappointment. But over the past few mornings I've been thinking that NYRs might be an interesting way to make a statement — something I'm obviously not very shy about.
So, here are my 2010 New Year's Resolutions.
I will accept that I may no longer be a believer — Over the years, I have been gradually, and not without resistance, losing my faith. I am afraid that I may no longer believe in education.

There is no problem with education.

Education is the problem.

Our goal is preparing our children for their future, and I am becoming convinced that education — our belief in education — is preventing us from accomplishing that goal.

I will avoid, at all (most) costs, using the following words:

education — It gets in the way. Anybody know what I might substitute the word education with? ;-)
student — Implies learning as passive and separate from living. I'll try to use learner instead.
technology — What does it mean to you? ..to me? I think it is better to tell the story — what the learner is doing, with what, and to what ends.
teach — The active and accented verb in our conversations should be "learn" not "teach."
teacher — I'm actually not too sure about this one. I may start referring to us a teacher-learners.

I will try, at all costs, to speak plaining and to clearly paint pictures for what I am striving to convey. If we agree that "it takes a village to teach a child," then we need to be speaking in villagese, not schoolese. We need to try to avoid the vague terminologies that portray us as experts, and instead, use sentences that more effectively spread our knowledge and experience.
I will more aggressively and compellingly speak out against standardized testing, and to direct conversations toward alternatives.

I believe that standardized, high-stakes testing has done far more harm to more children then all the social networks on the planet.

I will try to spend less time sitting at my computer and more time doing something unrelated to "education" and "technology."  Anybody know where I can download the guitar tabs for It is One, by Jackson Browne?
OK! I will also get my weight down to 190, hug my wife more, be nicer to the dog, and eat less meat.
Happy New Year, My Friends!
3It is customary to offer your new year's resolutions -- a custom I usually avoid. Why set yourself up for disappointment. But over the past few mornings I've been thinking that NYRs might be an" data-image="http://farm5.static.flickr.com/4017/4207017343_b232451f18.jpg" data-site="2¢ Worth">
Ove, Tim. "The "Post-it" Man." Flickr. 22 Dec 2009. Web. 31 Dec 2009. . [↩]
Ove, Tim. "The "Post-it" Man." Flickr. 22 Dec 2009. Web. 31 Dec 2009. . [↩]
Ove, Tim. "The "Post-it" Man." Flickr. 22 Dec 2009. Web. 31 Dec 2009. . [↩]
I've seen things you people wouldn't believe. Attack ships on fire off the shoulder of Orion. I watched C-beams glitter in the darkness at Tannhäuser Gate. All those moments will be lost in time like tears in rain. Time to die.1

Blade Runner, 1982
Some times I feel like Roy, the dying replicant (robot), lamenting the loss of one soul's experiences — what sites he's seen. We've been witness to some pretty amazing sites in just the last few years, and they have been both tumultuous and exhilarating.
We have been a part of a dizzying array of advances — and yet, change has been just slow enough that we do not see it nor do we think that much about it — amongst our every day endeavors. Of course, this paradox shouldn't surprise us considering that as my country works hard to overhaul its healthcare system, and the world grapples in Copenhagen, to rein in global warming, what holds our attention is the infidelities of a professional golfer.
That said, I feel it is important that we, during this holiday season, be reminded that in the year 2000
You were probably still running Windows 98 on your PC, or OS 8 or 9 on your Mac — on which you were still using Hypercard.
If you used a laptop, you had to plug it into the Internet — and often through a telephone.
E-mail was still THE killer app because there was no MySpace.
To twitter was "to make high-pitched sounds, as of birds."
There was no Firefox, no Flickr, and no Facebook.
The hottest thing going was Napster and the hottest MP3 player was the RIO, from Diamond Multimedia, with 32Mb of audio storage to brag about.  (that's 1/2000 that of today's iPod Touch)
Some of what's happened since 2000 has not been that noticeable, such as genetically engineered corn and applications of nanotechnology.
Some of it, we should have noticed more, such as our exploration of the Saturnian system, and skid marks left on the surface of Mars — and most of our textbooks still call Pluto a planet.
The software that you used came in a box with a paper manual — and you most likely paid for it.
PDAs had a stylus.
No one had a Blackberry or iPhone, and
If you owned a mobile phone — it was just a phone.
You weren't blogging and if you maintained a web page, it was with Dreamweaver or Microsoft Frontpage.
ISTE was NECC and NECC was in Atlanta, and we don't know what was hot, because we weren't blogging it.
We were not worried about China and India, and we'd just gotten through Y2K with hardly a hitch — thanks to people from China and India.
Yahoo! looked like this

CNN.com looked like this

My web site looked like this

..and Google pretty much looked the same that it does now.
Wireless Internet, iPhones, and traffic-displaying GPS would, to many, have seemed "indistinguishable from magic."

What, that we would call astounding (magical) today, may we take for granted ten years from now — and how prepared will the students attending our classrooms today be for that future?

If you were teaching in 2000, then you remember a sense of professional pride, which has been stripped away for political gain.

In 2000, society's most critical endeavor, education, had not yet been usurped by amateurs in Washington, and driven decades in the wrong direction by people who saw no further than the industry-modeled classrooms they'd attended decades ago.
What will 2010 bring? In the next few days, I'll tell you…
Fancher, Hampton, and David Webb Peoples, Script. Blade Runner. Dir. Ridley Scott." Perf. Hauer, Rutger. 1982, Film. [↩]
(Assignment Below)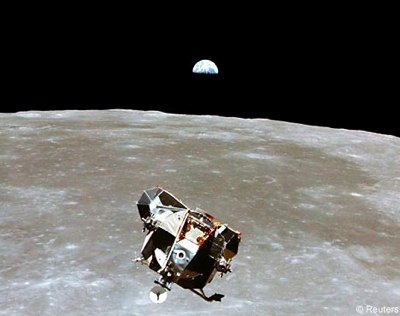 I had a short talk with my friend Paul Gilster last night while walking our dogs. As a reminder, Paul is the author of Centauri Dreams (book/blog). It's a book, and subsequent blog, about visionary scientists who are plotting the method and means of achieving interstellar space travel within the next 50 years. I never walk away from Gilster without a renewed feeling of wonder (if my mind hasn't been entirely blown apart by the possibilities), and I never leave these conversations without being reminded that my generation, in its youth, had a frounteer. It was set forth by John F. Kennedy on September 12, 1962, when he said,

We choose to go to the moon.
We choose to go to the moon,
In this decade and do the other things,
Not because they are easy,
But because they are hard.1

It's the difference between the Sputnik challenge of the '50s & '60s and the educational challenge of this day. My teachers were challenged to educate a generation who would send people to the moon and beyond, to explore the frontiers of space. Today, we are challenged to "Race to the Top." It sounds good, but what does the top look like? There's no picture of it to inspire us. There is a vague sense that our children will graduate smarter than theirs — as measured by some Common Core of Education Standards.
There is another reason that these thoughts came to a head for me this morning. Next week, The House Committee on Education & Labor, chaired by 34-year Congressman Hon. George Miller, will hold a hearing to learn more about states' efforts to help improve the nation's competitiveness by adopting a common core of college and career readiness standards. Witnesses will be Hon. Bill Ritter, Jr, Governor of Colorado, Gene Wilhoit, Executive Director of the Council of Chief State School Officers, Doug Kubach, President and CEO of Pearson, and Cathy Allen, Vice Chair of the Board of Education at St. Mary's County Public Schools.
I'm not going to criticize what the National Governors Association and the Council of Chief State School Officers are doing — have done, in developing these standards. It is good work. What I am critical of, is seemingly incredible lack of vision and imagination in setting a "Race to the Top" — a competition of test scores — as the frontier for this generation of youngsters. We must go much further than a mere listing of standards and measure of attainment. We must inspire students, teachers, and a society with a image of what that frontier looks like and what its reach will achieve — and it's got to be a lot more than what's inspired us over the past few decades — getting rich!
Assignment:
So, here's my topic assignment for youngster and teacher bloggers. What frontier might inspire us to race to a better, more exciting, and self-fulfilled future?
Powered by ScribeFire.
Kennedy, John F. "We Choose to Go to the Moon." Rice University, Houston, TX. 12 Sep 1962. Address. [↩]
Women now represent 49.83% of the American workforce, expected to exceed 50% by October or November
I flagged this one to pass on several days ago, but have been so focused with another writing project and working on a Citation Machine upgrade (APA 6th edition), that I've not been thinking about much else. But I do want to at least make mention of this, partly because I am old enough to have known a time that this news would have been really weird.

Women are on the verge of outnumbering men in the (U.S.) workforce for the first time…
Women lost about 1.66 million jobs
Men lost about 4.75 million Jobs
Source: Bureau of Labor Statistics
That was the first line of a September 4 USAToday story, Women Gain as Men Lose Jobs. My more conservative, 1950s, Father Knows Best upbringing aside, there are a lot of logical reasons for this "historic reversal," which has been coming for decades. But the tipping of the statistical scales accelerated with the recession, as jobs where women are more frequently working are in the few sectors of the economy that are not so much in decline or are actually growing, according the the Bureau of Labor Statistics. The graph to the left is my re-make of one from the article, which paints the picture of job losses since December 2007.
Two of the sectors that have continued to be strong are dominated by women, health care and government — whereas men have dominated construction and manufacturing, both of which have been brutally affected by the recession.

Through June, men have lost 74% of the 6.4 million jobs erased since the recession began in December 2007. Men have lost more than 3 million jobs in construction and manufacturing alone.
I have to wonder, also, if there are other factors. As I have watched the quite small sampling of exclusively middle class millennials whom we have encountered in the neighborhood and through our children's schools, the only ones who have entered and finished college have been girls. The boys have either not entered post-secondary ed, or are having difficulty or giving up on finishing.
As the conditions that we live, play, and earn a living in continue to change, are we going to be able to adapt? Are we all going to be able to adapt? Are we adapting, as educators? Is education going to transition in a way that appropriately prepares children for an unpredictable future? What does that transition look like?
Powered by ScribeFire.
I know! It's a terrible thing for a tech guy to say — though this revalation is fairly consistent with the frequency of my own podcast, Connect Learning — and I'll not look back to see when my last one was posted. It's depressing.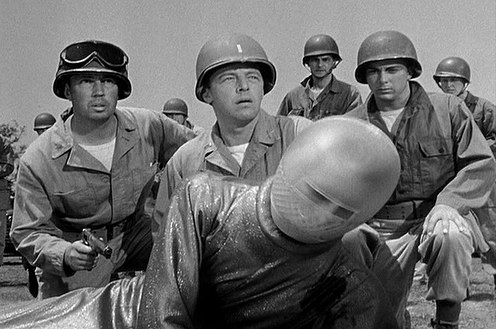 Having shoot the visiting alien (played by Michael Rennie), the "military people" look up in astonishment at what just walked out of the flying saucer. "Gort! Klaatu barata nikto." From The Day the Earth Stood Still (1951).
But I'm still running the Education Podcast Network site and get to see what's coming through — so that I can toss out the less appropriate. This morning, I ran across MySF Project Blog, a blog/podcast about teaching Science Fiction in secondary school. The host is Michael Sisley, a secondary teacher in Deakin, in the Australian Capital Territory, and creator of an online course on speculative fiction.

Using a thematic approach and research based around online and flexible learning instructional design, the mySF Project discusses texts that may be useful to teachers and students of SF in middle and upper secondary school. Deriving from several years teaching SF with students in Canberra, Australia and elsewhere, as well as recent studies, the mySF Project comes out on this website from the darkness of education intranets and is presented as another resource for secondary English and other teachers, as well as inviting feedback on the materials as part of an ongoing educational dialogue with teachers, authors, film-makers, blog and podcast creators, and students.
I've probably mentioned in this blog, but frequently express in outside conversations, that I believe that science fiction should become a much more widely explored genre in our students learning of literature. This is not to say that the classics have less to teach us about our own world. But perhaps, in this time of rapid change, good SciFi writers might be especially valuable sources of ideas for our students. We can't ignore these stats from Conor Bendl (Episode 26),

19 of the top 20 grossing movies of all time — science fiction or fantasy. They did a poll a couple of years ago, Australia's favorite book, Austrialia's favorite film, and Lord of the Rings topped it in both situations.1
I listened to Sisley's latest podcast, number 27, which features an interview with Thea van O, a former English teacher, SciFi buff, and currently a coordinator of learning technologies. She talks about instruction technologies and the teaching of science fiction. I learned about two tools that were completely new to me.
The first was Kahootz, which appears to be a virtual worlds generator (purchased software) that students in Australia are using to create 3D walk-throughs, which can be exported as AVI files. I got the correct spelling and URL from Helen Otway, an Assistant Principal/ICT person from Melbourne — via Twitter. According to Heather Bailie, a secondary school ICT coach and teacher librarian, also from Melbourne,

Kahootz is a software app to create animated worlds. My 10 year old says it's really fun! Vic. ed. dept have site licence.2
As is often the case, when you ask a question in Twitter, you always learn more than you asked for. Stuhasic (Twitter handle) mentioned Skoolaborate, an online project that brings students together from across the globe, using blogs, wikis, and Second Life. Here is a video and explanation.
The other new tool I learned about was Dumpr, a cloud-based graphic tool that does some interesting things with digital images, probably most appropriate for elementary children, though I got a kick out of making the image to the right, using Photo to Sketch.
Conor Bendl is interviewed in episode 26, a high school teacher, instructor of an elective course (Speculative Fiction), and SciFi author. Most of the conversation explored Conors activities and techniques as an author. It's one of the huge benefits of a more openly communicative world that we have access, from the classroom, to real authors, who are often eager to talk about their craft.
Anyway, it was a good way to start a day of mostly programming.
So if you agree, that SciFi should be more widely used in classrooms, who would you recommend? I'll start with some obvious one. Arther C. Clark, Greg Bear, and I am especially fond of Robert Sawyer's work. Who would you add?

Powered by ScribeFire.
Bendl, Conor. "mySF Project: Podcast 26, for Teachers of Secondary Students Studying Science Fiction (SF)." [Podcast Entry] mySF Project Blog. 29 Jun 2009: 26 Podcast.31 Jul 2009. <http://www.pataphysics.net.au/mysf_project/mysf_project_blog/?p=30>. [↩]
Bailie, Heather. "Twitter." [Weblog Hbailie] 31 Jul 2009 07:08. Web.31 Jul 2009. [↩]
Folks probably think I'm a travel Nube when I take pictures out the plane window. It is, after all, Meteor Crater.
This post rambles a bit before I get to the point.
I'm home for a few days, and, as I'm sure is plain from my early morning Tweets, I am in need of a weekend. With an unusually large buffer between last night's arrival in Raleigh (midnight) and my next flight out, I'm hoping to relax a bit. But before I start, I want to get a few things out.
I've been a part of some very good events over the past week in California, Virginia, and yesterday in Arkansas. On Saturday, I worked at another of those events where an active school district brings the conference experience to the teachers — unable to send all teachers to conferences.
The opening keynote was delivered by Steve Edwards, and provided a very good general look at education today and the youngsters we are charged with educating. That was followed by some breakouts and then a mid-day general session which I presented. Now struggling to carry two laptops with me now (MacBook and netbook), I'd loaded up everything into an older computer bag, somehow missing my Mac video dongle. We finally exported my Keynote slide deck over to the tech guy's Dell, and, of course, there were multiple problems with the element builds. In addition, none of the QuickTime videos would play with their slides, so I had to run them separately. It all worked out, and I played along with the difficulties, but that presentation was very hard work.
Yong Zhao speaking about education
The day closed with Yong Zhao, whom I have only nearly been able to see before. His message was well delivered, carrying special credence, given that he was born in China and he plays that distinction brilliantly. His message was simple — "High stakes testing is bad for our children and for our future."
What I thouht was especially important and bold was his claim that the achievement gaps between the U.S. and other countries (USSR 1958, Japan & Korea 1983, Singapore 1995, China & India 2007) is not the problem that challenges us today. We have a need, a political need in my opinion, to compare ourselves educationally with other parts of the world. This requires measurement, and measuring education is something you simply can't do in the short term. In the long term, we (U.S.) continue to do pretty well. As other countries rise economically, the U.S. has not fallen that much, and where we have fallen has been where we have forgotten what we are really good at, in hopes of comparing more favorably with what other countries are good at. (italicized is my opinion)
More the the point of this post, I had the pleasure of sharing lunch with some of the staff of South Morrison Elementary School, a "21st century school." Some of their teachers put together some amazing poster sessions featuring their students' work with ThinkQuest projects and PhotoStory.
The central theme of our BBQ flavored conversation was t he challenge of getting reluctant teachers to buy in to the spirit and practice of a 21st century school. Since the principal was at the table, I suggested that the use of digital networked content be part of the evaluation expectations for teachers, and that it needed to go much MUCH deeper than just saying, "We want you to do one technology-infused unit this year." I suggested that all relics of learning and teaching that are shared, must be digital.
However, the general consensus was that using an expectations approach exclusively, and some of the other suggestions might result in too much of an "us" vs "them." atmosphere. I apologize for forgetting names, but a young man, who was a tech teacher (former attorney and part-time actor), suggested that it should all be part of a school-wide conversation, that spirit and practice needed to be generated out of the school's voice, not just the voices of early adopters.
Such a school-wide conversation needs to start with a question, and what rose out of our discussion was, "What does a 21st century school look like." Part of that was my customary caution about the 21st century label — that it means something to me, because I spent nearly 50 years waiting for it.
But it's still a good question. They have 21st as part of the label of their school, but in what other ways does the school look new and innovative.
So what do you think the 21st century school (School 2.0) should look like to families and community?
keep looking »