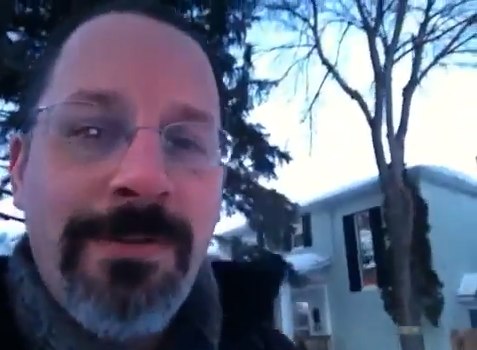 Darren Kurpatwa delivering his WhileWalking episode 73
My friend, Darren Kuropatwa, mentioned me in one of his "WhileWalking" video reflections, referring to one of the conversations we had at Educon last week. I love his new reflections series for many reasons, not the least of which is the delightful sound of Canadian snow crunching as he walks.
In that conversation, on the last day of Educon, he told me about how students were using Google docs in preparing their presentations and how convenient it was that Google built in an image search tool that returns only Creative Commons licensed media and even includes citations for the images that can be pasted into the document.
I was less than thrilled about this and Darren, in his reflection, wonders why. He's asking if there is a relationship between my reluctance about Google's bundled services and why many educators resisted their student use of calculators decades ago. It's an excellent question, which I guess is why it occurred to Kuropatwa, while tundra-walking.
There is a very real relationship between the emergence of calculators in the early 1970s and the rise of the World Wide Web, dynamic search engines, and smaller useful information tools like Creative Commons licensers and citation generators. But to understand why I feel Darren's described scenario is, in ways, counter to the mission of education, I need to briefly define that mission, as I see it.

A sliderule like the one I used as a high school student
A continuing factor in my own reflections is the fact that from my time as a high school student to the waning years of my career as an educator, the tools for working with information have advanced from sliderules to tablet apps – an astounding revolution in information and communication technologies, from sticks to chips. Our mission is to prepare our children for jobs, lifestyles, tools, processes, problems and goals that we can hardly imagine. We're preparing them for the unimaginable.
I am certain that their lifestyles will be (is) fueled by the daily practice of learning and that the mechanisms of that learning will be constantly and sometimes rapidly evolving.
Many of us were fairly certain that calculators would be a prevailing information processing tool in our students' future, as we know that our children's future will continue to afford them a vast and dynamic aggregation of information – that also obliges them to new and interesting ethical responsibilities.
Each of these advances in information and communication technology warranted a role in our children's formal (and informal) education.
Now, my objection to Darren's scenario has little to do with Google's purported desires to dominate the world of information, or even the fact that Google has made research, production, and attribution easier – as was implied in several tweeted responses to Darren's post. We should probably be concerned about the dominance of one company in any realm of interest, but there's nothing wrong with "easier."
What concerns me is how these tools might be packaged to help children do school work, at the expense of helping them learn to use information to do real work.
If Texas Instruments had created a curriculum-friendly calculator, one designed to help children learn math, as apposed to using math to work numbers, then I might have had the same objections – though I can't confidently speak for the 22-year-old me.
What I believe today is that our children need to be developing a learning lifestyle, with the skills and habits of utilizing a tumultuously shifting and advancing information environment and the unimagined opportunities that an unwritten future provides. This is the mission of education.
Darren has invoked the best word for my thinking, that learning should be be "deliberate," as deliberately authentic as possible.
Kurpatwa, D. (Performer) (2013, February 7). Whilewalking 73: Should we be deliberate?.WhileWalking. [Video podcast]. Retrieved from http://www.youtube.com/watch?
Before Educon's conversations begin, we get to spend the day at the Science Leadership Academy (SLA), attend an evening panel discussion at The Franklin Institute (see Pulver) and see the opening keynote address – this year it was Philadelphia's new Superintendent, Dr. William Hite.
..and I'll say here that among the many regularly scheduled annual educator learning events, Educon's unconference is probably the richest experience, anywhere, anytime. This is not to say that regular conferences with presenters and keynote speakers are not valuable. They are essential, because they facilitate opportunities for learning that Educon does not. But to listen to smart people and to be able to push and pull on what they are saying, well, it just wrinkles my brain.
Master photographer, Kevin Jarrett, captured this picture of me and Joyce Valenza catching up.
One of the greatest features of Educon is the chance to catch up with friends, whom we see almost daily in the networked eduverse, but with whom we rarely get to shake hands, huge, and enjoy extended conversations, unconstrained by 140 characters limits – and that's not to say that we ever get to finish our conversations at Educon, because there are always new ones that attract our attention.
We also get to visit classes and talk with SLA teachers. I especially enjoyed talking with Matt VanKouwenberg, about his engineering classes. His process reminded me of the vocational education classes I took in high school, how we all learned many of the same lessens by working on distinctly different projects. He told me that each class starts with a few minutes of sharing, where each student or team reports on where they are, barriers they are facing, and what they are learning (think the first five minutes of each episode of LA Law). He said that it often surprises the students to discover the similarities in what they learn, regardless of what they are working on.
I also enjoyed talking with one of my favorite SLA teachers, Meenoo Rami, an English teacher. Rami teaches a class about Storytelling, which appears to be not about fiction writing, but about how we use stories as a device for communication. I think that this is an often overlooked tool for expressing ourselves, even by many of us who are supposed to be master communicators. Too often I hear keynote and featured speakers simply telling us what to believe, rather than helping us discover our own beliefs through plot and surprise. Never underestimate the power of a good surprise.
Near the end of the Friday night panel discussion, Pulver said that, "The future is unwritten!"
When considering our challenges as educators and the future challenges of our students, we must come to believe that anything is possible. We're not preparing our children for the 21st century. We're preparing them for the age of opportunities, when almost any problem can be solved and almost any goal can be accomplished. This affects so much that is involved in formal education.
[click to enlarge]
While claiming my best seat
(its that hearing thing)
for one of the first conversations, and reflecting on Friday's panel and Saturday morning's keynote, I quickly drew up the diagram on the right. Even though, at the highest levels, we'd all deny it, our job, now, is to prepare our children to take tests. Education has become a competitive endeavor, pitting nation against nation, state against state, district against district… and the point system for that competition is test scores.
This implies a purpose behind education that has little to do with an age of opportunity. Instead students learn to read in order to follow instructions and to learn in order to fit in to someone else's competitive machine. To be ready for an age of opportunity, children must learn to read so that they can learn to do something that they couldn't do before and to learn in order to make their own machine.
One of the greatest ah ha! moments of the event, was when Philadelphia Schools Suerpentendent, Dr. William Hite said, "Today, teachers do not need to be content specialists nearly as much as they need to be context specialists."
Educon 2013 is over and I'm on my way home, the Carolinian, Train number 79, on time with a passable WiFi connection. During this year's conversations, I tried a new app and technique for taking notes. The App is GoodNotes, which is like a couple of dozen other stylus-based note-taking apps. What I like about this particular one is your ability to connect it with the iPad's camera and integrate pictures into your notes.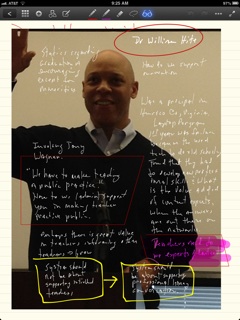 Superintendent of Philadelphia Schools, Dr. William Hite
This, I believe, would be extremely valuable when attending presentations that relied heavily on diagrams and other visual media. It wasn't ideal for Educon, who's conversations were less dependent on slides, but I did include pictures of the presenters as a reminder, when reviewing the notes.
(see right)
I typically use a mind-mapping program, so that I can organize ideas in relation to others. But I've always missed the freedom of a blank page. Writing notes with a stylus has all sorts of disadvantages, but I can already see that I am going back to review my notes much more frequently than I have ever scanned my mind maps.
I confessed to a number of people yesterday, that I attend these things, not so much for new knowledge as for new language. I do not manage a school or classroom, so I am not looking for solutions. I need new ways of talking about education in the age of opportunity – which is often counter-intuitive to the my audiences' vision of classrooms. New angles, phrases or new stories help to produce shakabuku. They sneak up on the listener and surprise them with new realizations.
The first thing I think, when seeing a panel for educators made up of non-educators is, "Why do we assume that business inherently does it better?" I have to confess that after the panel discussion was over and and I was trudging back up to my hotel (why's going home always up hill?) through the (more slippery than it looked) snow, I asked myself that question – probably out loud.
But rehashing parts of it early the next morning and reviewing my notes, I see lots of ideas that, when unpacked, apply wonderfully to teaching, learning, and classrooms. Here are some phrases from Jeff Pulver, an entrepreneur and venture capitalist.
Teachers should model entrepreneurship! I include this statement only because It comes up frequently during unconference sessions on education and entrepreneurship. If we want our children to be creative, then we need to practice creativity in front of them.
Voice is an application! I'm still trying to wrap my mind around this one, but according to Wikipedia, "an 'app' is computer software designed to help the user to perform specific tasks." One could say that giving voice to learning helps learners to accomplish something with what they've learned.
The fuel for disruption is passion! This one makes a lot of sense to me. Disruptive technologies, techniques and processes change nothing unless someone is passionate enough to audaciously and heroically use them. Learning is disruptive. If it wasn't, what would be the point?

Are we fueling our students' learning?

Be willing to break the rules! I keep playing around with the idea that rules, in school, are designed to contain the learning. However, in the real world, rules are a way of mapping the perceived constraints of reality. Those who accomplish goals creatively do so by rewriting the rules – reshaping the confines of reality. Personally, I prefer "changing the rules" or "re-writing the rules" to "breaking the rules."
Find People who don't know it can't be done! Is this an overlooked value of new teachers. I keep thinking that there is great potential to pairing experienced teachers with new teachers, when solving education problems – so long as each is willing to learn from the other.
Make exercise fun! This one hit hard. It's one of my regrets, as I approach the end of my career, that I have not thought enough or talked enough about our children's physical education. I think that Pulver, from his own recent experiences in losing so many pounds, was spot-on, that "Exercise should be fun."

But, for many, it's not. I've never gotten anything from endorphins, though my wife use to claim an addiction to her afternoon jogs. Perhaps its an A.D.D. thing, because the only effect I feel from the (prescribed) stimulants I sometimes take is that I can suddenly express myself in a little more linear fashion. But no other physical sensation.

Some people don't like sports. I was good at baseball and football, and played on school teams. But I never took the whole winning/losing thing very seriously – and never had fun playing with people who did.

Some people aren't good at sports. One of my brothers could run faster than anyone in four blocks. But he never learned to catch a ball gracefully.

How do you make exercise fun? Here are a few thoughts.

Sports should not be limited to those who are good at it and only for the good of the school. Invite everyone to play and celebrate the play. Playing is fun. Winning requires losers.

1987 Infinity Recumbent

Find new ways to ride. I've been a bicycle rider since college, although not like some. But now, I find riding to be painful to my wrists, hands, knees, and, well, the obvious places. So I've recently purchased a used (1987) recumbent bike, which is fun for me because it's a new way to ride, and because I'm having fun learning how to ride it

(and keep my feet on the peddles)

.
Find new human-powered routes. Greenways are huge in large cities, and I'm starting so see them in smaller cities. There are also some instances of walking and biking trails that connect towns, which is something I noticed a lot of in Germany. I believe that there's a trail between Richmond, Virginia and the shore. Go to TrailLink to find trails in your state and community.
Find new places to walk to. Just walking or biking is often not compelling enough. There need to be reasons to be on those trails, places to go, reasons to be on your feet. Making your community more bicycle and pedestrian friendly is essential. But how do you make them desirable or fashionable to use. Ask students to invest in them by devising solutions. Take a picture of your downtown and ask students to edit the picture, adding features for the self-propelled. Ask a Maker class to design and build bicycle racks for your community and work with stores and municipal establishments to install them. Get creative. Get going on your own two feed.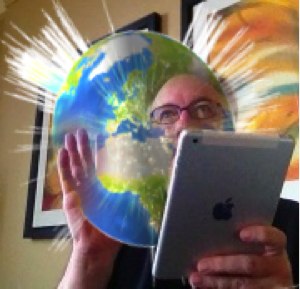 I do not think that holograms are on the near horizon, but one can wish
So, continuing from my last blog article, if the answers to our questions are changing and they are constantly available to us, and helping our children learn to find, validate and use valuable information/media has become a central defining component of literacy, then of what use are textbooks.  If stripped of the content – the right answers to questions – then what is left and to what purpose.
In my opinion, quite a bit is left.  I took one of those remedial classes in my first year of community college, something like "Improve Your Study Skills."  I remember the professor telling us what to do upon receiving our textbooks each semester.  We should scan through and register key items and sequence of ideas in the table of contents and also scan the index, looking for names, words and phrases that stand out.  Each of these textbook elements provided anchor points within the content, giving it shape and meaning.
If the teacher or learner is starting without a packaged and provided collection of content, then a locally maintained table of contents (outline) and index (list of essential terms) become something quite different.  Instead of anchor points, they provide idea magnets, serving to help draw together the most contextually relevant and defensible information in a sequence and shape that provides the deepest meaning to the content.  It is, in a sense, a skeleton that gives shape to what might otherwise be an ugly bag of mostly water. (I always wanted to use that phrase – Geurs, Sanchez & Sabarof, 1988)
I had originally written a long technical examination of metadata here, but it would be one of many avenues to this sort of learning tool, and who am I to suggest how this might technically work.  But what comes closest to being my personal and professional textbook today is Flipboard, a magazine-forming social network aggregator for both iOS and Android.  I'll be attending the upcoming Educon at Philadelphia's Science Leadership Academy this week.  In preparation, I've configured Flipboard to grab all tweets that are hashtagged with #educon, as well as the resources that are shared by those tweets.  The effect is a new chapter to my textbook, capturing content from others who will also be attending or simply paying attention to the event via the social network.  My textbook (Flipboard) is a carefully arranged, personal and constantly evolving set of information magnets, that attract the content that I need or want to see.
Might the day come, when a subject to be taught, is conveyed as a flexible outline of tags (so to speak).  The job of the teacher would be to locate (or cause to be located) and attach content (both open-source and/or commercial), in any appropriate format, to that arrangement of scope and sequence-forming tags and constantly filter and refine that content based on changing conditions and newly available content?
What might this process look like as an integral part of teacher education?  Might the act of starting their own flexible digital textbooks be a part of learning to teach.  (Is "Flexbook" trademarked?  How about "flexibook?")
My point is that we have every reason to conclude that learning tools that assume a static, centralized and standard arrangement of content is irrelevant to the needs of today's learners – and that today's prevailing information environment provides for us some pretty compelling opportunities.
That teachers can easily construct and refine learning tools based on local and universal conditions and individualized to the circumstances of specific learners.
That learners can personalize their learning tools based on their self-discovered learning styles and their evolving personal interests.
That these learning tools need not be turned in at the end of the course, but carried on, edited, adapted and grown.
That learners can graduate with more than a paper diploma – that they might take with them a personalized digital library or network of content that they continue to maintain and evolve based on their continuing needs and interests.
That this action of personal curation can become an integral part of formal education, further shifting it from
Something that is done to children
  to
Something that we learn to do for ourselves.
Geurs, K. (Writer), Sanchez, R. (Writer), & Sabarof, R. (Writer) (1988). Home soil [Television series episode]. In Roddenberry, G. (Executive Producer), Star Trek: The Next Generation. CBS Television Distribution. 
1. Type the conference tag (#otaem12) into the search box and press [Enter]
2. Look for the most prolific, sharing and insightful people and click them.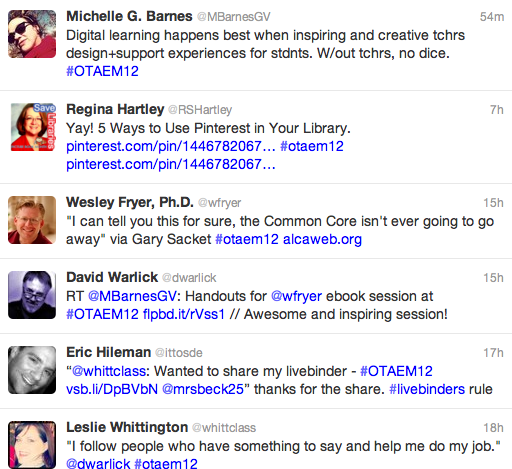 3. Learn a little more and then click to follow…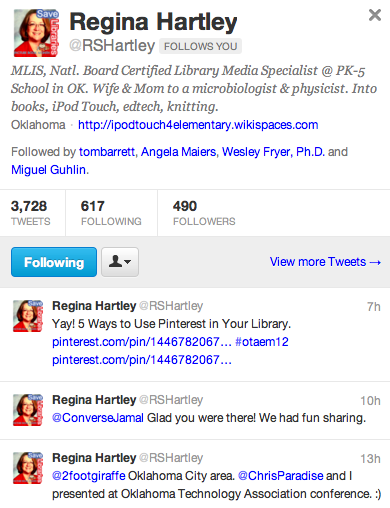 It's going to be another long day, with a morning of presentations and then traveling the rest of the day from Oklahoma City to Seattle, where I'll rent a car and drive on up to Vancouver tomorrow.  But today, I'm still at the Encyclomedia conference in OC, and it's an impressive thing – over 1,600 educators at the general session yesterday morning.
This morning I will be delivering a presentation about self-directed professional development (learning networks), pretty similar to what I did at ISTE last year. But I've already been asked more than once here, "How do you follow the right people on Twitter?" It's a common question for which I have never really been satisfied with my answer – look to my a twitter page and follow who I follow, or that of Will Richardson, or Jonathan Becker.
But something occurred to me yesterday (or perhaps last week, I'm not sure) that's probably already part of the standard practice of many of you. Rather than focusing on one person's followings as a starting place, focus on an event, a gathering, or even an issue.
I will suggest to folks today that they go to Twitter and use the search box to find tweets tagged with #otaem12 (hash tag for the Encyclomedia conference).  Then look to the people who are most frequently posting messages about the conference, linking to blog posts about the conference, or linking to resources being mentioned and demonstrated at sessions. Click to their twitter pages, and follow them.
Another great place to start would be Educon, perhaps the single greatest concentration of insightful ideas about education on the planet. Search for #educon and look for the most prolific, sharing and insightful contributors – better make a cup of coffee for this one. Understand that many of the best tweople engaged with the Educon event were not even there. But that may make them even more valuable to your following list.
It is so important to realize that a critical element of being a master learner today is the network of people you connect yourself to.
…Posted using BlogsyApp from my iPad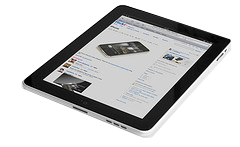 One of the most interesting sessions at this year's Educon was facilitated by Chad Sansing and Meenoo Rami, both of them Science Leadership Academy faculty.  The title was Hacking School: the EduCon 2.4 Hackjam.  I didn't know what to expect – and what actually happened was beyond all expectations.
They gave groups of four or five of us, collections of objects (tiny cotton balls, crayons, blocks, etc.) and a complete Monopoly set. We were instructed to play the game, but told that players, as part of taking their turn, were required to change the rules in some way.  On my first turn, I was at such a loss that the best rule I could make was that if you couldn't come up with a rule, then you had to figure out a way of wearing a colorful pipe cleaner.  Someone may have uploaded a photo to Flickr.
The rule I took away from the game was to never play monopoly with anyone more than 40 years younger than you.  None of us took the activity very seriously.
However, as the debriefing began, it became apparent that there was intent behind this exercise.  That follow-up conversation became part of the game.  We continued to change the rules, to hack our own insights – as we exchanged our exceedingly diverse experiences.
Then Sansing and Rami introduced us to Hackasaurus, a tool that enables you to take most any web page, examine it's underlying code, and then hack that code to change the look and content of the page.  Learning about Web coding (HTML & CSS) is the ostensible purpose.  But I kept thinking about the playful learning that might result from asking students to hack particular web pages about their current topic of study in history, science, etc.
Then, what really kicked me in the head was when someone said that..
"..anyone who is not a programmer is part of the program."
The earth trembled under my feet, as I began to parse out the statement's meaning, and my previously held notions about teaching and learning broke down and recombined into something new.
"What is the purpose of education?" It's a frequently asked question these days and I have long said and written that the purpose of education is to prepare our children for their future.  Now I believe that,
The purpose of school is to prepare our children
To Own Their Future!
Are we (educators) making programmers,
or are we just making software?
Some might wonder about the sanity of taking a late afternoon flight out of Fort Worth, later arrival at the hotel, an almost descent night's sleep, all to attend only the last day of Educon 2.4.  What I wonder about is the potential malign effects of three whole days of deep and enthrawling conversations, nearly every one pushing my thinking in subtile or dramatically new directions.
I reminded Chris Lehmann, at the end of the last session, that I talk about this stuff just about every day.  Then I confessed that there was a moment during the afternoon that I realized that every contribution I had made the entire day had come from something else I'd heard at the conference.  Educon is a cauldron where our ideas about education get stirred up and mixed with those of others.  Our concepts get disassembled and recombined through  forces of attraction and repulsion that dazzle me, and every time it happened, it left me a little stunned for a moment.
The one complaint that I have about the Educon experience is the inability to spend at least 15 minutes reflecting after every conversation.  I am not referring to the larger conversation sessions, but every single conversation with every single person I encountered, in the sessions, in the hall, fixing coffee, checking my coat ….
This is what I hope to be the first of my Educon reflections about what I learned, unlearned, and relearned.1
Chris Emdin compellingly making his point
The first formal part of the Sunday installment of Educon was the large group panel discussion, entitled, "How do Schools Sustain Innovation?"  I found myself feeling a bit sorry for the moderator, Kevin Hogan, because the panelists pretty much took off from the start and didn't land again until Chris Lehmann had to fairly frantically call for an end.
It struck me during the discussion, that innovation – a means of finding or inventing a new and better way of accomplishing a goal (my definition) – has become "a goal."  This is understandable within the education arena, because being an inventive, resourceful, free-thinking goal-achiever is part of the skill-set that we are coming to consider basic.  But innovation for innovation's sake risks going down the same confusing road of technology for technology's sake.  It gets taken apart, sequenced, classified, curriculumized — and it simply stops making sense.  Chris Emdin pointed this out when he suggested that innovations can get cooped, branded, and become dogma.  One of the many threads that I rode throughout the day was that there is no one-size-fits-all "vision" for schooling.
To me, the question at hand is, "How do we sustain an innvoation-friendly school?" and even though the general discussion was riveting, I did not get any clear message on how this is done.  So at some point, I started a branch on the concept map I was using to take notes where I added and eventually sorted a list of principles or process for sustaining an innovation-friendly environment.
At the heart is permission and facility.  An educational community that adapts to changing conditions grants its members permission to innovate and facilities or procedures for pursuing a better way.  It is part of the school's culture.
Here is the list that I ended with.  Even though it is numbered, I now see that other arrangements are at least as appropriate as this.
Permission to Identify and Describe a Problem

I added permission here because several times during the day people described environments that were unwilling to admit problems or listen to those who suggested any course other than "business as usual."

Permission to Solve the Problem

This one might actually be tougher to allow than it seems.  Having worked in state government, I know how risky it is to do anything that jeopardizes your reputation – or that of your boss.  In some environments, it is your job to make your boss look good.

This one might better be labeled, "Permission to take a Chance."

Willingness to Let Go

I suspect that many worthwhile innovations fail, because they are simply mounted on top of existing practices, rather than transforming existing practices.  This is illustrated by the three challenges, made by American education reformers, to the Finnish education model (see Finnish Miracles and American Myths).  The U.S. education reform movement seems unwilling to consider letting go of government testing, school competition, and accountability.

Awareness of Other Boxes

This is a bit of a twist from my usual reference to "outside the box" thinking.  It was actually sparked by a previous conversation with the Director of Applications Development at a large school district I recently worked in.  He told me that what he looks for in prospective hires for his programming staff is "creativity."  He went on to say that the best part of his education was all of the history, literature, science, etc. that he took.

I think that innovation does not necessarily come from outside the box, but from having access to other boxes that rearrange our perspectives and enable us to come at a problem from a different angle.

Engineer a New Way

This, I guess, is where the innovation happens, and much has been written about this by smarter people than me. I will humbly suggest that it requires research, design, collaboration, negotiation, and flexibility, to mention only a few of the skills.

Permission to fail and re-engineer

This may well be the toughest part to accomplish.  Innovation in business and industry are easy.  Failure in the public sector is fuel to those with political agendas.  In the private sector, R & D are considered a legitimate and necessary cost of doing business.  For schools, it is a waste of tax-payer money.  You can tell that I speak from some experience here.
"The illiterate of the future are not those that cannot read or write. They are those that cannot learn, unlearn, relearn." – Alvin Toffler [↩]
A couple of weeks ago, I started a blog post recalling a course that I once took as part of my Masters degree. The 1992 course was about developing applications using dBase (look it up). The buzz in tech circles at the time was about Gopher, Veronica, FTP, and something brand new called the World Wide Web. The course was mostly programming – and I loved it. I suspect that many of my classmates (mostly educators in the same degree program) were not so thrilled nor the least bit interested in programming.
The gist of this story concerns the final exam.  A couple of weeks before the end of the semester, I sent an email to the professor suggesting that real programmers, as they worked, almost certainly did not rely on memory alone. They had reference books open on their desks so that they could look up various obscure coding options and syntax that might help them solve problems peculiar to the task at hand.
"Shouldn't we be tested the same way, with the book open on our desks?"
He bought it, announcing at our next class meeting that, "Thanks to Mr. Warlick's suggestion," the exam would be open book. "Cheers!" He added that he was changing the exam appropriately. "Silence." I suspect that some of my classmates felt more confidence with the memory of the solutions to problems they had studied.
I got my "A."  But it occurs to me now that the difference between the exam given and the one intended, was that we ended out not being tested on what we knew – that is to say, just what we'd been taught.  Instead, it tested us on what we could do with what we'd learned.
I initially intended for this story to promote open book or open content learning. But I want to come at this from a different angle, owing partly to several pre-Educon blog articles I've recently read.  You see, if I were to take the originally planned dBase test today, under the originally intended conditions (memory only test), then I would fail it miserably — and I would probably be none-the-worse for the knowledge I'd lost.
However, if I were to sit down and take the test the professor actually administered, with appropriate reference materials available to me, I would probably do respectably well — even 20 years later.
My point is this. What should we, as educators, really care about? Is it just what students can recall at the end of the year or the course? or is it what they can do and whom they will be 20 years later?
If it's the long haul that we are about, then I wonder, as we write our final exams for the students in our class – or end-of-year state tests, shouldn't we be willing to ask ourselves, "Can I reasonably expect these children to be able to pass this test 20 years from now?"
If the honest answer is, "No!" then we're just playing a game.
…Posted using BlogsyApp from my iPad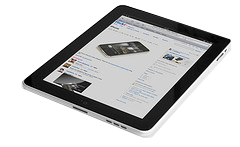 The conversation never stopped — even over Philly Cheese Steak
For fear of appearing to be a kool-aid drinking, rose tinted glasses wearing, disciple of the Order of EduCon, I do have a complaint about the event. They really need a better way of storing our coats. I had to remember that mine was just to the left of the Case 6 amplifier in the music room, just behind that Yamaha piano looking thing. Ok, that's out!
Traveling to the Ohio eTech conference in Columbus, directly from EduCon, I will confess to having thoughts of, "How can you go to a conference and sit still and get taught at, after the brilliant conversations of Educon?" I had those thoughts. They were unfair, but I had them. Truth is that sitting and listening to Adora Svitak, the child-prodigy writer (first book at 7), was a joy, and it was useful listening for new insights from here talk. For instance, she made a big deal of her parents giving her a laptop at six and that having the computer, and a word processor, freed her from the limitations of her six-year-old's hand writing. "Imagine if my parents had been afraid of the technology," she said.
Much of what she shared, we've been talking about for years. But there are many who haven't heard it, and it is, indeed, unfair of us to believe that every educator is ready for unconferenced learning. It is also a reality that some of the attendees of eTech were ready for unconference sessions, as with most ed tech conferences, and some people have stopped attending these conferences, because there simply isn't enough there that's new to them. Incorporating conversations into the conference schedule is something that we need to be seeing a LOT more of.
Back to EduCon, I've done lots of school walk-throughs, but this is the only place where students are the tour guides. I'm afraid that I do not remember their names, but our small group was led by two seniors, having attended Science Leadership Academy (SLA) for all of it's four years. We were able to walk into classrooms, but also ask them, from a student's point of view, what their experience has been and how it has affected them and their view of their own futures. They are worried a bit about their transition from a more open, student-centered learning experience to most university's "one-size fits all" methodologies. I believe that they'll do fine and that perhaps this is exactly the kind of learner we need to be springing on universities to shake things up a bit.
I have to confess here that it is one of the challenges of my particular hearing problem that I often misunderstand things. What I hear is garbled. So I have to collect a lot of contextual information — facial and body gestures, clues from other viewers, and a lot of subconscious things — to understand what is being said. Bonnie Mark's husband once told me that my hardware was faulty and that the software was compensating. Very cleaver and accurate way of putting it, but my software often gets it wrong.
But what I saw and heard in that Literature class blew me away. Four students were sitting behind a table and the rest of the class was sitting in chairs, haphazardly arranged around them. The four appeared to be performing a scene from the book that the class had just read, a scene that they had added to the book, having scripted and rehearsed the scene to express some aspect of their interpretation of the book. The class then discussed the inserted scene and students added their own insights. This is all over Bloom's Taxonomy — and now that I think about it, I do not recall ever laying my eyes on the teacher.
I've got to learn more about "Mouse." From what our guides said, it appears to be an elective that has some aspects of tech support for the school, but also some "tinkering" qualities. The students spend time taking stuff apart and hacking it in some way. I tried to get a few minutes with Chris Lehmann, Founding Principal of SLA, to explain it to me, but, as you can imagine… Anyway, this concept is exactly the conversation that

Sylvia Martinez, of Generation YES, lead on Saturday, "Tinkering Towards Technology Fluency." It was about the benefits of giving students, and teachers, the opportunity to hack stuff. She mentioned a culture of Bricolage in schools in Italy, where there is a room that people simply drop off their junk. Students can spend time there taking stuff apart and remixing it with other stuff to make something that is useful — or just interesting.
Perhaps one of the most powerful exerperiences, for me, was being clued by one of the students, that Chris Lehmann's class on modern education theory, for SLA seniors and juniors, was about to start. For a time, I was the only adult in the room, except possibly for Chris himself ;-) But as other EduCon attendees wandered in, an amazing conversation errupted between the students and their perspectives on learning and what they were learning about education theory, and our own perspectives as experienced educators, and, perhaps even more importantly, as people who where 10 to 40 years more experienced than the students.
One of the most interesting statements from one of the students, and one that speaks well of the school, was, "I'm studying themes (here), not subjects. I am always looking for the connections between what I'm learning here and what I've learned there."
Shortly there after, Dean Shareski asked something to the effect of, "At what age have we reached the base knowledge needed?" Some of the comments I jotted down (thumbed into my iPhone) were:
"It depends!"
"There is no test for maturity."
"When a person can think for himself."
One students commented on how she was able to think about her capstone project more fully now than she was last year.
"Maturity is about being future oriented."
Then I suggested, as (probably) the oldest person in the room, that one thing you learn, as you get older, is how to appreciate what you do not know. Perhaps, the sign of maturity or of the "base knowledge needed" is starting to realize what you do not know, that it has less to do with what you know, and more to do with the questions you are asking.
Certainly one of the high points was the conversations we had with each other, outside of the scheduled "conversations," just here and there. So many people say that the best learning at conferences happens in the halls. One such was with Lisa Parisi and Brian Cosby. They are working on a book about blogging in the classroom, and I grilled them a bit about their experiences. Three ideas really jumped out at me:
Students pay a lot of attention to their older blogs, what they wrote at the beginning of the year (or years ago), and they are amazed at their own progress as writers and thinkers.
They (Lisa & Brian) usually do not draw attention to the students problems with grammar in their blogs, until the student comes up and asks, "Why didn't they understand what I was trying to write here?"
When I asked if their students understood the learning that they were doing, the method, Lisa said that they didn't, until she asked them to produce a video at the end of the year that would be used as an introduction to next year's students. She said that when they started planning that video, they started to think about and talk about learning collaboratively through conversation.
That's enough about EduCon. According to Google's blog search, 179 other blog posts that mention EduCon, have been posted in the last week.
Powered by ScribeFire.
On my way down Arch Street this morning, walking to SLA for the last day of Educon, I listened to a TED audio podcast, an interview with Richard Branson, of Virgin-Atlantic Airlines, conducted by TED curator, Chris Anderson. I didn't know anything about Branson, except for Virgin… and his interest in space travel. So it surprised me when Anderson mentioned that he (Richard) did not have a very successful education experience. Branson admitted to being dyslexic, and that he never really understood school work. He left school at 15.
Now there are two messages that we might take from this. One, a really smart person can overcome learning difficulties and be successful. The other one, the disturbing one, "How many truly talented people has 'schooling' failed, individuals who haven't found the way or the environment to success?" "How many opportunities to enable talented people as valuable contributors souls we have squandered for the sake of 'business as usual?'"
During one of the Educon conversations I participated in yesterday, a young teacher lamented over older high school students, who should have graduated a couple of years ago. They need to graduate and get out and start living. They do not have time to do interesting learning activities, because they already have a job? What can we do for them, before it is too late."
Here's what I wanted to say, but didn't, for fear that it would come across as callus. I wanted to say — should have said — "It's already too late!" "It is too late to enable that student, who is ready to become an adult. It is too late for your high school to capture the potentials of that student and benefit from the contributions she might have made, if her personal talents had been recognized, encouraged, and harnessed." I applaud this young teacher for here position, and for what she may be doing for older high school students, and, "Keep doing it." We need to do all that we can. I'm not suggesting that we give up.
But I think that we need to acknowledge the tragic waste that is resulting from today's system. We need to stop believing that we can bandaid the system into relevance. I think that we need to be willing to say, "It's too late for her. Now, what can we do to make sure that we never have to say that again."
keep looking »