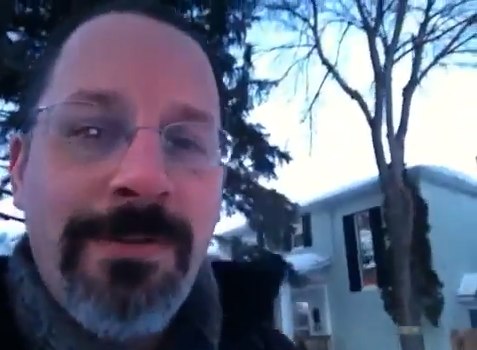 Darren Kurpatwa delivering his WhileWalking episode 73
My friend, Darren Kuropatwa, mentioned me in one of his "WhileWalking" video reflections, referring to one of the conversations we had at Educon last week. I love his new reflections series for many reasons, not the least of which is the delightful sound of Canadian snow crunching as he walks.
In that conversation, on the last day of Educon, he told me about how students were using Google docs in preparing their presentations and how convenient it was that Google built in an image search tool that returns only Creative Commons licensed media and even includes citations for the images that can be pasted into the document.
I was less than thrilled about this and Darren, in his reflection, wonders why. He's asking if there is a relationship between my reluctance about Google's bundled services and why many educators resisted their student use of calculators decades ago. It's an excellent question, which I guess is why it occurred to Kuropatwa, while tundra-walking.
There is a very real relationship between the emergence of calculators in the early 1970s and the rise of the World Wide Web, dynamic search engines, and smaller useful information tools like Creative Commons licensers and citation generators. But to understand why I feel Darren's described scenario is, in ways, counter to the mission of education, I need to briefly define that mission, as I see it.

A sliderule like the one I used as a high school student
A continuing factor in my own reflections is the fact that from my time as a high school student to the waning years of my career as an educator, the tools for working with information have advanced from sliderules to tablet apps – an astounding revolution in information and communication technologies, from sticks to chips. Our mission is to prepare our children for jobs, lifestyles, tools, processes, problems and goals that we can hardly imagine. We're preparing them for the unimaginable.
I am certain that their lifestyles will be (is) fueled by the daily practice of learning and that the mechanisms of that learning will be constantly and sometimes rapidly evolving.
Many of us were fairly certain that calculators would be a prevailing information processing tool in our students' future, as we know that our children's future will continue to afford them a vast and dynamic aggregation of information – that also obliges them to new and interesting ethical responsibilities.
Each of these advances in information and communication technology warranted a role in our children's formal (and informal) education.
Now, my objection to Darren's scenario has little to do with Google's purported desires to dominate the world of information, or even the fact that Google has made research, production, and attribution easier – as was implied in several tweeted responses to Darren's post. We should probably be concerned about the dominance of one company in any realm of interest, but there's nothing wrong with "easier."
What concerns me is how these tools might be packaged to help children do school work, at the expense of helping them learn to use information to do real work.
If Texas Instruments had created a curriculum-friendly calculator, one designed to help children learn math, as apposed to using math to work numbers, then I might have had the same objections – though I can't confidently speak for the 22-year-old me.
What I believe today is that our children need to be developing a learning lifestyle, with the skills and habits of utilizing a tumultuously shifting and advancing information environment and the unimagined opportunities that an unwritten future provides. This is the mission of education.
Darren has invoked the best word for my thinking, that learning should be be "deliberate," as deliberately authentic as possible.
Kurpatwa, D. (Performer) (2013, February 7). Whilewalking 73: Should we be deliberate?.WhileWalking. [Video podcast]. Retrieved from http://www.youtube.com/watch?
I spent Wednesday morning at the "Every Teacher Every Learner" conference in College Park Georgia. The event was organized by Woodward Academy and mostly for private school teachers from the area. I talked about contemporary literacy (learning-literacy) and about new pedagogies.
In reviewing and commenting on the backchannel transcript this morning, I ran across a comment/question that deserves a little more exploration here. The question was:
"Should the tools and environment drive the learning or vice versa?"
It's a common question in the greater edtech conversation that begs the answer, "No! the learning drives the tools." My answer, which I inserted into the backchannel, was "Both!"
One of the mistakes that I believe we make is believing that the principle purpose of these information and communication technologies is to enhance education – as we've known it. This is a reasonable assumption and the way that we have all promoted technology for education since the early '80s.
However, personal computers and the Internet are the pencil and paper of our time.  Like pencil and paper, the productive use of these technologies will not end at graduation.  We continue to use them as we continue with our lives and work.  They are our prevailing tools of accomplishment.
But perhaps even more important to this discussion is the fact that we are preparing our students for life-long learning.  Many, if not most of the students I graduated high school with (more than 40 years ago) went to work in the textile mills of my hometown, fully expecting to spend the next 35 years doing pretty much the same job – a job that required almost no continued learning.  Of course, those jobs have moved thousands of miles south and west – and my former classmates who continue to be employed accomplished it by learning new skills, and learning to continue learning new skills.  
It is a defining quality of a time of rapid change, that you live a lifestyle of learning.
The readers of this blog live that lifestyle, and we know that information and communication technologies have changed the way that we learn.  We learn from large and small networks that we create and cultivate with machines that we carry under our arms and in our pockets.
If it is a learning lifestyle that we should be preparing our students for, and if these tools are a principle mechanism for that lifestyle, then to that degree the tools should drive the how and even what our children are learning in school.
I can not remember when I have thought so little about work for so many days.  It was probably 25 years ago. This has been a wonderful holiday season and I have been a relentless participant. Alas, among my gifts were an iPhone 4s and an iPad 2. I'm back to work.
But I'll insert here that I've enjoyed this time outside my professional box and will selfishly be seeking more of it. I've been practicing education for 35 years now and ed tech for 30 of it — and it's time to start considering my next great passion — what ever that is.  :-)
Until them, I'm still around, and this all comes around to what got me up this morning, an article posted by Tim Holt in his HOLT THINK tumblr blog. It's number six of his 10 Bad Trends in Ed Tech 2011. He wrote it on the 21st, but I caught up yesterday, thanks to Stephanie Sandifer's Tweet. His sixth bad trend is "Ed tech gurus not offering solutions."
A lighthouse is a tower, building, or other type of structure designed to emit light from a system of lamps and lenses or, in older times, from a fire, and used as an aid to navigation for maritime pilots at sea or on inland waterways.1
I agree with some of what Holt says, but take exception with a great deal of it.  Scott McLeod expresses much of what I would add to the conversation and brings a great deal of balance. Be sure to read the comments, to which I may add something after I've finished this post.
For 2¢ Worth, I'd like to turn it into a challenge, "What solutions would you have, David, if you were back in that rural North Carolina school district you left 22 years ago?"
I would consider the following ten-action plan is based on my past and current knowledge of that school districts, and would almost surely be altered by a closer association.  But here are the solutions that this challenge brings to mind.
Eliminate paper from the budget and remove all copiers and computer printers from schools and the central office (with exceptions of essential need). "On this date, everything goes digital."
Create a professional development plan where all faculty and staff learn to teach themselves within a networked, digital, and info-abundant environment — it's about Learning-Literacy. Although workshops would not completely disappear, the goal would be a culture where casual, daily, and self-directed professional development is engaged, shared, and celebrated — everyday! Then e

xtend the learning-literacy workshops to the greater adult community.

Establish a group, representing teachers, staff, administration, students, and community. Invite a "guru" or two to speak to the group about the "Why" of transforming education.  Video or broadcast the speeches to the larger community via local access, etc. The group will then write a document that describes the skills, knowledge, appreciations and attitudes of the person who graduates from their schools — a description of their goal graduate. The ongoing work of writing this document will be available to the larger community for comment and suggestion. The resulting piece will remain fluidly adaptable.
Teachers, school administrators, and support staff will work in appropriately assembled into overlapping teams to retool their curricula toward assuring the skills, knowledge, appreciations and attitudes of the district's goal graduate.
Classroom curricula will evolve based on changing conditions and resources. To help keep abreast of conditions, teachers and support staff will shadow someone in the community for one day at least once a year and debrief with their teams identifying the skills and knowledge they saw contributing to success, and adapt their curricula appropriately.
The district budget will be re-written to exclude all items that do not directly contribute to the goal graduate or to supporting the institution(s) that contribute to the goal graduate. Part of that budget will be the assurance that all faculty, staff, and students have convenient access to networked, digital, and abundant information and that access will be at least 1 to 1.
A learning environment or platform will be selected such as Moodle, though I use that example only as a means of description. The platform will have elements of course management system, social network and distributive portfolio. The goal of the platform will be to empower learning, facilitate assessment, and exhibit earned knowledge and skills to the community via student (and teacher) published information products that are imaginative, participatory and reflect today's prevailing information landscape.
Expand the district's and the community's notions of assessment to include data mining, but also formal and informal teacher, peer, and community evaluation of student produced digital products.
Encourage (or require) teachers to produce imaginative information products that share their learning either related or unrelated to what they teach.  Also establish learning events where teachers and staff perform TED, or TELL (Teachers Expressing Leadership in Learning) presentations about their passions in learning to community audiences.
Recognize that change doesn't end and facilitate continued adapting of all plans and documents. No more five-year plans. Everything is timelined to the goal graduate.
If the institution of education is not transforming fast enough, I do not believe it is because the "gurus" are not getting their hands dirty enough fixing the problems of specific high-need school districts.  I believe that every student deserves educators who are capable of adapting to changing times.
Lighthouse. (2011, December 20). In Wikipedia, The Free Encyclopedia. Retrieved 11:57, December 29, 2011, from http://en.wikipedia.org/w/index.php?title=Lighthouse&oldid=466924292 [↩]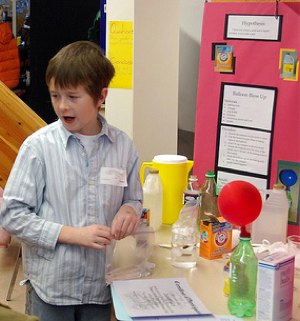 Look what we did in school today
(cc) nordicshutter
It has been a while since I've written, though it's not for lack of anything to say. I've been re-strategizing some of the functions of Citation Machine for the approaching peak usage that comes as the semester hastens forward. Most of my strategies have been abandoned, but some may be fruitful. We'll see.
Nice to have digital grease under my fingernails again ;-)
Last week, I ran (via Skype) an unconference session for a PadCamp in Long Island, NY. It was one of those events I'd love to have been there for, where just the right people are having just the right conversations — and that pretty much characterizes my unconference session on the future of the textbook.
There were lots of progressive ideas that resonated loudly in that room. However, I kept wondering how these ideas might resonate in school board chambers or among elected legislators? I kept asking, "What's the story we need to be telling?"
Of course, that was the wrong question, because that simply got more high-minded ideas percolating. What I should have asked was, "Who should tell these stories?"
I keep coming back to the kids.
A principal of a special project school of kindergardeners described some of the fabulous things going on there and I asked, "What do those kids say at dinner, when their parents ask, 'So what did you do in school today?'"
The initial answer was, "Oh, nothing!"
But then they corrected themselves realizing that we were talking about kindergardeners. These young children are excited about school — and their parents are excited about school. So might we ever expect middle school or high school students to talk excitedly about what happened in school today?
I suspect that the answer to that question, with notable exceptions, is, "No!"
But can we help parents to instigate those conversations, to break through their children's adolescent cool, and get them to talk about learning experiences that defy boundaries, generate curiosity, and where innovation and creativity are common and not the exception.
I wonder how a school or classroom might start that dinner table conversation by sharing everyday glimpses of teachers and learners exploring, experimenting, discovering, and sharing passionate and inventive learning.
What do you think?