Click the word cloud to enlarge
NCTIES
is my state's
International Society for Technology in Education
affiliate (
ISTE
). It stands for North Carolina Technology In Education Society. They will be holding their annual conference this week at the relatively new Raleigh Convention Center. In the last few years the state capital's downtown has become a descent place to hold a conference. More restaurants, museums, night life and many more people living downtown, making the streets safer.
I finally went through the conference program yesterday and was struck by several trends that seemed apparent during that scan. So I thought I'd spend a few minutes this morning doing a casual frequency analysis.
Number of term mentions in the conference program
Term
2012
2013
Trend
SD
Game, gamilfy, etc.
14
73
3.5
iPad or iPads
34
68
2.1
apps
25
49
1.5
Common Core
15
42
1.6
resources
72
42
-1.8
Web 2
67
34
-2.0
play
6
34
1.7
Professional Development or PD
65
34
-1.9
free
37
33
-.2
engage
33
33
.0
Google
61
32
-1.8
1:1
77
30
-2.9
Apple
8
22
.9
Collaboration or Collaborate
24
22
-.1
Twitter
10
15
.3
iOS
14
14
0
tablet
5
13
.5
blog
28
11
-1.0
Minecrqaft
0
8
.5
Android
2
1
-.1
laptop
11
1
-.6
In a casual counting, I found 205 concurrent presentations being made during the conference including the student showcases and not including the two keynotes. Of those 205, 51 of them (24.5%) are being delivered, at least in part, by vendors. 35 are being delivered by presenters representing elementary schools, 20 by presenters from middle or intermediate schools, 15 from high schools and 14 from universities. I am especially happy to see so many presenters from five of our state supported universities, two private universities and one community college.
The happening place in North Carolina seems to be Rowan-Salisbury Schools with 14 sessions being facilitated by 33 district educators. Also notable is Union County Schools with 7 sessions and 18 educators.
I'm doing one session. But hopefully, I'll be setting a productive tone for the conference.
I'm looking forward to seeing old friends at NCTIES
Added March 5
I finally found a list of last years presentation descriptions, and searched for the frequency of the terms in this table (above and left). I inserted a column for the 2012 conference and then added a column with arrows to indicate the trending up and down. To quantify the change, I added a final column with the number of standard deviations of the total change. This sounds like I know more about statistics than I really do.
Before Educon's conversations begin, we get to spend the day at the Science Leadership Academy (SLA), attend an evening panel discussion at The Franklin Institute (see Pulver) and see the opening keynote address – this year it was Philadelphia's new Superintendent, Dr. William Hite.
..and I'll say here that among the many regularly scheduled annual educator learning events, Educon's unconference is probably the richest experience, anywhere, anytime. This is not to say that regular conferences with presenters and keynote speakers are not valuable. They are essential, because they facilitate opportunities for learning that Educon does not. But to listen to smart people and to be able to push and pull on what they are saying, well, it just wrinkles my brain.
Master photographer, Kevin Jarrett, captured this picture of me and Joyce Valenza catching up.
One of the greatest features of Educon is the chance to catch up with friends, whom we see almost daily in the networked eduverse, but with whom we rarely get to shake hands, huge, and enjoy extended conversations, unconstrained by 140 characters limits – and that's not to say that we ever get to finish our conversations at Educon, because there are always new ones that attract our attention.
We also get to visit classes and talk with SLA teachers. I especially enjoyed talking with Matt VanKouwenberg, about his engineering classes. His process reminded me of the vocational education classes I took in high school, how we all learned many of the same lessens by working on distinctly different projects. He told me that each class starts with a few minutes of sharing, where each student or team reports on where they are, barriers they are facing, and what they are learning (think the first five minutes of each episode of LA Law). He said that it often surprises the students to discover the similarities in what they learn, regardless of what they are working on.
I also enjoyed talking with one of my favorite SLA teachers, Meenoo Rami, an English teacher. Rami teaches a class about Storytelling, which appears to be not about fiction writing, but about how we use stories as a device for communication. I think that this is an often overlooked tool for expressing ourselves, even by many of us who are supposed to be master communicators. Too often I hear keynote and featured speakers simply telling us what to believe, rather than helping us discover our own beliefs through plot and surprise. Never underestimate the power of a good surprise.
Near the end of the Friday night panel discussion, Pulver said that, "The future is unwritten!"
When considering our challenges as educators and the future challenges of our students, we must come to believe that anything is possible. We're not preparing our children for the 21st century. We're preparing them for the age of opportunities, when almost any problem can be solved and almost any goal can be accomplished. This affects so much that is involved in formal education.
[click to enlarge]
While claiming my best seat
(its that hearing thing)
for one of the first conversations, and reflecting on Friday's panel and Saturday morning's keynote, I quickly drew up the diagram on the right. Even though, at the highest levels, we'd all deny it, our job, now, is to prepare our children to take tests. Education has become a competitive endeavor, pitting nation against nation, state against state, district against district… and the point system for that competition is test scores.
This implies a purpose behind education that has little to do with an age of opportunity. Instead students learn to read in order to follow instructions and to learn in order to fit in to someone else's competitive machine. To be ready for an age of opportunity, children must learn to read so that they can learn to do something that they couldn't do before and to learn in order to make their own machine.
One of the greatest ah ha! moments of the event, was when Philadelphia Schools Suerpentendent, Dr. William Hite said, "Today, teachers do not need to be content specialists nearly as much as they need to be context specialists."
Educon 2013 is over and I'm on my way home, the Carolinian, Train number 79, on time with a passable WiFi connection. During this year's conversations, I tried a new app and technique for taking notes. The App is GoodNotes, which is like a couple of dozen other stylus-based note-taking apps. What I like about this particular one is your ability to connect it with the iPad's camera and integrate pictures into your notes.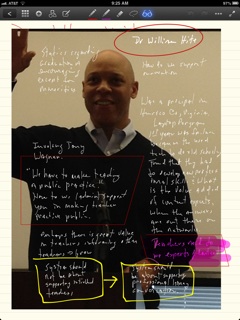 Superintendent of Philadelphia Schools, Dr. William Hite
This, I believe, would be extremely valuable when attending presentations that relied heavily on diagrams and other visual media. It wasn't ideal for Educon, who's conversations were less dependent on slides, but I did include pictures of the presenters as a reminder, when reviewing the notes.
(see right)
I typically use a mind-mapping program, so that I can organize ideas in relation to others. But I've always missed the freedom of a blank page. Writing notes with a stylus has all sorts of disadvantages, but I can already see that I am going back to review my notes much more frequently than I have ever scanned my mind maps.
I confessed to a number of people yesterday, that I attend these things, not so much for new knowledge as for new language. I do not manage a school or classroom, so I am not looking for solutions. I need new ways of talking about education in the age of opportunity – which is often counter-intuitive to the my audiences' vision of classrooms. New angles, phrases or new stories help to produce shakabuku. They sneak up on the listener and surprise them with new realizations.
The first thing I think, when seeing a panel for educators made up of non-educators is, "Why do we assume that business inherently does it better?" I have to confess that after the panel discussion was over and and I was trudging back up to my hotel (why's going home always up hill?) through the (more slippery than it looked) snow, I asked myself that question – probably out loud.
But rehashing parts of it early the next morning and reviewing my notes, I see lots of ideas that, when unpacked, apply wonderfully to teaching, learning, and classrooms. Here are some phrases from Jeff Pulver, an entrepreneur and venture capitalist.
Teachers should model entrepreneurship! I include this statement only because It comes up frequently during unconference sessions on education and entrepreneurship. If we want our children to be creative, then we need to practice creativity in front of them.
Voice is an application! I'm still trying to wrap my mind around this one, but according to Wikipedia, "an 'app' is computer software designed to help the user to perform specific tasks." One could say that giving voice to learning helps learners to accomplish something with what they've learned.
The fuel for disruption is passion! This one makes a lot of sense to me. Disruptive technologies, techniques and processes change nothing unless someone is passionate enough to audaciously and heroically use them. Learning is disruptive. If it wasn't, what would be the point?

Are we fueling our students' learning?

Be willing to break the rules! I keep playing around with the idea that rules, in school, are designed to contain the learning. However, in the real world, rules are a way of mapping the perceived constraints of reality. Those who accomplish goals creatively do so by rewriting the rules – reshaping the confines of reality. Personally, I prefer "changing the rules" or "re-writing the rules" to "breaking the rules."
Find People who don't know it can't be done! Is this an overlooked value of new teachers. I keep thinking that there is great potential to pairing experienced teachers with new teachers, when solving education problems – so long as each is willing to learn from the other.
Make exercise fun! This one hit hard. It's one of my regrets, as I approach the end of my career, that I have not thought enough or talked enough about our children's physical education. I think that Pulver, from his own recent experiences in losing so many pounds, was spot-on, that "Exercise should be fun."

But, for many, it's not. I've never gotten anything from endorphins, though my wife use to claim an addiction to her afternoon jogs. Perhaps its an A.D.D. thing, because the only effect I feel from the (prescribed) stimulants I sometimes take is that I can suddenly express myself in a little more linear fashion. But no other physical sensation.

Some people don't like sports. I was good at baseball and football, and played on school teams. But I never took the whole winning/losing thing very seriously – and never had fun playing with people who did.

Some people aren't good at sports. One of my brothers could run faster than anyone in four blocks. But he never learned to catch a ball gracefully.

How do you make exercise fun? Here are a few thoughts.

Sports should not be limited to those who are good at it and only for the good of the school. Invite everyone to play and celebrate the play. Playing is fun. Winning requires losers.

1987 Infinity Recumbent

Find new ways to ride. I've been a bicycle rider since college, although not like some. But now, I find riding to be painful to my wrists, hands, knees, and, well, the obvious places. So I've recently purchased a used (1987) recumbent bike, which is fun for me because it's a new way to ride, and because I'm having fun learning how to ride it

(and keep my feet on the peddles)

.
Find new human-powered routes. Greenways are huge in large cities, and I'm starting so see them in smaller cities. There are also some instances of walking and biking trails that connect towns, which is something I noticed a lot of in Germany. I believe that there's a trail between Richmond, Virginia and the shore. Go to TrailLink to find trails in your state and community.
Find new places to walk to. Just walking or biking is often not compelling enough. There need to be reasons to be on those trails, places to go, reasons to be on your feet. Making your community more bicycle and pedestrian friendly is essential. But how do you make them desirable or fashionable to use. Ask students to invest in them by devising solutions. Take a picture of your downtown and ask students to edit the picture, adding features for the self-propelled. Ask a Maker class to design and build bicycle racks for your community and work with stores and municipal establishments to install them. Get creative. Get going on your own two feed.
One of Philadelphia's many building murals
(CC) Photo by Steve Ransom
I'm at Philadelphia's EDUCON, a unique sort of learning event where sessions start with a proposed question, to be answered by the audience through conversation. The function of the presenter is to generate that problem-solving conversation.
Day one focuses on the Science Leadership Academy, a unique sort of school that hosts the conference. SLA students conduct tours of the school where we can talk with them and their teachers. It was my fourth tour of the school, two during EDUCON days, and two during normal school days walking through with its principal and founder, Chris Lehmann.  Of course, nothing about SLA is normal.
Today, I had a personal tour, just me and Tyler, a senior with an interest in astronomy. He is working with the astronomy staff at The Franklin Institute on a number of projects. Needless to say, I shared with him my neighbor, Paul Gilster's blog, Centauri Dreams.
Each time I visit SLA, I walk away with a different aspect of the place resonating between my ear. I remember my second tour with Lehmann, walking around and people would walk up, interrupting the tour, for a conversation with the principal.  I suddenly realized that most of the time I unable to tell whether the person was a student or one of the school's young teachers. The topics of the conversation never concerned the logistics of schooling, but were about the work of accomplishing some important goal or mission.
Today?  Well it was authentic learning, a term I heard and overheard several times in the halls and classrooms.  What struck me, was that there was always some sense of apology at the use of the word, like the speaker had not choice but to invoke it instead of some better phrase.
Authentic learning is a term with a long history in education, spanning well before NCLB – and it is a term that, frankly, has seen better days.  I suppose it is true in most professions that a term or phrase becomes used by so many people, in so many places, within so many contexts, that the label's weight shadows it's original meaning.  Many of us come to distrust the term and are left to use examples to convey our meaning – and examples rarely reach its essence.
I won't presume to define authentic learning here.  But during my conversations with instructors at the school and with Tyler, and seeing similarities between the educational practices at SLA and the vocational classes I took as a high school student, I saw a commonality that was informative to me.  The linchpin effect of authentic learning is that..
The value of what is being learned is obvious to the learner
And
Does not have to be explained by the teacher.
There is great power
When the learning why
Is part of
The learning how.
I've spent the last several days at the EARCOS Education Leadership Conference in Kuala Lumpur. It's been an interesting conference for heads of school and board members of international schools from throughout East Asia.
They've been working me pretty hard, but I have had the opportunity see some friends, make some new ones and attend some sessions. Milton Chen delivered the opening keynote address, my first time seeing him speak. The second day was opened by Alan November, perhaps the best keynote I've seen him deliver. He shared an idea that he had suggested during the pre-conference workshop I facilitated on Wednesday (I think it was Wednesday).  Probably more on that later…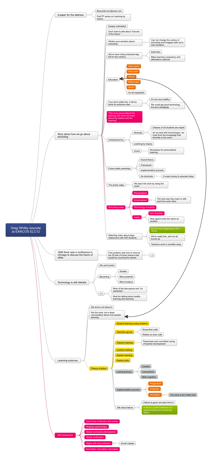 But it was Greg Whitby's keynote on the third day that really spoke the most "truth to stupid" that I've heard in a long time.  The notes I took using Mindo on my iPad are available here (see right).  
Since the Internet access was spotty, at best, throughout the conference, I was not able to tweet statements out that I wanted to.  So I thought I would just tweet them here with a few more than 140 characters of commentary.
We shouldn't be talking about schools of the future.
First of all, we have no way of knowing what schools of the future will look like.  What we need to be addressing is the schools our children need right now.
Whitby, in comparying industrial age schooling with what's more relevant to today's children, he said that we need to..
Make learning compulsory and attendance optional.
It's an excellent shakabuku., but its practice would need to be explained, if possible.  Still, like so much of the conversation I'm witnessing at conferences today, the focus is on the learning.
Whitby also warned that we have to get this right and do so with a compelling narrative.  If we don't, then someone else (Silicon Valley) will step in, and…
What we could get is good technology, but poor pedagogy.
This rang my HackEducation bell and the ongoing reporting of Audrey Waters.  But then he said something that I'm still trying to wrap my brain around.  He said that,
The more personalized the education experience, the more we know about the learner and the quality of the learning.
I'm not sure how this works except that personalized learning may result in more conversation between teachers and individual learners.
Another very simple statement that doesn't need much expiation was that
Schooling today is (1) personalized, (2) de-privatized, (3) technology-invisible and (4) agile.
It was odd, a video that Whitby played during his keynote, about a school in Australia 250 students in one enlarged classroom and several teachers.  You see we were taught about "open learning spaces" when I was in education school more than 35 years ago.  I student-taught in an open space with a team of teachers.  The the problem was that we didn't have a new narrative to attach the concepts to.  It stood no chance.  Today we're trying to write and tell that story –– and we'd better not get it wrong.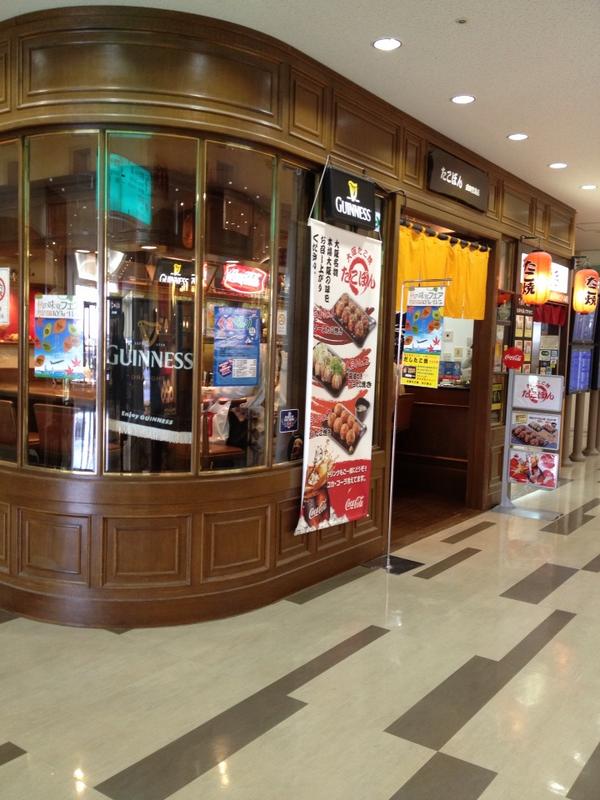 An interesting cafe at Narita
The best part of this October from hell is the conferences I am working – mostly leadership conferences. The two that come to mind from the blur of this most haunting month are a conference in Vancouver for principals and vice-principals of British Columbia, and the school boards and superintendents' conference in Vermont – two quite interesting jurisdictions now that I think about it.
As I write this, I am in Tokyo's Narita Airport, waiting on my third and final day of travel to Kuala Lumpur (KL) Malaysia.  It's EARCOS' annual leadership conference, which was canceled last year because of flooding in Bankok.  The flooding is happening closer to home now, with Sandy bearing down on New Jersey and New York, where my kid brother lives – on the ground floor of his building I might add.
During all of the travel, I have enjoyed and learned from the backchannel transcripts from BC, Vermont and also an amazing media and ed tech conference in Winnipeg.  As I've read and commented on the transcripts, via KnitterChat, I have set aside some tweets and knits, that seemed especially salient to me, intending to re-tweet them back out.  With my spotty Internet access (paying by the minute at the Hilton here in Tokyo), they've back up.  So I thought I would push them out through this blog.  So…
This was my response to a tweet from the Vermont conference.
The Graduates of today's education need to be uniquely valuable, not identically valuable.
Here's one that came at the mention of learning disabilities.
..often, a learning disability is not so much a difficulty in learning, as it is a difficulty in being taught.
Tinkering and the whole DIY movement came up, as it increasingly does, as a counterpoint to all the social networking and video games kids engage in.
When was the last time you made something. Can you make something without learning something?
What is unique and fresh about Vermont is that they seem honestly enthusiastic about the future of education there.  Vermont is different from the rest of the U.S. in so many ways, and they do not seem to feel so confined by national trends and federal mandates as the rest of the country.  From talks of testing, this statement surfaced.
We don't ask enough questions for which we don't know the answers.  We should respect our learners that much.
That Vermont's backchannel was so prolific surprised me.  It is rare that school board members and superintendents are so chatty when their statements are publicly accessible.  I added this in…
I'm wondering how many of your schools' stakeholders are following your conference tweets.  It's an interesting idea.
It wouldn't be a bad thing, from my reading.
While in Vermont, I sat in on a great presentation by superintendent Dan French.  I was, in no small part, intrigued by the fact that he did his presentation with a Linux computer.  Cool thing, a techie super.
He talked about their process for establishing a district vision for 21st century learning.  The session was called "Making Community Part of 21st Century Learning Vision" and I posted my notes (taken with the Mindo iPad app) here.  Basically, he played selected videos from Youtube for members of his volunteer visioning group, including Sir. Ken Robinson, Dan Meyer and one about New Brunswick's education, and then asked groups to discuss.
He said that even attendees who were usually critical of the school system bought in.  French reported that one critic commented, "I didn't you you talked about issues like this!"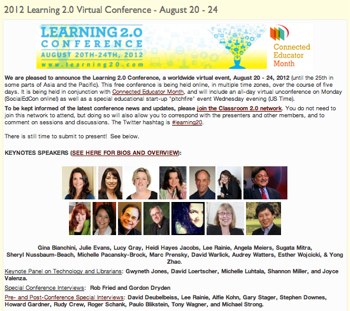 2012 Learning 2.0 Virtual Conference
Several weeks ago
Steve Hargadon
invited me to deliver a keynote address for his
Learning 2.0 Virtual conference
, which he has been planning for
Connected Educator month
(August). I confess that I neglected to respond for some time, because, frankly, I do not enjoy these things and consider them a poor substitute to an actual face-to-face conference. It's the old and old-fashioned teacher in me that feels that way. But, because I respect Steve enormously I finally agreed do a session, dreading its approach. However, I always, ALWAYS, end out enjoying the experience, feeling good about my contribution, and I've watched and learned from a number of the other presentations and keynote throughout the conference.  As my friend, Peggy George, said,
This is such an incredible opportunity for us to be able to learn and connect virtually wherever we are!
..and it was free.
Since I assembled my talk, "The Memory Lane of a 30-Year Connected Teacher and Learner," specifically for this event, I did not have any online handouts, and since I ended out taking exactly my allotted hour and leaving no time for questions, I thought I would take this opportunity to scan through the chat archive and respond here to any questions or comments that strike a nerve.
First of all, this was not a "Here's how you do this" sort of presentation nor did I tour through cool web sites or suggest cool  ways to use iPads. There were and will be plenty of presentations that fill that niche. My uniqueness right now is my age and range of experiences, and so I reverted back to my Southern heritage and shared some stories "..about some of the critical and revelatory moments of (my) long career." You can revisit my talk here, as Steve is archiving all (?) of the presentations.
First of all, I was impressed by the number of learning20 hash-tagged (#learning20) postings on Twitter that were not in english.  In fact, I see now that some of the names in my chat archive included letters that are not among the 26 character Roman alphabet – more evidence of the increasing globalization of education.
Here are some links posted during my talk:
One of the really cool things about these virtual events, and about being part of the backchannel at face-to-face events is when people share URLs related to what I am talking about – and often they are web pages, of which I was not aware.  In a sense, the online handouts just happen. ..because learners are also teachers.
One point I'd like to double-click on is the WIRED magazine issue I'm reading on my iPad, the magazine's first issue, published in 1993, and now available for the WIRED iPad app.  I love scanning through these old magazines because of the advertisements, seeing the sorts of technologies that were emerging 20 years ago, how big they were, and how much they cost.  There was a Sony GPS that gave you the coordinates of you current location at a cost of only $1,195 (USD).  20 years ago, that was fantastic. Imagine being able to know, at any time, your exact location in relation to the Equator and Prime Meridian. Fantastic!  Yet, I just bought a Garmin app for my iPhone that operates exactly like the Garmin GPS that I drive with, and it only cost 99¢.
We are preparing our children for THE FANTASTIC.
Do we truly grok the implications of this?
I have to delight at the recognition several members of the audience registered for the Radio Shack Tandy computers I talked about and their further references to the Sinclair, TI-99, VIC-20 (I had one) and Atari 400 computers, machines that all helped to define personal computing today.  It made me feel "not so old."  I guess I'll be old when I have to explain what a cassette tape is to my audience ;-)
In contrast, someone mentioned the current tech-du-jour, Arduino and Raspberry Pi – off-the-shelf computer circuit boards that people ("makers") are using to create all sorts of intelligent objects.  This is something I want to learn about and play with.  Someone recommended the Raspberry Pi.
Another participant asked about the old computer magazines that featured BASIC programs that you could type into your Atari or VIC-20.  "Compute!" was one of them and it was published out of Greensboro, North Carolina.  Orson Scott Card worked for them at the time – and some of you know him as the author of "Ender's Game," one of the best science fiction books ever written.
I told the story of a librarian friend of mine, Cynthia Wilson, who, back in the '80s got some at-risk 7th graders to write children's books using Apple IIe computers and FrEdWriter, and then emailed them to first graders down the street using FrEdMail (There really needs to be a Wikipedia article about FrEdMail). The First graders read the books, illustrated the them, and then brought their prizes back up to the middle school where the 7th graders did a book signing.  It's a concept that has continued as the chat perked up at that point, with lots of ways that teachers and librarians are continuing to empower learners by making them authors. (see links above)
During several of my stories, which involved teachers and learners connecting to the real world, there was some conversation about teachers who are reluctant to allow their students to share their work outside of their classrooms.  I believe that it comes from a lack of confidence, and this is not wholly our fault.  It's part of what I talked about at the end, how the empowerment that comes from "connected" teachers and learners has to come from somewhere, and that somewhere is the various social, political, and commercial interests who have traditionally enjoyed and employed that power – and have a need to exert more. I believe that causing communities to lose confidence in public education has been an explicit part of the school privatization movement that may well have begun with No Child Left Behind.
Someone commented, "Why can't we have developers of apps working in our schools with our students on projects they are working on?"  I think this is a fabulous idea, and I remember reading about a school in New York that hires game developers to work with teachers and learners.  That has always seemed a brilliant thing to do.  But I wonder if this "developer" needs to be an adult, or if it could be one of, or a team of students.
Again, I thoroughly enjoyed presenting to the conference, from my home office, and am actually getting accustomed to teaching to that little green light at the top of my laptop display that marks the position of the camera.
I also want to take this opportunity to thank Steve Hargadon for this and all of the "connections" that he creates and facilitates for educators around the world.  All the wires and cables that circle our globe come to nothing if there is not a community of interest, and that community doesn't happen without an architect.  Thanks to Steve Hargadon for bringing us all together so many days of the year!
I've set about writing several takeaway blog posts in the last few of days and never getting to finish them.  So I guess I'll just write this one big one.
First, I mentioned to a number of people at ISTE about my plans to gradually scale back my traveling and start searching for my next passion – over the next five to fifteen years. However, after this conference, reflecting on the conversations, presentations and panels, keynotes, and especially factoring in the changes in how conference attendees use their own ICTs for learning there — well, what could possibly compete with this.
There is so much left to do — so many trajectories that we need to change. As Zhao asked, "Why are we (USA) reaching so low?"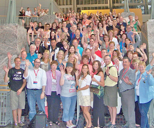 The SocialEdCon (formerly known as the EduBloggerCon) began with casual conversations among people we knew and people we didn't know. I had to sympathize with Steve Hargadon's having to reign us in to a slightly more structured set of conversations.
My first was prompted by "What do you think when you hear the term 'educator entrepreneur'?" The prompt was mine, and the question was poorly asked. I learned that the word, entrepreneur, has connotations that I had subconsciously suppressed, namely that people think that entrepreneurship is typically practiced for the sake of profit. I could make a case for different kinds of profit – and one of the participants shared her business card, which had  printed on it, "Edupreneur." One of my takeaways was a list of qualities of the educator entrepreneur (if I might continue to use that term). This is by no means conprehensive, and its value is in the fact that it came out of a conversation. Educator-entrepreneurs are,
Self-directed
Take control of their time
Model their entrepreneurship for their students
Do not make excuses
Take responsibility
It was also agreed that there should be three goals of the educator-entrepreneur:
To make their classroom a place where the community wants to be
That children are learning things that their community didn't know – and wants to know
That they help their students to brand their classrooms
I also attended a conversation about how to make education "trend" – and realized, once we got into it, that we were covering some of the same territory as a similar conversation last year. My new take-away was how Facebook can, and has, become an effective way of extending the education conversation into the greater community, as educators are frequently friended by people who are not educators. I was also reminded of my own conclusion from last year, that the "media" is doing little to help us — and that perhaps we should be competing with the media for ears and eyeballs through the new avenues and compelling communication tools we have increasing access to.
Yong Zhao was nothing short of phenomenal. He didn't really teach me anything new, but I come to these conferences for new language and new stories, and he more than satisfied me. I was especially impress by his description of the Easter Island statues. In his telling, the statures were built to impress, but their construction used up the island's resources, resulting in their society's decline — No Stone left behind.
Yong is very good at telling stories, whose real meanings do not emerge until the final punchline. Ewan Macintosh said that its a story with two punchlines. Zhao's message was simple. "Why is china not celebrating?" And, "Why have we lowered our standards to compete with Shanghai?"
I could go on with more sessions that I attended and conversations I had, but one of the aspects of this annual conference that always intrigues me is the "buzz." What was the buzz of the ISTE 2012? I asked a few people I respect for their thoughts, and the most common response was Flipped-Classroom. Although there were several sessions about the topic (almost as if any proposal, mentioning the concept, go accepted), the flipped-classroom has been around for a few years.
I'm not sure it could be called "the Buzz," but ISTE12 might be thought of as the year that personal fabrication or 3D Printing fisrt made a commanding appearance. There were a number of exhibitors who featured related software and hardware. Wednesday also saw a fabrication playground that drew a larger and more enthusiastic gathering than any of the others, in my observation.
I wonder if Personal Fab may be a next big thing — and that's not just in our classrooms.
I was scanning through an infographic the other day from Occupy Educated, called "The Illusion of Choice." It tells the story of how six media giants control 90% of what we see, read and hear.
Because you're curious, they are GE, Newscorp, Disney, Viacom, Time Warner and CBS.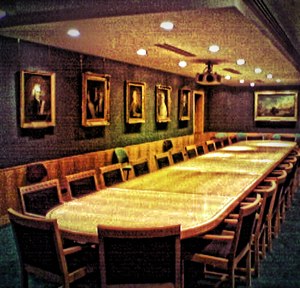 Is this where the future of education is being planned –  corporate boardrooms?
I could go on and on, as many have already, about the threat this poses to a nation, formerly known as "Democratic."
But – might there come a time, when we see at the bottom of this infographic how 90% of our schools are controlled by, say, three corporations, three boards of directors instead of local boards of education.
Thousands of educators, from around the world will be gathering in San Diego next week to share, teach and learn, tell stories, celebrate, eat and drink and leave, knowing more about supporting their students in their learning journeys. We'll be talking about pedagogy, emerging and cool technologies, school and classroom management, creativity and games, and our students – and how to motivate them to want to make learning a lifestyle. We will also share stories about the multitude of barriers we face in promoting a progressive retooling of our classrooms.
But I have come to worry about a greater threat to the democratic foundations of education, a threat so big, so strange, and so insidious, that it is going largely Un-noticed.  It is so large and comes from such high places that I hesitate to do more than whisper it.  I am not a cynical person.  But people whom I admire and respect have gone this far and for some time now – and I will too.  I fear that there is, and has been, an organized and orchestrated effort by people in high places (and low places) to privatize education in America – to take over our classrooms.
Let's look at this from a corporate entrepreneurial point of view.  According to a recent U.S. Census report, funding going to U.S. "public" schools in 2008-2009 totaled 591 billion dollars, with $55.9 billion coming from the federal government, $276.2 billion from states and $258.9 billion from local sources.  In many powerful circles, that translates to almost 600 billion dollars that are certainly being poorly spent by the "government" – and with zero bankable profits.
We're being convinced that:
The U.S. is falling behind other nations in education – that  our schools are failing.
The success of schools and education can be precisely measured and quantified by a corporate testing industry and the constant testing of our children.
Teachers, protected by labor unions, do not know what they're doing.
Business can do it better.
Each of these are so easily debunked.  But exposing their fallacies does not tell a story, and stories are what we need.  Are you a story?  Are you successful in your work and happy in your family and friends.  If so, then YOU are the measure of the success of your education – not the tests you took 5, 10, 15 or 40 years ago.
For me, I'm going to ISTE to find new language and new stories for proving that the purpose of education is not to prepare our children to be weighed and measured at the end of each year, but to prepare them for their future – and in ways that are as exciting as their future has the potential to be.
Oh yeah!   I'll also be looking for cool new tech.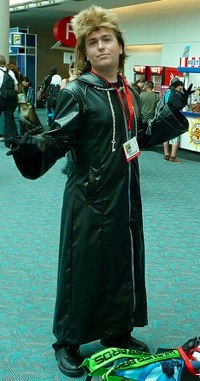 Dressing for the ISTE12 Exhibit Hall
(cc) photo by Heath_bar
Everyone is posting their dress and packing tips for the coming International Society for Technology Education conference – ISTE12. So I, as a professional conference go'er, thought I would contribute ten more tips for participating in this MMORGPD•
San Diego is cold this time of year, so wear heavy clothing.  Dress in layers, because conference centers are notoriously hot.  You'll be doing lots of walking so wear boots, big ones, with lots of laces – Unless you've brought heals.
You'll want to take lots of notes, so carry several spiral-bound note books.  Also carry pencils, #2s.  If you can find them, use white or aluminum grey pencils.  They'll impress the people sitting around you.  
In the presentation rooms, be careful not to sit near anyone with a computer or tablet computer.  They have almost certainly left their email notification alarm on, and when it goes off, everyone will turn around and look — at you!  If someone with a computer sits near you, get up and find a more secluded spot.
If possible, sit on the front row and straighten your legs out as far as possible.  This is where the boots come in, because presenters love to navigate obstacle courses while presenting.
The exhibit hall is the reason you came.  There's treasure here.  It's also a great place for play.  Pretend you're invisible.  Wearing a dark cap will help.  If you can achieve this, then you'll have the run of the hall.  Simply walk into any booth and pick-up all the pens, pencils, letter openers, and soft fuzzy balls you can find, and slip them quietly into your bag–preferably a large brown paper bag.  Chocolate is an especially treasured item and worth the return for more.  If someone in a booth confronts you, then carefully put the pencil back on the table, look down at the floor and slowly back away.
You'll see areas in the conference center with comfortable chairs, where people will be milling, talking, and showing each other their computers.  Shun these places.  The people will try to brainwash you.
If someone approaches you, wanting to talk, then turn invisible.  If this doesn't work, then look very stupid.  You'll need to practice this in front of a mirror.  If they persist, then speak gibberish and walk away.
If you hear anyone speak with an English accent, don't believe anything they say – no matter how intelligent they sound or cute their accent is.  This goes double for Australians and New Zealanders.
When the day is over, or by 4:00, which ever comes first, flee back to your hotel room.  This is the real challenge of conference-going, finding things to do in your hotel room.  I like to remove the lids of shampoo bottles and guess their scent.  Also, the extra blankets in the closet are expressly provided for the construction of elaborate blanket forts.   ..and I hope that you are a fan of "Law and Order."  It will be playing during your entire visit – on at least three channels.
What David really wants you to do is be comfortable, hungry to learn, ready to laugh and willing to cry, tweet your heart out and hashtag with #iste12, take every opportunity to meet someone new, and wear something strange.  I like those satin slippers with toes that curl up and a tiny bell on the end.
If I see you at ISTE12, please forgive me if I've forgotten your name.  I'm way past the age for excuses.
* Massively Multi-player Opportunity for Ripping Great Professional Development
keep looking »