Portland Head Lighthouse (HDR)
Haddock Stuffed with Lobster, mashed potatoes and roasted carrots (chocolate cake not shown)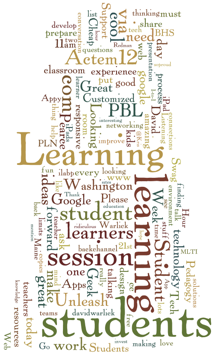 Wordle of Twitter Backchannel Feed

Stitched Panorama of General Session
On Wednesday evening, I enjoyed a great dinner and warm fellowship with ACTEM's MAINEducation conference committee (ACTEM is Association of Computer Technology Educators of Maine).  They were celebrating their 25th conference and the 10th anniversary of the state's celebrated 1:1 initiative.  We met at Slates in Hallowell, as I had not yet gotten to my hotel –– having meandered up from Portland, looking for lighthouses to photograph.
Leaving the restaurant, after a satisfying meal (code for filling), I dashed across the street to my rented Kia, remounted my Garmin GPS, typed in the address of the hotel and started driving.  It was dark, wet, and black, the blackness that comes with wet streets that swallow light rather than illuminate what's in front of you.  So it was one of those slow drives that had me focused primarily on Lady GPS saying,
"TURN RIGHT – HERE!"
or
"TURN LEFT – HERE!"
I'd gone through about twelve of these, only three of which resulting from missed turns and the machine's ,
"RECALCULATING!"
.. and It had gotten blacker.  I'd felt that I had entered a residential area which might have concerned me anyplace else.  But I'd glanced at a satellite view of the area, and knew that it was surrounded by homes.  What was alarming, and what you REALLY don't want to hear at a time like this, was,
"TURN LEFT – HERE and NAVIGATE OFF-ROAD!"
I said, out loud, "No!" did a U-turn and found my way to the hotel with my iPhone, my face lit up from the glow of that 3.5 inch display.
My point in telling this story here, and to the 800 Maine educators gathered in Augusta yesterday, is to say that this northern state did not say, "No!"  They've been courageously and inventively navigating off-road for ten years, and in no small way paving new avenues to learning –– and too few of us are following.
The last time I keynoted the ACTEM conference, I composed a list of conditions that indicate that you're in Maine. I don't think I can improve on that list, which I've included below. But I would add one item.
You know you're in Maine, when you believe that you have a firm and compelling vision of where education needs to be going, only to find yourself struggling to re-frame that vision, simply to catch up with the conversations around you.  A Wordle of the Twitter backchannel feed illustrates this beautifully, where students and learning stand out, and you have to struggle to find mention of technology.
Here's my list from 2006, most of which is still true.
You know you're in Maine when…
The first thing attendees to your workshop ask is, "Do we have WiFi?"
Teachers are checking their students work, during the workshop, on their comput'a.
When you insist on tech support for your hands-on workshop and none was needed.
When, in a workshop, everytime you ask, "How many of you have done this before…?" and nearly every hand goes up.
When two members of your workshop organize their own workshops in the back of the room.
They don't give out a conference bag at conference registration, because everyone's going to be carrying a computer bag anyway.
The former governor of the state is attending an education conference.
Nearly everything that people say, in an easy-going, slow, mumbly sort of way, carries wisdom!
When you had to fly in a little soapbox derby sort of plane to step into the future.
When you start to feel optimistic, and think, "You know, we may just be able to turn this thing around." 
..then you know your in Maine!
I'd add that if you fly into Portland's magnificent new airport, you can avoid the soapbox derby plane.
I proposed a conversation for the EduBloggerCon last Saturday, part of ISTE 2011. The title was something like "How Might Social Media/Networks Help to Redefine the Textbook?" From the digital votes that it got prior to the event, I'd assumed that the conversation would not make the cut, and so I did not finish up the Google Forms activity I had planned for kicking off the conversation. So I was surprised not only that it was scheduled as one of the first conversations, but also scheduled to be repeated during the afternoon. Someone made a mistake!
Anyway, I was able to hobble together the Google Forms activity, thanks to the immense patience of my un-audience, which resulted in this blog post of a few days ago.
The state of the textbook is such a huge and timely topic that I was not able to focus the conversation specifically on the implications of a next textbook's socialness. But one issue that did emerge in both conversations what what we call future textbooks, that aren't books? It's always seemed like a trivial issue to me, because the English language is full of terms that no longer apply directly to their original meaning. For instance, the word manufacture use to mean to make by hand.
One likable idea came out of the afternoon session from a teacher who uses Moodle as the basis for her classroom instruction. She calls it her digital curriculum. I like it because it describes what we're talking about in a way that leaves nothing out — though the otherwise useful term, digital, is somewhat limiting.
What I like most about this concept of a teacher designed, produced, and maintained assembly of resources and tools is that there is little that's new about it. I have never asked the question before, but suspect that if I were to ask an audience, "How many of you do not use textbooks in their classes?" a significant number of hands would go up — and even more if I were to ask about their textbook being merely a supplement to the teachers collected curriculum.
There are two problems here, however, one of which I didn't get a chance to ask during the unconference, and the second occuring to me on a few minutes ago.
Number one, what about the first year teacher? For how many of us was our textbook the life raft that saved us from drowning in the unexpected complexities of our first couple of years of teaching? This was certainly true for me. ..and somehow, using somebody else's digital curriculum might not hold quite as much air as an industry structured hardcover-bound curriculum (textbook).
I often suggest to higher ed folks that their job is to prepare future teachers for the first five years of their career, and to make sure that they have the contemporary literacy skills to continue to self-develop within their profession. A significant and pivotal part of this might be the construction of their first year digital curriculum, something that they can carry with them into their job interviews.
But this solution, in itself, causes the second problem. You see, never again, could a principal meet you, a seven-year social studies teacher, in the mail room, two days before the students arrive for their first day of school, and say, "Mr. Warlick, I've got you teaching 8th grade math this year." :-(
You see,
a teacher,
carrying a self-made digital curriculum,
is a powerful thing!
Front Cover of August T.H.E. Journal
Brenda just laid the August issue of THE Journal on my desk.  Glancing over at it, I saw the headline, "Not Your Father's Classroom," with a photo of "modern" classroom, evidently from the Columbus Signature Academy.
What strikes me about the room is how much it reminds me of the classrooms I visited back in the 1990s down in Beaufort, South Carolina, where they were instituting one of the earliest 1:1 initiatives that I was aware of.  It seemed that the ubiquitous access to information and information tools (I do not believe that they had Internet) demanded that students face each rather than facing the teacher.
This is not to say that the teacher was not a central character in the classroom.  It's just that they were not, necessarily in the middle of the classroom.
I've got some reading for the flight to St. Louis tomorrow.