Here's a short clip of a meteor flying in over Japan and then exploding in the atmosphere. It's good to know someone's at least keeping an eye on all this stuff flying around in space.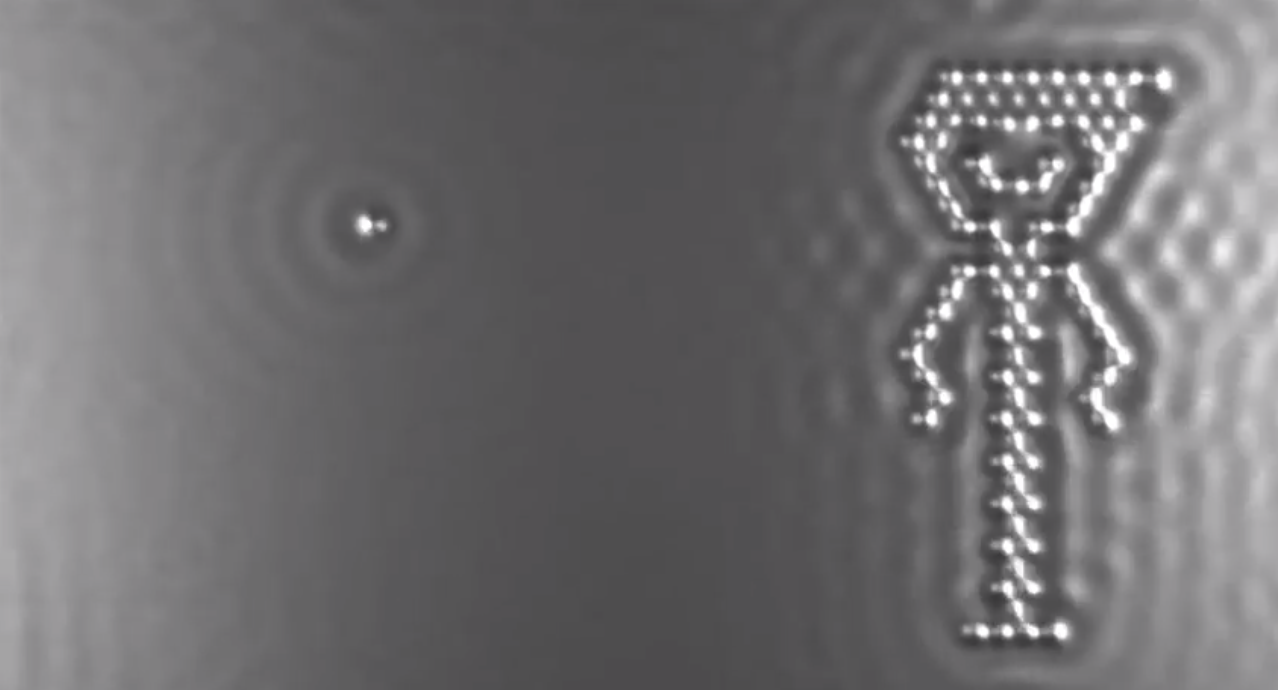 The thought of making a stop-motion animation with atoms probably never would have entered my mind for my whole life had I not seen this video. I am grateful for all the creativity in the world, especially when it's as surprising as this.
With all of this hype about Mars and the exploration of Mars, there have been many infographics about Mars and space exploration. I have found yet another that is very interesting. Using pixels, this infographic shows how far away Mars is. However, it is not as far away as it used to be.
Most people who remember SPUTNIK and America's landing on the moon are retiring, so in order to get a first hand experience, most teachers will have to speak with parents or grandparents. But the goal is to get first hand memories of this momentous event that can be related to your students today. For instance, what was someone doing when they found out about these momentous events, what were their thoughts? What did children play with and what were children excited about?
Then have your students imagine what it would be like to walk on Mars. Write a news article about the first Mars landing, or a diary entry as though they were the first person to walk on Mars. Have students discuss what landing on Mars would mean, and what they think will be the next goal after we do land on Mars.
Infographic: http://www.distancetomars.com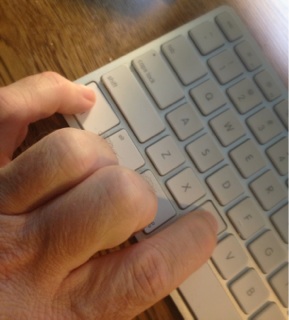 When I started teaching myself to program computers, I had to have a book. Radio Shack had a great book that came with their TRS-80 micro-computers (they were called micro-computers back then). It was simple, well sequenced and funny. Apple IIes came with a book, but not so good. Learning PHP and MySQL also required books –– really thick ones.
It's different today. Anything I'm trying to get a computer or a web site to do, someone else has already tried and succeeded, and with the help of others who have already tried and succeeded. Today, you simply tap into the conversations that they had, and you learn as well. The result has been an expansion of knowledge about coding and an explosion of ideas for how to use that coding.
Anyway, I've been working for a number of months on one possible feature for Citation Machine that I suspect could greatly improve its functionality. I've seen it before on other sites, but could not figure it out in such a way that it would work on all major browsers and both platforms (haven't tested Linux yet).
It may sound trivial, but if all you had to do is submit a citation form and then simply press CTRL-C to copy the citation, and then CTRL-V to paste it into your document – well I think that's huge. Until now, you had to click into the box for the citation, and then double click or triple click to select/highlight the entire citation, and then CTRL-C and CTRL-V to move it into your document.
Now, thanks to the conversations of dozens of programmers who are better than me, you just submit the form and CTRL-C for the bibliographic citation. To get the footnote you can double or triple click there, or click the [Select] button beneath it to have it selected/highlighted so that you can CTRL-C. Same with the parenthetical citation.
Please comment if this causes any problems for you.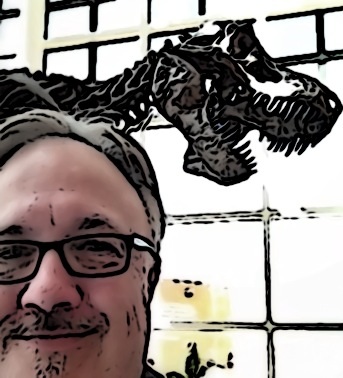 OK! This was Wyoming. So there were dinosaur skeletons everywhere.  Tyrannosaurus on the right and Warlickosaurus on the left.
During my presentation, Finding 'It' on the Net, at the WyTECC conference the other day, someone asked in the backchannel,
"How do we get educators to understand that students (should) have the freedom of using the Net during class?"
It's what I love about being able to visit the chat transcript and comment on the attendee's observations and questions. It extends the conversation and broadens the learning – including my own.
I seems that one way to convince reluctant teachers might be to ask that they imagine their classrooms with really smart students, and imagine the energy that they would generate – and then help them to understand how the Internet is becoming an extension of our/their own brains. Ask them to think of the things that they do today, that they aren't smart enough to do without the Net. I'd have no trouble doing that.
If students can lookup and evaluate information on the Net and on the fly during classroom work and classroom discussions, extending their own brains, then it may elevate the class, not to mention empower the learners.
Constructing a building takes into consideration a great deal as this infographic shares. To begin with, the materials, climate, and foundation must sustain the structure, there must be enough men and women to complete the project with enough knowledge to put into the construction, finances are a major consideration, and of course time.
These construction projects take these into consideration, and a great deal more. Do research into various construction projects your students find interesting and find out how these ideas were factored in. For instance, the Leaning Tower of Pisa, what could have been done then, and what can be done now to prevent a building from leaning.
What other things must be considered during construction? What simple machines are used during construction? How is the climate and the soil under the building a factor when choosing a location? How do people finance the building of these massive projects?
Blog: http://visual.ly/most-amazing-construction-projects
Infographic: www.rockanddirt.com
If there exists a species on this planet that did not originate here, and that species is one we have already discovered, it is likely the Tardigrade. Though they are just barely microscopic, they seem to share many characteristics with humans. This particular scientist discovered that these guys seem to be spread evenly across the Earth. Most importantly, however, it is the only known Earth-dwelling creature to be able to survive in the extreme conditions of space.
Have we been co-existing with an alien life-form we didn't even realize was there? Maybe it'll only take a little bit more prying to find out.
This infographic, found on Cool Infographics, shows how the climate has changed over the past 2,000 years in seven regions of the world (nearly all five continents, but not quite). Each color change represents the 30 year mean, and the increase and decrease of the temperature over time can be viewed. How do you think the mean was found before modern technology?
First of all, the infographic shows that North America and Antarctica share a similar temperate trend, and the five remaining regions share an opposite trend. On top of this, the arctic regions are experiencing a warm up and the other regions are showing a cool down. What could cause each of these phenomenon?
Share this with your classroom while studying global warming and other long term weather changes. This is a good example of what global warming can lead to. However, it can also be noticed that the major changes in temperature in North America and Antarctica began around 1200, long before the modern chemicals that are blamed for these changes. What are other explanations?
Blog: http://goo.gl/MFlTU
Preceden (click to view video)
I have been working on the history of my home town, and the book I am using is organized by subject and time, making it a little difficult to keep track of events as they occurred. I just came across this great website that easily allows you to create a timeline. It can be useful for both you and your students.
This will allow you to create both events and time periods, categorizing items by color, and by creating new layers. This is a great way to organize history for your students, and it can be accessed at home as well.
Littering is a big problem in our country. A single cup may not make a difference, but if everyone threw away a single cup, it would add up very quickly. At the same time, seeing someone recycle may make someone else recycle. So you recycling your one can make make someone else do the same.
We are overflowing our cities, states, countries, and planet with trash that could easily be recycled, or reused. Neighborhoods are having to be built beside landfills because there is not enough space for people and trash. It is just as easy to recycle as it is to throw things away. Keep a recycling bin outside of your back door, or in the same place as your trash can. Usually recycled materials can be taken to the same places as trash. Many landfill have a place to add recycling, and for those who live in cities and get your trash picked up, recycling can also be picked up. In addition to this, recycling bins are often beside trash bins in public places. So there really is no reason for you to not recycle. Check out these statistics, and contact your local recycling center for statistics on your areas trash problem.
Blog: http://visual.ly/eye-opening-statistics-littering
« go back
—
keep looking »