I'm standing in the corner of the classroom, just aside from the door. There are about 30 students sitting in desks that are more haphazardly arranged than in rows — that haphazardness exceeded only by the varying positions of the students, who seem to have more joints than I do.
Beside of me is the principal of the school, who actually looks a bit young for his age (more than 20 years younger than me). He yells out to one of the students, in a way that would seem disruptive in most high schools, but interestingly seems matter-of-fact here. A young, very tall (6'4″?), very dark, and very lanky (to the point of seeming to have no joints) youngster lumbers back. His face can only be described as blank and is crested by long unkempt hear that looks more like a black, half blown dandelion.
The principal asks, "do you know what Ms ????? told me about you?"
The face that was blank, suddenly becomes an arrangement of hard angles.
"She told me that you have the highest average in her math class!"
Angles amazingly melt into a smile that could only be loved, revealing a very handsome young man.
This is a high school in inner city Philadelphia, that, at a glance, looks very much like a high school. The building is actually three joined city store buildings. The classrooms, conference rooms, and labs have been carved into the space that seems to have been carved into the city, and there is a lot of math, science, history, literature, and art going on — and sports being talked about. But there are some pretty dramatic differences that you have to spend some time here to see.
In the short time that I have this morning to write, which I have just spent, the best thing that I can say about the Science Leadership Academy, is that on several occasions during our walk through, I had to ask Chris Lehmann, the principal, "Student?" "Teacher?"
I have never gotten such a sense anywhere as much as at this school, that learning is at the center of what's happening, not teaching. ..and everyone whom I met, mostly students, seemed to possess, more than anything else, a responsibility for learning. It's hard to describe, especially in a brief writing, but you have to walk out of this school with more optimism about education than you walked in with.
The Science Leadership Academy is the site of the first Educon 2.0, a conference and unconference about 21st century education, letting go of the old school, and inventing the new. If you aren't going to be there, you can pay attention at Hitchhikr for aggregated blog entries, Flickr photos, and YouTube videos, or just search Technorati for conversations tagged with Educon20. I'll be there for only one day, but hope to see some of you then.
At the moment, I am on my way to San Francisco for the TRLD conference, with a stop over in Philadelphia, where I'll spend a few hours at the Science Leadership Academy. I'm sure it isn't going to be a typical day, with preparations for the Educon conference, of which I'll miss most of (TRLD). But I am certainly looking forward to what I will be seeing and hearing, especially as a comparison of my previous visit, during SLA Year 1.
Concerning the Educon, I've suggested to Chris that we have some sort of activity that asks attendees of the Educon to express their evolving visions of teaching and learning, especially in light of their conference experience. I suggested that folks create a graphic (mindmap) that illustrates or models their vision of classroom learning. Chris made room on the conference wiki site for a page that describes the process and provides a link to the starter file (Inspiration).
While on the plane, I threw together a sample diagram that illustrates my classroom back in 1983 — included above. After the diagrams are finished, participants are asked to upload a screen shot or saved image version of their diagram to Flickr, and tag the image with educon20diagram. Here, we will all be able to view the images and comment on them. The following URL will list all images tagged for the activity:
http://flickr.com/photos/tags/educon20diagram
One of the aspects that I miss about being traditionally employed by a school, district, or state agency is the parties. I still get invited to the annual Christmas party at the Department of Public Instruction, but cake on birthdays was a treat — especially if it was chocolate cake. One party that was always a special treat was retirement parties, friends who were through with their careers and moving on to another phase of their lives.
What strikes me at this moment (as I get ready to head out to the airport for six days away from home) is that most of those folks who were retiring were younger than I am now. I must confess, as I have in the past, that a little more of me is starting to long for that party and a next phase, even though it may just be my own family that's partying. But the biggest part of me sees no retirement date on any calendar, and it isn't just my trying to get two kids through college. It's the nature of what I'm involved in and the community that I'm doing it with.
Yesterday, I worked with a group of school administrators and 21st century skills facilitators, and they engaged in a lot of backchanneling during the presentation part of the morning — using my hacked-up chat site. As I said in the blog article that introduced their online handouts, this is a school district that has consistently been in the forefront of utilizing emerging technologies in their work.
As they always are, the backchannel transcript, which the district now has access to, was quite revealing of many points along the spectrum. But one comment struck me keenly. One of the participants said that it was so sad when you see a couple of teenagers walking along at the mall and they both have cell phones to their ears.
I understand this comment and reaction, and I feel it as well. But I think that what keeps me enthused and energized about education today is that I also see and feel the opportunities. Sure, their mobile phones intrude on what should be personal direct contact with friends. But it also indicates a generation of people who do not see walls and distance in the same way that I do. The limits and boundaries that confine us and our way of thinking and solving problems seem much more transparent to my children's generation.
I saw a survey the other day (I'll try to look it up later) that showed that teenagers were significantly more confident in their ability to solve today's problems during their adulthood than surveyed participants who were older. I question the implied conclusions of the survey. These kids are young and naive. But I wonder, at this moment, how much of their optimism comes from the way that their information and communication experiences are shaping the way that they see their world, and that maybe they will be able to solve problems that we can't.
I'm sure I'm being naive as well. But it's the opportunities that stoke my fires and keep me on the road (figuratively & literally).
This, which I learned about from one of my favorite science communicators, Bora Zivkovic (A Blog Around the Clock), excites me on several levels. But principly, I see a group of educators, who have met, discussed, taught, and learned, and then have come to agreement and published, globally, a document of demand for the sake of a peaceful and secure future through our children. It is The Cape Town Open Education Declaration, which demands the development and use of open content and open education tools for use in education world wide, wiping out the boundaries of income that prevent learning.
Here is the introduction from the web site and you can click here to read the declaration:
The Cape Town Open Education Declaration:
The Cape Town Open Education Declaration arises from a small but lively meeting convened in Cape Town in September 2007. The aim of this meeting was to accelerate efforts to promote open resources, technology and teaching practices in education.Convened by the Open Society Institute and the Shuttleworth Foundation, the meeting gathered participants with many points of view from many nations. This group discussed ways to broaden and deepen their open education efforts by working together.

The first concrete outcome of this meeting is the Cape Town Open Education Declaration. It is at once a statement of principle, a statement of strategy and a statement of commitment. It meant to spark dialogue, to inspire action and to help the open education movement grow.

Open education is a living idea. As the movement grows, this idea will continue to evolve. There will be other visions initiatives and declarations beyond Cape Town. This is exactly the point. The Cape Town signatories have committed to developing further strategies, especially around open technology and teaching practices.
A certain amount of irony here, does not escape me. I write and sell books and write for publishers. I sell my consulting and speaking services, and I do these largely for the developed world. I'm trying to make a living (without a job), and it is impossible for me to overstate the challenge of this. However, I have some things to think about here — because this declaration excites me. It's about all of our futures!
"Home." The Cape Town Open Education Declaration. Shuttleworth Foundation and Open Society Institute. 23 Jan 2008 <http://www.capetowndeclaration.org/>.

During a conversation that I had yesterday with Owatanna Schools' Superintendent, Tom Tapper, he described how his four year old grandson was using Webkinz, a recent arrival (April 2005) to the virtual pets genre of children's web destinations and current obsession for thousands of young children. There's been much written about concerns over the time children spend at computer interacting with games and with other children, and I do not want to minimize this concern. I can still hear my mom telling us to go outside and play, as we sat glued to Saturday morning cartoons. It was the only time with extensive children's programming back then. Nothing new here. Kids will be kids, and parent need to be parents.
But what dinged in my head, as Dr. Tapper talked, was a comparison between his grandson's play at a computer and my experiences watching Captain Kangaroo and my children's with Sesame Street. Although I made hats and newspaper trees along with the captain (I can still remember the sound of his scissors on construction paper), and my children sang along with Big Bird, I see something different in what children invest in their virtual pets and the social networking that happens. They are not merely learning the information, but they're working it, on its own terms.
Again, it's critical that children learn to sing, play with other children, build with blocks, play in the sand, and read books. But I wonder how learning to read, within the context of these online experiences, might differ from how we traditionally learn. For this four-year-old, reading almost immediately becomes a tool that improves his experience. It's a skill that he uses to work his environment and, in this case, feed his pet, buy cloths, interact with and impress other children, and teach and learn.
Image Citation:
Chapman, C.C.. "Kids play on Webkinz." CC Chapman's Photostream. 22 Feb 2007. 22 Jan 2008 <http://flickr.com/photos/cc_chapman/398712827/>.

This is another of those blog posts that may fall under the, "Where has Dave been for the past year!" But I was mildly intrigued by a conversation I had with one of the attendees of yesterday Science Blogging Conference, a science educator. He was telling me about his program's plans to start helping youngsters learn about science by producing podcasts — and he mentioned The Flip camera, a new inexpensive and small video camera. I'd not heard of it, or if I have, I was obviously worrying over something else at the time.
And then, thumbing through the U.S. Airlines inflight magazine, I found an ad for this very simple yet stylish pocket digital camera-looking device that takes video.
Flip Video Ultra (60 minutes, black) Digital Camcorder reviews – CNET Reviews:

At the time of this writing, the best selling camcorder at Amazon.com isn't a model from Sony, Canon, or Panasonic. It happens to be the Flip Video Ultra, the third iteration of Pure Digital Technologies' simple plug-and-play video camera that features a hideaway USB connector and built-in software that makes viewing and sharing your videos incredibly easy.
It comes in colors, and it ranges in price from $149 to $179*. The best thing about it is a retractable USB plug, so you simply plug the camera into your Mac or PC, and you're moving the video file to your machine for further enhancement.
It's what I like about a sandbox or technology as platform way of thinking about tech in schools, that students are collecting information, either recorded in book, disk, or net, or from in-front-of-you experiences, and then remixing that information to refine skills and build knowledge. This price could put a pretty interesting information capturing device in most any classroom. Or a box of them in a school.
Ryan, Philip. "Flip Video Ultra (60 minutes, black)." CNET Reviews. 2 Oct 2007. CNET.com. 20 Jan 2008 <http://reviews.cnet.com/digital-camcorders/flip-video-ultra-60/4505-6500_7-32627442.html?tag=prod.img.1>.
Image Citation:
Werker, Kim Piper. "KPWerker's Photostream." Flip Video. We call it Jackson.. 25 Oct 2007. 20 Jan 2008 <http://flickr.com/photos/kpwerker/1748387151/>.
David in 3D
I'm sitting in my favorite seat (far back right corner — so that I can see, hear, and reach the power supply) in Auditorium B for the Science Blogging Ethics, moderated by
Janet D. Stemwedel
. My plan is to be taking notes on this blog article and then post it every fifteen minutes or so — or not.
The main thing on my mind right now is the forecast for snow that we're facing here in Raleigh. I'm flying to Minneapolis tomorrow, so Brenda has reserved me a room at the airport so I'll be close in the morning. I'd hate to not get to Minnesota because it snowed in Raleigh ;-)
I'll be italicizing my 2¢ worth.
Ethics Session
Ethics is a matter of responsibilities? to whom am I responsible? and what options let me best balance those responsibilities? So what are the responsibilities of blogging? Is there any one definition, vision, expectations about blogging?
I think that some readers do have expectations based on a number of criteria/factors, and sometimes those expectations do not, sometimes, coinside with why the blogger blogs.
What can I say on my blog? Some information is public and some is proprietary. It's worth noting that much of the theme of this conference is open science. Ah! Should there be a blogging code of ethics?
Ah, a great question has risen from the audience. When is information public (you can post that quote or that pictures) and when is it private? Is there a resource with the answers to these questions? The answer from the moderator is, "No!"
The talk is going on about assuring that what's written and published on a blog, newspaper, etc. is reliable, and I agree. This is a valuable direction to be going in. But I don't think that there is a single managable answer. I think that part of the responsibility should rest with the reader. Part of being a reader, today, is asking questions about the answers that you find.
A great conversation going on. Too much to keep up wither here. No answers. One man said that people need to be learning critical thinking skills. Then he said, "A man just said that kids are reinventing education. " Bingo!
Hmmm! Suggestion now is that rather than trying to establish a code of ethics for blogger, instead, more of a best practices agreement. There is talk of setting up a blogging ethics wiki.
Next is a conversation about teaching science and blogging. I'm moderating that one, so there'll not be any notes here. But I'm hoping to podcast it, so hopfully, more to come.
The session on teaching science with bloging (wikis, podcasting, etc.) went well. Majority of the folks are university level. I was surprised not to have seen more K-12 folks. The most interesting thing that came out of it for me, was a science and religion professor who used blogs to generate outside-the-classroom conversations. His story was very compelling. But it was especially interesting that he used the blog conversations to reflect on the course, giving him ideas about adapting the class in real time, and also redesigns for the next semester.
The next breakout that I am attending is How to Build Interactivity into Your Blog, with Dave Munger. So what is interactivity really? He didn't really answer that question, but he said that interactivity will bring visitors.
He's using Bad Astronomy as an example of an interactive blog. The blog
has a long history
populare topcis
stays on topic, and
has a friendly tone (short sentences),
six posts per day,
links to other blogs,
but not too many links,
image /video rich,
it's personal,
but not too personal.
Dave's Tips
Be regular,
Be yourself,
Self-promote effectively (most bloggers under-promote themselves)
Anti Self-promotion (be careful of DIGG and DIGG like services)
Don't be for comments,
Images,
Movies,
Polls
How to make polls (blogflux.com & quimble.com),
Make good polls,
This session was not exactly what I expected, but the conversations that ensued was very interesting. Of course, all of the items above have their exceptions, and many of them came out in the dicsussion.
At the end of this session, a woman got up to demo crossref.org.  It's a plugin for WordPress that, using a DOI number, can callup a citation and plug it into the blog.  A DOI is a Digital Object Identifier.  If any of you know more about DOI's please share.
The conference started today with hands-on workshops for blogging beginners this morning and tours of some Research Triangle Park labs this afternoon. I had enormous fun, spending two hours at the DIVE, the Duke Immersive Virtual Environment. One of a half dozen or so CAVEs in the world, it was like SecondLife with glasses instead of a mouse. In fact, our first experience was an SL style woman walking down the hill across the room, then on to a bridge, from which she jumped. Our guide, Dr. Rachael Brady, then directed me to walk out onto the bridge, look over the side and jump. I did so, without the slightest fear of heights that I anticipated, and everyone else automatically went with me — since I was wearing the special glasses.
---
| | |
| --- | --- |
| The DIVE is a six-walled room, four sides, top, and floor, each with its own projectors displaying synchronized images, so that you have a sense of being surrounded by what ever. With the sterioscopic glasses, which rapidly switch on and off each eye, letting in a slightly different version to each eye, fooling the brain into a sense of depth, you lose the corners of the room, and start to feel — well — THERE. | |
| | | |
| --- | --- | --- |
| | | One of the other DIVE tourists took the special glasses here, and also wielded a device that looked very much like a game controller. We found ourselves surounded by 3D representations of molecules. His handheld controller projected a virtual wand, which he could use to grab the molecules and move them around. He could also touch individual atoms in a certain way, and the system projected text-based information about the atom. |
| | |
| --- | --- |
| Here is another tourist, whose name I do not remember. She has the honor and privilege of working with some kind of budget branch of state government. But she is in a project to get teenage girls interested in science and math. I saw her take one of Rachael Brady's business cards on the way out. This young woman is definately having a good time, on an open plain, staring a birds flying through the air. | |
| | |
| --- | --- |
| | This rendering display some sort of protein. Brady explained it, but it was hard to concentrate, because the guy who was wielding the wand at that moment was practicing an intriguing feature. With the controller and wand, the operator can annotate parts of the virtual object. I'm sure he was making some sort of statement here. |
| | |
| --- | --- |
| I got to hold the wand during this segment and use it to examine a brain. Here, you are seeing the brain without the sterioscopic glasses, because, like all of these pictures, this was shot with a regular digital camera. With the glases on, it was a very solid (and sometimes transparent when programmed that way) looking object that floated in the middle of the room. I could grab it with the wand and move it back and forth, up and down, turn it around and upside down. There was a way that I could inject the wand into the brain, and as I moved it in and out, it displayed cross-sections, like an MRI. Fascinating! | |
| | |
| --- | --- |
| | This rendering came from a very basic RDF, or metatagged file of patents related to computing, the companies that held them and the person most responsible. Because of the crossreferencing in the data, lines connected the items, and you could grab a patent, company, or person, with the wand, and then pull it out, the lines connecting them holding place, allowing you to examine relations. If you touched an object in a certain way, it's data would appear, which is what you're seeing to the left. |
I had a virtual conversation, the other day, with a group of media specialists near Minneapolis. I enjoyed the warmth of my tiny basement office, while they had 4 degree temeratures facing them (-16c). Alas, I'll be flying to Minneapolis on Sunday (high of 4 degrees).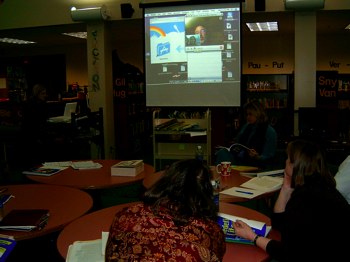 To the right is a picture that one of the participants e-mailed me. I still find this a little creepy ;-).
One of the things that we talked about was expanding their services through their web presence, and this conversation came back to me this morning, when I read about the announcement that book seller, Borders, will be seperating from Amazon.com to offer their own web site.
"We're literally starting with a blank page," said Rob Gruen, executive vice president of merchandising and marketing at Borders, of its efforts to build its own Web site.
What I find interesting and what may be of even greater interest to school librarians is that their goal is to make the web site as bookstore-feeling as possible.
"We really want it to feel comfortable for people who love to come into book stores," said Kevin Ertell, vice president of e-business for Borders.

For instance, on the beta, or test version of the site that Borders launched late last year, it has developed a "magic shelf," which is a virtual bookcase that displays recommended books, movies and music.
There might (or might not) be some useful models on this and other book store sites to help school library media specialists to better serve their patrons through their web presence. The beta for Borders' new site, from which you can not yet purchase books, can be found at:
http://beta.bordersstores.com/online/store/Home
---
Maestri, Nicole. "Borders Readies to Take over Web Site."
Yahoo! News
15 Jan 2008 18 Jan 2008 <http://news.yahoo.com/s/nm/20080115/tc_nm/borders_website_dc>.
Scott McLeod (Dangerously Irrelevant) has opened up his second annual Education Blogosphere Survey. I think that it is interesting and useful to have information about a particular portion of the blogging community, especially one that is so information and communication intensive.
You can click the graphic to the right to participate. It's four screens and 25 questions. It took me about fifteen minutes, but only because I couldn't figure out how to tell how many subscribers I have. If you know how to determine that number, please comment.
You can see last year's survey results at his The Results are In! post.
The deadline for this years participation is January 26 at 11:00pm Central, (GMT-06:00).
« go back
—
keep looking »