Yesterday (or several days ago) I wrote about success as the element of learning that trumps lazy. By success, I mean learning that accomplishes a meaningful goal, as opposed to one that achieves an external and often symbolic outcome. This morning, I thought of a classic example.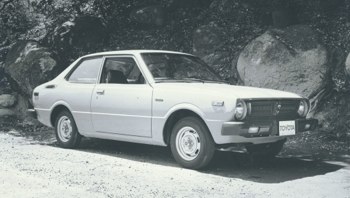 1977 Toyota Corolla
After my first year of teaching, I traded in my aging Fiat station wagon for a brand new 1977 Toyota Corolla. It cost $2,700 and was a wonderful car; drivetrain, chassis, body and four wheels – basic transportation that I kept tuned myself. It cranked every time and never failed to get me to work or to Arizona or wherever I was going. Until four years later.
The starter motor would turn, but the engine simply would not engage. However, if I left it alone for about a half hour, it would start right up. This didn't happen every time I used the car, but each time it did, the pattern was the same. I took it to a number of auto repair establishments, but, as is always the case, it would start flawlessly.
I remember as if it was today, a rather short stocky fellow, slipping his Exxon cap off as he leaned under the hood and with grease- and tobacco-stained fingers, flipped open a plastic box that was mounted to the wheel well. Seated into a circuit board were several microchips. He said, "That's your problem. I don't know what that is, but that's your problem."
The car cranked right up and I drove back home. It was the next day that I was telling this story to a teacher friend, outside our rooms, during class change. Several students were lingering close by, including a young man we'll call Bobby.
I can picture him today; a good looking kid, tall, straight as an arrow, curly back hair and day-old stubble (before it was cool), and the broadening chest and shoulders that come to some boys as early as 15. ..and he was still in the 7th grade.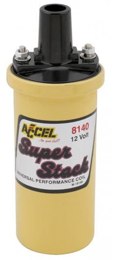 Ignition Coil for a 1977 Toyota Corolla
From the other side of the radiator he said something that I didn't understand. My teacher friend asked him to repeat and he said almost clearly, "h'it's yer cule mista Warlick."
After engaging him in something similar to a conversation, I got that my coil was the problem. An ignition coil is "an induction coil in an automobile's ignition system which transforms the battery's low voltage to the thousands of volts needed to create an electric spark in the spark plugs to ignite the fuel."1
This was better advice I'd gotten from any of the trained and experienced auto mechanics I'd consulted, so that afternoon I stopped off at Advance Auto, bought an ignition coil for a Corolla, installed it myself, and the car ran without fail until I sold it a couple of years and 95 thousand miles later for $2,300.
I'd never taught Bobby, but I knew that the teachers liked him, one of those guys they didn't mind holding back year after year. I told the story to another friend, whom I respected deeply, a woman who'd taught Bobby for all of these years, and she said,
"Don't worry about Bobby. His Dad owns a trucking company that hauls trees to the pulp wood plant. He's a millionaire, though you'd never know if you saw him. Bobby's going to go work for his Dad when he turns 16 and he'll inherit the business. He's not dumb, he's just lazy, and he always will be when it comes to learning."
I don't know what happened to Bobby. I do know that pulp wood played out in the region, and Bobby's business either folded, or he found some way to repurpose his assets into another line of business.
What I do know is that Bobby was not a lazy learner. That he was able to diagnose the problem with my car, just from the telling of my story, convinces me that he engaged in deep and powerful learning experiences that taught him not only fundamentals, but how to apply those fundamentals for solving real problems.
They were learning experiences that were qualified by
SUCCESS,
not by a SCORE.
Ignition coil. (2013, March 15). In Wikipedia, The Free Encyclopedia. Retrieved 11:16, May 17, 2013, from http://en.wikipedia.org/w/index.php?title=Ignition_coil&oldid=544257271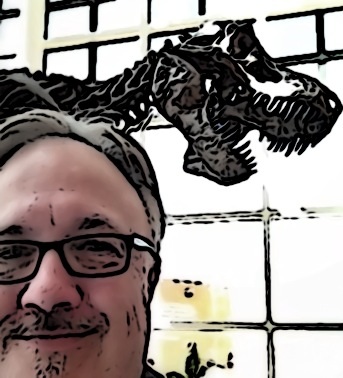 OK! This was Wyoming. So there were dinosaur skeletons everywhere.  Tyrannosaurus on the right and Warlickosaurus on the left.
During my presentation, Finding 'It' on the Net, at the WyTECC conference the other day, someone asked in the backchannel,
"How do we get educators to understand that students (should) have the freedom of using the Net during class?"
It's what I love about being able to visit the chat transcript and comment on the attendee's observations and questions. It extends the conversation and broadens the learning – including my own.
I seems that one way to convince reluctant teachers might be to ask that they imagine their classrooms with really smart students, and imagine the energy that they would generate – and then help them to understand how the Internet is becoming an extension of our/their own brains. Ask them to think of the things that they do today, that they aren't smart enough to do without the Net. I'd have no trouble doing that.
If students can lookup and evaluate information on the Net and on the fly during classroom work and classroom discussions, extending their own brains, then it may elevate the class, not to mention empower the learners.
Added Later: There are great teachers out there today, who could be greater. There is only a thin line between a good teacher and a great teacher.
There is a growing percentage of America's teachers, who have never taught in classrooms without the intimidation of high-stakes testing. My daughter student-taught under a supervising teacher whose short career had been dominated by the pressures of preparing her students for the North Carolina End-of-Course Test. It's why she, like thousands of other graduates from NC's schools of education, choose not to enter one of our classrooms, because it's not the teacher she wanted to become. (Silberman A1)
Every year, there are fewer teachers who have known the experience of confidently entering their classrooms with creativity, passion and the freedom to replace their textbooks with learning experiences that are unique, personal, powerful and authentic. The rest have only known themselves as teacher-technicians, checking off standards and managing instruction by crunching data.
Mark Ahlness' CB Logo
I was reminded of it this morning, while scanning through Class Blogmeister
(see note 1)
correspondence, and learning that Mark Ahlness has retired. Mark was among the first teacher-users of CB, posting his first blog entry in July of 2005. He continued, over the following years, to empower his learners by making them authors, sharing his creative techniques with other educations and being one of the chief leaders and supporters of the CB community.
I told him that I feel a pretty deep sense of sadness at his retirement, and explained that I too am retiring – though, I am stretching it out over the next several years. But I do this believing that I am leaving education in the hands of courageously passionate and creative teachers.
The classrooms of Seattle, Washington are now making due with one less such teacher – and formal education will be a little less interesting without Mark.
We must kill high-stakes testing before we do not have anyone left, who remembers how to be a teacher-philosopher.
Great luck to Mark Ahlness on all his future endeavors.
Note 1: Class Blogmeister is a blogging platform that I built and launched in late 2004. I created it because there were no blogging services at the time that were designed for the classroom. It continues to live, but I do not promote it, recommending other services instead, when I am asked.
Note 2: My semiretirement has begun, though I will continue to work for a good number of years to come. I'll simply be pursuing other interests in between a declining number of speaking engagements.
Silberman, Todd. "Not Enough Teachers." Raleigh News & Observer 1 May 2002, A1. Print

Click the word cloud to enlarge
NCTIES
is my state's
International Society for Technology in Education
affiliate (
ISTE
). It stands for North Carolina Technology In Education Society. They will be holding their annual conference this week at the relatively new Raleigh Convention Center. In the last few years the state capital's downtown has become a descent place to hold a conference. More restaurants, museums, night life and many more people living downtown, making the streets safer.
I finally went through the conference program yesterday and was struck by several trends that seemed apparent during that scan. So I thought I'd spend a few minutes this morning doing a casual frequency analysis.
Number of term mentions in the conference program
Term
2012
2013
Trend
SD
Game, gamilfy, etc.
14
73
3.5
iPad or iPads
34
68
2.1
apps
25
49
1.5
Common Core
15
42
1.6
resources
72
42
-1.8
Web 2
67
34
-2.0
play
6
34
1.7
Professional Development or PD
65
34
-1.9
free
37
33
-.2
engage
33
33
.0
Google
61
32
-1.8
1:1
77
30
-2.9
Apple
8
22
.9
Collaboration or Collaborate
24
22
-.1
Twitter
10
15
.3
iOS
14
14
0
tablet
5
13
.5
blog
28
11
-1.0
Minecrqaft
0
8
.5
Android
2
1
-.1
laptop
11
1
-.6
In a casual counting, I found 205 concurrent presentations being made during the conference including the student showcases and not including the two keynotes. Of those 205, 51 of them (24.5%) are being delivered, at least in part, by vendors. 35 are being delivered by presenters representing elementary schools, 20 by presenters from middle or intermediate schools, 15 from high schools and 14 from universities. I am especially happy to see so many presenters from five of our state supported universities, two private universities and one community college.
The happening place in North Carolina seems to be Rowan-Salisbury Schools with 14 sessions being facilitated by 33 district educators. Also notable is Union County Schools with 7 sessions and 18 educators.
I'm doing one session. But hopefully, I'll be setting a productive tone for the conference.
I'm looking forward to seeing old friends at NCTIES
Added March 5
I finally found a list of last years presentation descriptions, and searched for the frequency of the terms in this table (above and left). I inserted a column for the 2012 conference and then added a column with arrows to indicate the trending up and down. To quantify the change, I added a final column with the number of standard deviations of the total change. This sounds like I know more about statistics than I really do.
I appreciate all of the valuable feedback so many people gave me regarding the initial posting of "The Game of School," my first animation with a message. I've decided to post it on the original blog article and re-date it to the present. The original blog text follows.
As I ease into retirement (over the next five to ten years), I'm giving myself permission to learn some new skills that I always wanted to try my hand at, but never made the time. One is learning to create animations.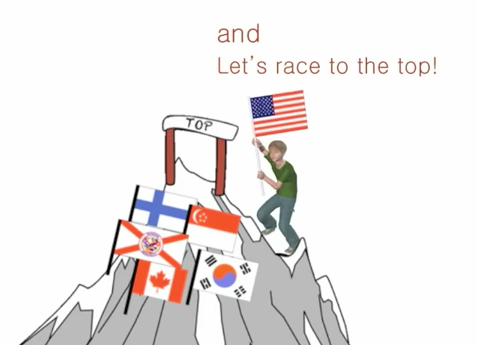 Here is my first attempt at an animation with a message. Its message is based on a blog post I wrote for Smart Blogs a few months ago but never got around to reposting here. This is version 4.1 5.0 of the video, which has been edited and re-rendered MANY times and will likely be rendered many more times.
I'm learning!
To create this video, I used Apple Keynote for the text flow, Poser Debut for the character animation, iMovie 11 for the video editing and iSequence on the iPad to produce the music.
Enjoy! ..and let me know what you think…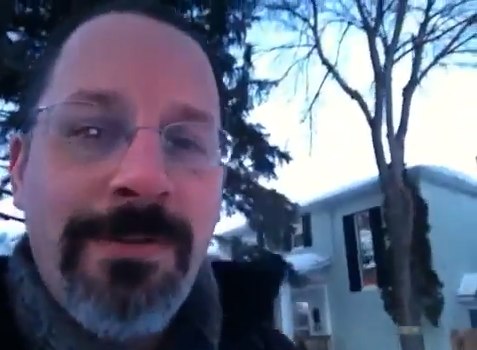 Darren Kurpatwa delivering his WhileWalking episode 73
My friend, Darren Kuropatwa, mentioned me in one of his "WhileWalking" video reflections, referring to one of the conversations we had at Educon last week. I love his new reflections series for many reasons, not the least of which is the delightful sound of Canadian snow crunching as he walks.
In that conversation, on the last day of Educon, he told me about how students were using Google docs in preparing their presentations and how convenient it was that Google built in an image search tool that returns only Creative Commons licensed media and even includes citations for the images that can be pasted into the document.
I was less than thrilled about this and Darren, in his reflection, wonders why. He's asking if there is a relationship between my reluctance about Google's bundled services and why many educators resisted their student use of calculators decades ago. It's an excellent question, which I guess is why it occurred to Kuropatwa, while tundra-walking.
There is a very real relationship between the emergence of calculators in the early 1970s and the rise of the World Wide Web, dynamic search engines, and smaller useful information tools like Creative Commons licensers and citation generators. But to understand why I feel Darren's described scenario is, in ways, counter to the mission of education, I need to briefly define that mission, as I see it.

A sliderule like the one I used as a high school student
A continuing factor in my own reflections is the fact that from my time as a high school student to the waning years of my career as an educator, the tools for working with information have advanced from sliderules to tablet apps – an astounding revolution in information and communication technologies, from sticks to chips. Our mission is to prepare our children for jobs, lifestyles, tools, processes, problems and goals that we can hardly imagine. We're preparing them for the unimaginable.
I am certain that their lifestyles will be (is) fueled by the daily practice of learning and that the mechanisms of that learning will be constantly and sometimes rapidly evolving.
Many of us were fairly certain that calculators would be a prevailing information processing tool in our students' future, as we know that our children's future will continue to afford them a vast and dynamic aggregation of information – that also obliges them to new and interesting ethical responsibilities.
Each of these advances in information and communication technology warranted a role in our children's formal (and informal) education.
Now, my objection to Darren's scenario has little to do with Google's purported desires to dominate the world of information, or even the fact that Google has made research, production, and attribution easier – as was implied in several tweeted responses to Darren's post. We should probably be concerned about the dominance of one company in any realm of interest, but there's nothing wrong with "easier."
What concerns me is how these tools might be packaged to help children do school work, at the expense of helping them learn to use information to do real work.
If Texas Instruments had created a curriculum-friendly calculator, one designed to help children learn math, as apposed to using math to work numbers, then I might have had the same objections – though I can't confidently speak for the 22-year-old me.
What I believe today is that our children need to be developing a learning lifestyle, with the skills and habits of utilizing a tumultuously shifting and advancing information environment and the unimagined opportunities that an unwritten future provides. This is the mission of education.
Darren has invoked the best word for my thinking, that learning should be be "deliberate," as deliberately authentic as possible.
Kurpatwa, D. (Performer) (2013, February 7). Whilewalking 73: Should we be deliberate?.WhileWalking. [Video podcast]. Retrieved from http://www.youtube.com/watch?
Before Educon's conversations begin, we get to spend the day at the Science Leadership Academy (SLA), attend an evening panel discussion at The Franklin Institute (see Pulver) and see the opening keynote address – this year it was Philadelphia's new Superintendent, Dr. William Hite.
..and I'll say here that among the many regularly scheduled annual educator learning events, Educon's unconference is probably the richest experience, anywhere, anytime. This is not to say that regular conferences with presenters and keynote speakers are not valuable. They are essential, because they facilitate opportunities for learning that Educon does not. But to listen to smart people and to be able to push and pull on what they are saying, well, it just wrinkles my brain.
Master photographer, Kevin Jarrett, captured this picture of me and Joyce Valenza catching up.
One of the greatest features of Educon is the chance to catch up with friends, whom we see almost daily in the networked eduverse, but with whom we rarely get to shake hands, huge, and enjoy extended conversations, unconstrained by 140 characters limits – and that's not to say that we ever get to finish our conversations at Educon, because there are always new ones that attract our attention.
We also get to visit classes and talk with SLA teachers. I especially enjoyed talking with Matt VanKouwenberg, about his engineering classes. His process reminded me of the vocational education classes I took in high school, how we all learned many of the same lessens by working on distinctly different projects. He told me that each class starts with a few minutes of sharing, where each student or team reports on where they are, barriers they are facing, and what they are learning (think the first five minutes of each episode of LA Law). He said that it often surprises the students to discover the similarities in what they learn, regardless of what they are working on.
I also enjoyed talking with one of my favorite SLA teachers, Meenoo Rami, an English teacher. Rami teaches a class about Storytelling, which appears to be not about fiction writing, but about how we use stories as a device for communication. I think that this is an often overlooked tool for expressing ourselves, even by many of us who are supposed to be master communicators. Too often I hear keynote and featured speakers simply telling us what to believe, rather than helping us discover our own beliefs through plot and surprise. Never underestimate the power of a good surprise.
Near the end of the Friday night panel discussion, Pulver said that, "The future is unwritten!"
When considering our challenges as educators and the future challenges of our students, we must come to believe that anything is possible. We're not preparing our children for the 21st century. We're preparing them for the age of opportunities, when almost any problem can be solved and almost any goal can be accomplished. This affects so much that is involved in formal education.
[click to enlarge]
While claiming my best seat
(its that hearing thing)
for one of the first conversations, and reflecting on Friday's panel and Saturday morning's keynote, I quickly drew up the diagram on the right. Even though, at the highest levels, we'd all deny it, our job, now, is to prepare our children to take tests. Education has become a competitive endeavor, pitting nation against nation, state against state, district against district… and the point system for that competition is test scores.
This implies a purpose behind education that has little to do with an age of opportunity. Instead students learn to read in order to follow instructions and to learn in order to fit in to someone else's competitive machine. To be ready for an age of opportunity, children must learn to read so that they can learn to do something that they couldn't do before and to learn in order to make their own machine.
One of the greatest ah ha! moments of the event, was when Philadelphia Schools Suerpentendent, Dr. William Hite said, "Today, teachers do not need to be content specialists nearly as much as they need to be context specialists."
Educon 2013 is over and I'm on my way home, the Carolinian, Train number 79, on time with a passable WiFi connection. During this year's conversations, I tried a new app and technique for taking notes. The App is GoodNotes, which is like a couple of dozen other stylus-based note-taking apps. What I like about this particular one is your ability to connect it with the iPad's camera and integrate pictures into your notes.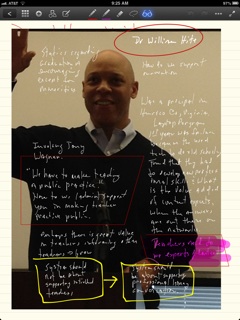 Superintendent of Philadelphia Schools, Dr. William Hite
This, I believe, would be extremely valuable when attending presentations that relied heavily on diagrams and other visual media. It wasn't ideal for Educon, who's conversations were less dependent on slides, but I did include pictures of the presenters as a reminder, when reviewing the notes.
(see right)
I typically use a mind-mapping program, so that I can organize ideas in relation to others. But I've always missed the freedom of a blank page. Writing notes with a stylus has all sorts of disadvantages, but I can already see that I am going back to review my notes much more frequently than I have ever scanned my mind maps.
I confessed to a number of people yesterday, that I attend these things, not so much for new knowledge as for new language. I do not manage a school or classroom, so I am not looking for solutions. I need new ways of talking about education in the age of opportunity – which is often counter-intuitive to the my audiences' vision of classrooms. New angles, phrases or new stories help to produce shakabuku. They sneak up on the listener and surprise them with new realizations.
The first thing I think, when seeing a panel for educators made up of non-educators is, "Why do we assume that business inherently does it better?" I have to confess that after the panel discussion was over and and I was trudging back up to my hotel (why's going home always up hill?) through the (more slippery than it looked) snow, I asked myself that question – probably out loud.
But rehashing parts of it early the next morning and reviewing my notes, I see lots of ideas that, when unpacked, apply wonderfully to teaching, learning, and classrooms. Here are some phrases from Jeff Pulver, an entrepreneur and venture capitalist.
Teachers should model entrepreneurship! I include this statement only because It comes up frequently during unconference sessions on education and entrepreneurship. If we want our children to be creative, then we need to practice creativity in front of them.
Voice is an application! I'm still trying to wrap my mind around this one, but according to Wikipedia, "an 'app' is computer software designed to help the user to perform specific tasks." One could say that giving voice to learning helps learners to accomplish something with what they've learned.
The fuel for disruption is passion! This one makes a lot of sense to me. Disruptive technologies, techniques and processes change nothing unless someone is passionate enough to audaciously and heroically use them. Learning is disruptive. If it wasn't, what would be the point?

Are we fueling our students' learning?

Be willing to break the rules! I keep playing around with the idea that rules, in school, are designed to contain the learning. However, in the real world, rules are a way of mapping the perceived constraints of reality. Those who accomplish goals creatively do so by rewriting the rules – reshaping the confines of reality. Personally, I prefer "changing the rules" or "re-writing the rules" to "breaking the rules."
Find People who don't know it can't be done! Is this an overlooked value of new teachers. I keep thinking that there is great potential to pairing experienced teachers with new teachers, when solving education problems – so long as each is willing to learn from the other.
Make exercise fun! This one hit hard. It's one of my regrets, as I approach the end of my career, that I have not thought enough or talked enough about our children's physical education. I think that Pulver, from his own recent experiences in losing so many pounds, was spot-on, that "Exercise should be fun."

But, for many, it's not. I've never gotten anything from endorphins, though my wife use to claim an addiction to her afternoon jogs. Perhaps its an A.D.D. thing, because the only effect I feel from the (prescribed) stimulants I sometimes take is that I can suddenly express myself in a little more linear fashion. But no other physical sensation.

Some people don't like sports. I was good at baseball and football, and played on school teams. But I never took the whole winning/losing thing very seriously – and never had fun playing with people who did.

Some people aren't good at sports. One of my brothers could run faster than anyone in four blocks. But he never learned to catch a ball gracefully.

How do you make exercise fun? Here are a few thoughts.

Sports should not be limited to those who are good at it and only for the good of the school. Invite everyone to play and celebrate the play. Playing is fun. Winning requires losers.

1987 Infinity Recumbent

Find new ways to ride. I've been a bicycle rider since college, although not like some. But now, I find riding to be painful to my wrists, hands, knees, and, well, the obvious places. So I've recently purchased a used (1987) recumbent bike, which is fun for me because it's a new way to ride, and because I'm having fun learning how to ride it

(and keep my feet on the peddles)

.
Find new human-powered routes. Greenways are huge in large cities, and I'm starting so see them in smaller cities. There are also some instances of walking and biking trails that connect towns, which is something I noticed a lot of in Germany. I believe that there's a trail between Richmond, Virginia and the shore. Go to TrailLink to find trails in your state and community.
Find new places to walk to. Just walking or biking is often not compelling enough. There need to be reasons to be on those trails, places to go, reasons to be on your feet. Making your community more bicycle and pedestrian friendly is essential. But how do you make them desirable or fashionable to use. Ask students to invest in them by devising solutions. Take a picture of your downtown and ask students to edit the picture, adding features for the self-propelled. Ask a Maker class to design and build bicycle racks for your community and work with stores and municipal establishments to install them. Get creative. Get going on your own two feed.
One of Philadelphia's many building murals
(CC) Photo by Steve Ransom
I'm at Philadelphia's EDUCON, a unique sort of learning event where sessions start with a proposed question, to be answered by the audience through conversation. The function of the presenter is to generate that problem-solving conversation.
Day one focuses on the Science Leadership Academy, a unique sort of school that hosts the conference. SLA students conduct tours of the school where we can talk with them and their teachers. It was my fourth tour of the school, two during EDUCON days, and two during normal school days walking through with its principal and founder, Chris Lehmann.  Of course, nothing about SLA is normal.
Today, I had a personal tour, just me and Tyler, a senior with an interest in astronomy. He is working with the astronomy staff at The Franklin Institute on a number of projects. Needless to say, I shared with him my neighbor, Paul Gilster's blog, Centauri Dreams.
Each time I visit SLA, I walk away with a different aspect of the place resonating between my ear. I remember my second tour with Lehmann, walking around and people would walk up, interrupting the tour, for a conversation with the principal.  I suddenly realized that most of the time I unable to tell whether the person was a student or one of the school's young teachers. The topics of the conversation never concerned the logistics of schooling, but were about the work of accomplishing some important goal or mission.
Today?  Well it was authentic learning, a term I heard and overheard several times in the halls and classrooms.  What struck me, was that there was always some sense of apology at the use of the word, like the speaker had not choice but to invoke it instead of some better phrase.
Authentic learning is a term with a long history in education, spanning well before NCLB – and it is a term that, frankly, has seen better days.  I suppose it is true in most professions that a term or phrase becomes used by so many people, in so many places, within so many contexts, that the label's weight shadows it's original meaning.  Many of us come to distrust the term and are left to use examples to convey our meaning – and examples rarely reach its essence.
I won't presume to define authentic learning here.  But during my conversations with instructors at the school and with Tyler, and seeing similarities between the educational practices at SLA and the vocational classes I took as a high school student, I saw a commonality that was informative to me.  The linchpin effect of authentic learning is that..
The value of what is being learned is obvious to the learner
And
Does not have to be explained by the teacher.
There is great power
When the learning why
Is part of
The learning how.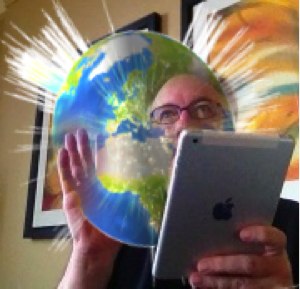 I do not think that holograms are on the near horizon, but one can wish
So, continuing from my last blog article, if the answers to our questions are changing and they are constantly available to us, and helping our children learn to find, validate and use valuable information/media has become a central defining component of literacy, then of what use are textbooks.  If stripped of the content – the right answers to questions – then what is left and to what purpose.
In my opinion, quite a bit is left.  I took one of those remedial classes in my first year of community college, something like "Improve Your Study Skills."  I remember the professor telling us what to do upon receiving our textbooks each semester.  We should scan through and register key items and sequence of ideas in the table of contents and also scan the index, looking for names, words and phrases that stand out.  Each of these textbook elements provided anchor points within the content, giving it shape and meaning.
If the teacher or learner is starting without a packaged and provided collection of content, then a locally maintained table of contents (outline) and index (list of essential terms) become something quite different.  Instead of anchor points, they provide idea magnets, serving to help draw together the most contextually relevant and defensible information in a sequence and shape that provides the deepest meaning to the content.  It is, in a sense, a skeleton that gives shape to what might otherwise be an ugly bag of mostly water. (I always wanted to use that phrase – Geurs, Sanchez & Sabarof, 1988)
I had originally written a long technical examination of metadata here, but it would be one of many avenues to this sort of learning tool, and who am I to suggest how this might technically work.  But what comes closest to being my personal and professional textbook today is Flipboard, a magazine-forming social network aggregator for both iOS and Android.  I'll be attending the upcoming Educon at Philadelphia's Science Leadership Academy this week.  In preparation, I've configured Flipboard to grab all tweets that are hashtagged with #educon, as well as the resources that are shared by those tweets.  The effect is a new chapter to my textbook, capturing content from others who will also be attending or simply paying attention to the event via the social network.  My textbook (Flipboard) is a carefully arranged, personal and constantly evolving set of information magnets, that attract the content that I need or want to see.
Might the day come, when a subject to be taught, is conveyed as a flexible outline of tags (so to speak).  The job of the teacher would be to locate (or cause to be located) and attach content (both open-source and/or commercial), in any appropriate format, to that arrangement of scope and sequence-forming tags and constantly filter and refine that content based on changing conditions and newly available content?
What might this process look like as an integral part of teacher education?  Might the act of starting their own flexible digital textbooks be a part of learning to teach.  (Is "Flexbook" trademarked?  How about "flexibook?")
My point is that we have every reason to conclude that learning tools that assume a static, centralized and standard arrangement of content is irrelevant to the needs of today's learners – and that today's prevailing information environment provides for us some pretty compelling opportunities.
That teachers can easily construct and refine learning tools based on local and universal conditions and individualized to the circumstances of specific learners.
That learners can personalize their learning tools based on their self-discovered learning styles and their evolving personal interests.
That these learning tools need not be turned in at the end of the course, but carried on, edited, adapted and grown.
That learners can graduate with more than a paper diploma – that they might take with them a personalized digital library or network of content that they continue to maintain and evolve based on their continuing needs and interests.
That this action of personal curation can become an integral part of formal education, further shifting it from
Something that is done to children
  to
Something that we learn to do for ourselves.
Geurs, K. (Writer), Sanchez, R. (Writer), & Sabarof, R. (Writer) (1988). Home soil [Television series episode]. In Roddenberry, G. (Executive Producer), Star Trek: The Next Generation. CBS Television Distribution. 
keep looking »