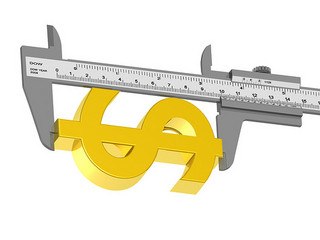 It's a must-read, the text of (Hack Education) Audrey Water's recent speech to a Canadian audience in Alberta last week.
I do not recommend its reading as a curtsey to Canadian education thought leaders, as much as to point out a disturbing trend that is not limited to the ongoing education conversation.
This is something of a personal rant, but it has confounded me, the support that many of my country's poor and aging pay to political elements whose legislative activities serve the rich and powerful — until I realized that there is a narrative being told that in America anyone can become rich and powerful and that we should all protect our potential membership in that club.
In other words, if you aren't willing to be the first to monetize it, then you shouldn't expect to be part of the pitch.
Shame on us!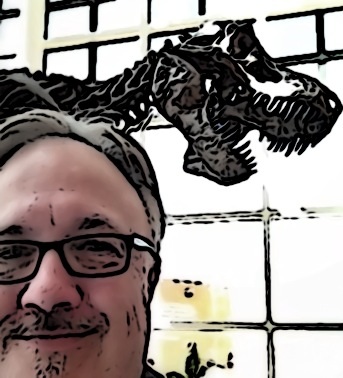 OK! This was Wyoming. So there were dinosaur skeletons everywhere.  Tyrannosaurus on the right and Warlickosaurus on the left.
During my presentation, Finding 'It' on the Net, at the WyTECC conference the other day, someone asked in the backchannel,
"How do we get educators to understand that students (should) have the freedom of using the Net during class?"
It's what I love about being able to visit the chat transcript and comment on the attendee's observations and questions. It extends the conversation and broadens the learning – including my own.
I seems that one way to convince reluctant teachers might be to ask that they imagine their classrooms with really smart students, and imagine the energy that they would generate – and then help them to understand how the Internet is becoming an extension of our/their own brains. Ask them to think of the things that they do today, that they aren't smart enough to do without the Net. I'd have no trouble doing that.
If students can lookup and evaluate information on the Net and on the fly during classroom work and classroom discussions, extending their own brains, then it may elevate the class, not to mention empower the learners.
I appreciate all of the valuable feedback so many people gave me regarding the initial posting of "The Game of School," my first animation with a message. I've decided to post it on the original blog article and re-date it to the present. The original blog text follows.
As I ease into retirement (over the next five to ten years), I'm giving myself permission to learn some new skills that I always wanted to try my hand at, but never made the time. One is learning to create animations.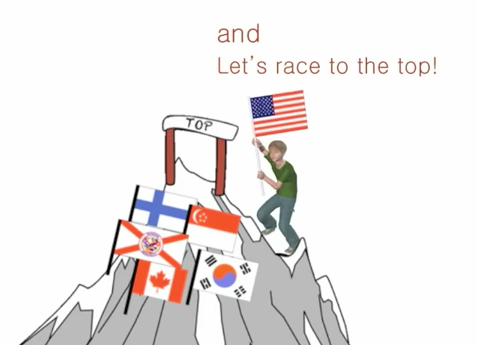 Here is my first attempt at an animation with a message. Its message is based on a blog post I wrote for Smart Blogs a few months ago but never got around to reposting here. This is version 4.1 5.0 of the video, which has been edited and re-rendered MANY times and will likely be rendered many more times.
I'm learning!
To create this video, I used Apple Keynote for the text flow, Poser Debut for the character animation, iMovie 11 for the video editing and iSequence on the iPad to produce the music.
Enjoy! ..and let me know what you think…
Before Educon's conversations begin, we get to spend the day at the Science Leadership Academy (SLA), attend an evening panel discussion at The Franklin Institute (see Pulver) and see the opening keynote address – this year it was Philadelphia's new Superintendent, Dr. William Hite.
..and I'll say here that among the many regularly scheduled annual educator learning events, Educon's unconference is probably the richest experience, anywhere, anytime. This is not to say that regular conferences with presenters and keynote speakers are not valuable. They are essential, because they facilitate opportunities for learning that Educon does not. But to listen to smart people and to be able to push and pull on what they are saying, well, it just wrinkles my brain.
Master photographer, Kevin Jarrett, captured this picture of me and Joyce Valenza catching up.
One of the greatest features of Educon is the chance to catch up with friends, whom we see almost daily in the networked eduverse, but with whom we rarely get to shake hands, huge, and enjoy extended conversations, unconstrained by 140 characters limits – and that's not to say that we ever get to finish our conversations at Educon, because there are always new ones that attract our attention.
We also get to visit classes and talk with SLA teachers. I especially enjoyed talking with Matt VanKouwenberg, about his engineering classes. His process reminded me of the vocational education classes I took in high school, how we all learned many of the same lessens by working on distinctly different projects. He told me that each class starts with a few minutes of sharing, where each student or team reports on where they are, barriers they are facing, and what they are learning (think the first five minutes of each episode of LA Law). He said that it often surprises the students to discover the similarities in what they learn, regardless of what they are working on.
I also enjoyed talking with one of my favorite SLA teachers, Meenoo Rami, an English teacher. Rami teaches a class about Storytelling, which appears to be not about fiction writing, but about how we use stories as a device for communication. I think that this is an often overlooked tool for expressing ourselves, even by many of us who are supposed to be master communicators. Too often I hear keynote and featured speakers simply telling us what to believe, rather than helping us discover our own beliefs through plot and surprise. Never underestimate the power of a good surprise.
Near the end of the Friday night panel discussion, Pulver said that, "The future is unwritten!"
When considering our challenges as educators and the future challenges of our students, we must come to believe that anything is possible. We're not preparing our children for the 21st century. We're preparing them for the age of opportunities, when almost any problem can be solved and almost any goal can be accomplished. This affects so much that is involved in formal education.
[click to enlarge]
While claiming my best seat
(its that hearing thing)
for one of the first conversations, and reflecting on Friday's panel and Saturday morning's keynote, I quickly drew up the diagram on the right. Even though, at the highest levels, we'd all deny it, our job, now, is to prepare our children to take tests. Education has become a competitive endeavor, pitting nation against nation, state against state, district against district… and the point system for that competition is test scores.
This implies a purpose behind education that has little to do with an age of opportunity. Instead students learn to read in order to follow instructions and to learn in order to fit in to someone else's competitive machine. To be ready for an age of opportunity, children must learn to read so that they can learn to do something that they couldn't do before and to learn in order to make their own machine.
One of the greatest ah ha! moments of the event, was when Philadelphia Schools Suerpentendent, Dr. William Hite said, "Today, teachers do not need to be content specialists nearly as much as they need to be context specialists."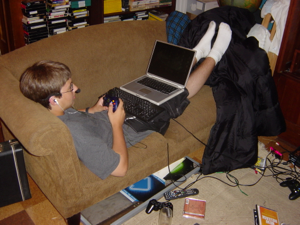 Plugged in with iPod, head set to communicate with game guild members, game controller, game keyboard to text players without broadband, and a laptop for IMing.
Several years ago, I wrote a blog article describing a picture that I'd taken of my son, in the TV room, wrapped up in his "technology." I'm including the picture here, since he is no longer a minor and I can no longer so easily peak in on his techventures.
In the article I suggested that it wasn't technology that defined his experience nearly as much as it was the information that he was playing with. It continues to be a central theme of my work, that it's a new information experience we should be facilitating for our learners, not simply applying technology to old teaching pedagogues.
A few days ago, an old friend from my state agency days, John Spagnolo, gave me reason to revisit that article, when he commented with some questions that got me to thinking.
Among them was:
How have "smartphones" and cellular connectedness changed the nature of information over the past 8 or so years since this was written?
I think that one significant change that has occurred over the past seven or eight years, is that I, and many other seasoned adults have, for various reasons, begun to utilized this networked, digital and abundant information environment. I often say to friends, as I slip my phone back into my pocket, that we live in a time of no unanswered questions. The answer is almost certainly waiting in our pockets or on our laps. My cellular iPad has become a welcome and valued companion as my wife and I drive across North Carolina to visit with family and old friends. It helps us to continue conversations about the news, movies, the best route around Charlotte and settle minor arguments.
For my son and daughter, I suspect that their use of these connective tools has not changed significantly over the past several years. They cultivate networks of friends and acquaintances, which have probably grown with my daughter, whose interested have expanded, and grown smaller with my son, whose interests have narrowed and become more focused. They use Twitter more and Facebook less, and are probably more likely to be interacting with friends via a specific application, such as a game or Pinterest category.
I also wonder if, in many instances, we might be finding more creative ways of using this new info-landscape than our children.
Spagnolo also asked,
How does your son connect to and interact with his information today?
I suspect that both of my children interact with information more through games and through specific applications. I was so terribly disturbed a few years ago when smart people started suggesting that the Web was dead, that apps were changing the way that we used the Internet. But apps have certainly changed the way that my children use information and I find myself preferring to use Amazon and Craigslist apps instead of their respective web sites.
Apps have become an intriguing new avenue of economy, that I've suggested to me son, where people are making a living by designing highly specialized and compelling tools for using and playing with information.
Finally, he asked,
Has the nature of information influenced the emerging "appropriate technologies" like the digital learning object called an iBook?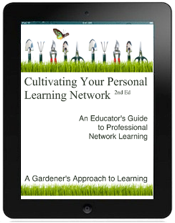 My knee-jerk response is, "Not nearly enough." This current push toward digital textbooks, urged on by our Secretary of Education, concerns me. I worry that we're engaged in a race to modernize schooling, rather than a sober and thoughtful imagining and designing of learning materials and practices that are more relevant to today's learners (ourselves include), today's information landscape and a future that has lost the comforts of certainty, but become rich with wondrous opportunities.
What I enjoyed, though, about my experience in publishing an iBook was learning to hack some features into the book that were not part of Apples general instructions for using their publishing tool. This is the ultimate opportunity of digital learning objects and environments, that they can be hacked into new and better learning experiences by information artisans who see what's there and what it can become.
I've spent the last several days at the EARCOS Education Leadership Conference in Kuala Lumpur. It's been an interesting conference for heads of school and board members of international schools from throughout East Asia.
They've been working me pretty hard, but I have had the opportunity see some friends, make some new ones and attend some sessions. Milton Chen delivered the opening keynote address, my first time seeing him speak. The second day was opened by Alan November, perhaps the best keynote I've seen him deliver. He shared an idea that he had suggested during the pre-conference workshop I facilitated on Wednesday (I think it was Wednesday).  Probably more on that later…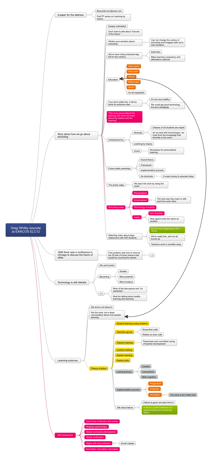 But it was Greg Whitby's keynote on the third day that really spoke the most "truth to stupid" that I've heard in a long time.  The notes I took using Mindo on my iPad are available here (see right).  
Since the Internet access was spotty, at best, throughout the conference, I was not able to tweet statements out that I wanted to.  So I thought I would just tweet them here with a few more than 140 characters of commentary.
We shouldn't be talking about schools of the future.
First of all, we have no way of knowing what schools of the future will look like.  What we need to be addressing is the schools our children need right now.
Whitby, in comparying industrial age schooling with what's more relevant to today's children, he said that we need to..
Make learning compulsory and attendance optional.
It's an excellent shakabuku., but its practice would need to be explained, if possible.  Still, like so much of the conversation I'm witnessing at conferences today, the focus is on the learning.
Whitby also warned that we have to get this right and do so with a compelling narrative.  If we don't, then someone else (Silicon Valley) will step in, and…
What we could get is good technology, but poor pedagogy.
This rang my HackEducation bell and the ongoing reporting of Audrey Waters.  But then he said something that I'm still trying to wrap my brain around.  He said that,
The more personalized the education experience, the more we know about the learner and the quality of the learning.
I'm not sure how this works except that personalized learning may result in more conversation between teachers and individual learners.
Another very simple statement that doesn't need much expiation was that
Schooling today is (1) personalized, (2) de-privatized, (3) technology-invisible and (4) agile.
It was odd, a video that Whitby played during his keynote, about a school in Australia 250 students in one enlarged classroom and several teachers.  You see we were taught about "open learning spaces" when I was in education school more than 35 years ago.  I student-taught in an open space with a team of teachers.  The the problem was that we didn't have a new narrative to attach the concepts to.  It stood no chance.  Today we're trying to write and tell that story –– and we'd better not get it wrong.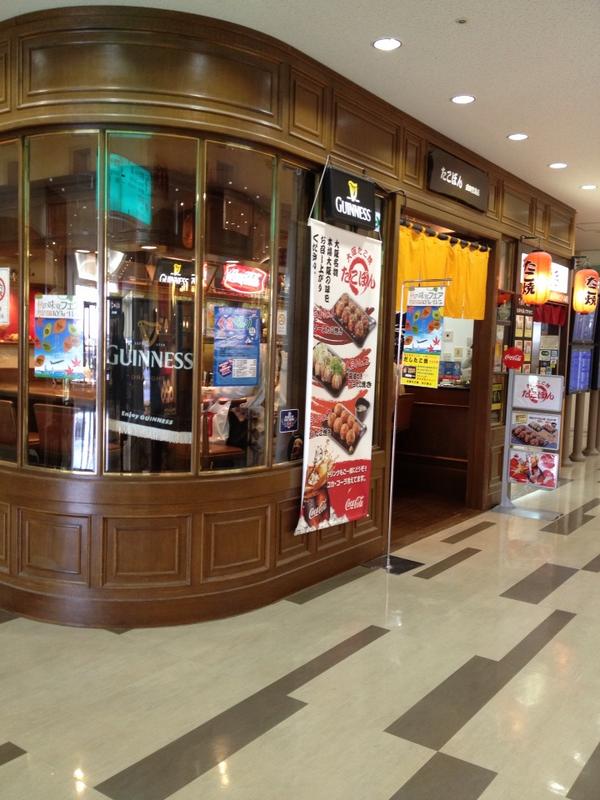 An interesting cafe at Narita
The best part of this October from hell is the conferences I am working – mostly leadership conferences. The two that come to mind from the blur of this most haunting month are a conference in Vancouver for principals and vice-principals of British Columbia, and the school boards and superintendents' conference in Vermont – two quite interesting jurisdictions now that I think about it.
As I write this, I am in Tokyo's Narita Airport, waiting on my third and final day of travel to Kuala Lumpur (KL) Malaysia.  It's EARCOS' annual leadership conference, which was canceled last year because of flooding in Bankok.  The flooding is happening closer to home now, with Sandy bearing down on New Jersey and New York, where my kid brother lives – on the ground floor of his building I might add.
During all of the travel, I have enjoyed and learned from the backchannel transcripts from BC, Vermont and also an amazing media and ed tech conference in Winnipeg.  As I've read and commented on the transcripts, via KnitterChat, I have set aside some tweets and knits, that seemed especially salient to me, intending to re-tweet them back out.  With my spotty Internet access (paying by the minute at the Hilton here in Tokyo), they've back up.  So I thought I would push them out through this blog.  So…
This was my response to a tweet from the Vermont conference.
The Graduates of today's education need to be uniquely valuable, not identically valuable.
Here's one that came at the mention of learning disabilities.
..often, a learning disability is not so much a difficulty in learning, as it is a difficulty in being taught.
Tinkering and the whole DIY movement came up, as it increasingly does, as a counterpoint to all the social networking and video games kids engage in.
When was the last time you made something. Can you make something without learning something?
What is unique and fresh about Vermont is that they seem honestly enthusiastic about the future of education there.  Vermont is different from the rest of the U.S. in so many ways, and they do not seem to feel so confined by national trends and federal mandates as the rest of the country.  From talks of testing, this statement surfaced.
We don't ask enough questions for which we don't know the answers.  We should respect our learners that much.
That Vermont's backchannel was so prolific surprised me.  It is rare that school board members and superintendents are so chatty when their statements are publicly accessible.  I added this in…
I'm wondering how many of your schools' stakeholders are following your conference tweets.  It's an interesting idea.
It wouldn't be a bad thing, from my reading.
While in Vermont, I sat in on a great presentation by superintendent Dan French.  I was, in no small part, intrigued by the fact that he did his presentation with a Linux computer.  Cool thing, a techie super.
He talked about their process for establishing a district vision for 21st century learning.  The session was called "Making Community Part of 21st Century Learning Vision" and I posted my notes (taken with the Mindo iPad app) here.  Basically, he played selected videos from Youtube for members of his volunteer visioning group, including Sir. Ken Robinson, Dan Meyer and one about New Brunswick's education, and then asked groups to discuss.
He said that even attendees who were usually critical of the school system bought in.  French reported that one critic commented, "I didn't you you talked about issues like this!"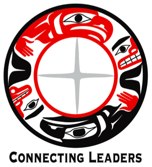 I had the pleasure and good fortune of speaking at the Connecting Leaders conference this weekend in Vancouver. Organized by the British Columbia Principals and Vice Principals Association, the conference consisted of two days of keynotes, breakouts and meetings.  I keynoted the second morning (Saturday), delivered a breakout and the closing remarks around 11:30.  Pretty standard fair.
After the conference adjourned, the association held an Educational Leadership Forum to assist in revising their Leadership Standards for Principals and Vice-Principals in British Columbia.  Eight panelist were invited to deliver 7 to 8 minute talks, exploring specified topics that are relevant to school leadership.  I was panelist number seven and was asked to talk about literacy.
The panelists were:
Taken before the event

Dr. Bruce Beairsto — Former Superintendent of Schools with the Richmond School District in British Columbia
Dr. Avis Glaze — International educator, speaker and former administrator with the Ontario Ministry of Education
Julie MacRae — Director of Education/CEO of Regina Public Schools, Saskatchewan
Dr. Kim Schonert-Reichl — an Applied Developmental Psychologist and Associate Professor at the University of British Columbia
Dennis Sparks — Emeritus Executive Director of the National Staff Development Council
Robert C. Kidd – President of Overwaitea Foods
Dr. Charles Underleider — Professor of the Sociology of Education at The University of British Columbia
David Warlick – In high cotton ;-)
The event was brilliantly organized with eight round tables in the room, each devoted to two of the addressed topics.  Around each table were invited and distinguished principals, vice-principals, district administrators, university folks, and representatives from the BC Ministry of Education.  Four of the panelists spoke on their topics and then the eight of us dispersed to our assigned tables where we discussed our first assigned topic.  Then the remaining four returned to the stage to address our topics.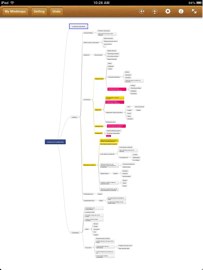 My note-taking app of choice is Mindo
I wanted to share some ideas about an expanded vision of literacy that reflects today's prevailing information environment –– my standard respelling the 3Rs with a healthy sprinkling of ethics.  A recent teenage suicide in BC, resulting from cyber bullying, was a fairly pervasive backdrop throughout the conference.  But I wanted to go beyond my standard 3Es and try to describe what I would expect to see in a school that practices contemporary literacy (learning-literacy).
What really helped was being able to listen to six of my stagemates share their perspectives before I had to speak, each of them provoking a new twist on one or more of the qualities I had listed.  I certainly hope that the frequent tweaking of my notes (see above & right), on my iPad, at my end of the stage, didn't distract anyone.
So, a school that practices learning-literacy will be a school where
The distinctions between teacher and student begin to blur.
There is less reliance on textbooks and authority, and more reliance on the work of learning.
There is a natural convergence between the rich information skills of literacy and numeracy and the information and data that define the content areas.
Teachers teach from new learning, as master learners.
Digital Footprints become a central part of the school's culture, building evolving personal and school identities based on learning and "doing" with the learning.
The library magnifies the world outside, but also reflects the culture inside, curating collections of learner produced media products.
Where learners learn, teachers model learning, and the school teaches the community.
How does this ring for you?
Last Wednesday, The New York Times posted an op-Ed piece by Justin Hollander. The Tufts University professor drew attention to U.S. Secretary of Education Arne Duncan's declaration of "war on paper textbooks," and his call to replace them with a "..variety of digital-learning technologies, like e-readers and multimedia Web sites."
Hollander continues,
Such technologies certainly have their place. But Secretary Duncan is threatening to light a bonfire to a tried-and-true technology — good old paper — that has been the foundation for one of the great educational systems on the planet.1
This common reaction to our move to digital and networked education is yet another exasperating example of our apparent need to define education by where it happens and the objects we handle to accomplish it. The assumption persists that education is to be administered through the proper and efficient application of technologies, regardless of their century of origin –– and that the publishing industry is best qualified to prepare and distribute the services of those technologies.
What's at stake is not what children carry into their classrooms, but it's the experiences that they take part in and what they carry away from those experiences.
My hope is that Secretary Duncan's war is not with paper, but with a one-way street style of education that revers the source and delivery of knowledge at the expense of our students' essential partnership and investment as they learn and master the practices of lifelong learning.
1 Hollander, J. (2012, October 10). Long Live Paper. The New York Times. http://www.nytimes.com/2012/10/10/opinion/long-live-paper.html?_r=0
Portland Head Lighthouse (HDR)
Haddock Stuffed with Lobster, mashed potatoes and roasted carrots (chocolate cake not shown)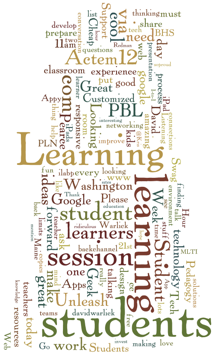 Wordle of Twitter Backchannel Feed

Stitched Panorama of General Session
On Wednesday evening, I enjoyed a great dinner and warm fellowship with ACTEM's MAINEducation conference committee (ACTEM is Association of Computer Technology Educators of Maine).  They were celebrating their 25th conference and the 10th anniversary of the state's celebrated 1:1 initiative.  We met at Slates in Hallowell, as I had not yet gotten to my hotel –– having meandered up from Portland, looking for lighthouses to photograph.
Leaving the restaurant, after a satisfying meal (code for filling), I dashed across the street to my rented Kia, remounted my Garmin GPS, typed in the address of the hotel and started driving.  It was dark, wet, and black, the blackness that comes with wet streets that swallow light rather than illuminate what's in front of you.  So it was one of those slow drives that had me focused primarily on Lady GPS saying,
"TURN RIGHT – HERE!"
or
"TURN LEFT – HERE!"
I'd gone through about twelve of these, only three of which resulting from missed turns and the machine's ,
"RECALCULATING!"
.. and It had gotten blacker.  I'd felt that I had entered a residential area which might have concerned me anyplace else.  But I'd glanced at a satellite view of the area, and knew that it was surrounded by homes.  What was alarming, and what you REALLY don't want to hear at a time like this, was,
"TURN LEFT – HERE and NAVIGATE OFF-ROAD!"
I said, out loud, "No!" did a U-turn and found my way to the hotel with my iPhone, my face lit up from the glow of that 3.5 inch display.
My point in telling this story here, and to the 800 Maine educators gathered in Augusta yesterday, is to say that this northern state did not say, "No!"  They've been courageously and inventively navigating off-road for ten years, and in no small way paving new avenues to learning –– and too few of us are following.
The last time I keynoted the ACTEM conference, I composed a list of conditions that indicate that you're in Maine. I don't think I can improve on that list, which I've included below. But I would add one item.
You know you're in Maine, when you believe that you have a firm and compelling vision of where education needs to be going, only to find yourself struggling to re-frame that vision, simply to catch up with the conversations around you.  A Wordle of the Twitter backchannel feed illustrates this beautifully, where students and learning stand out, and you have to struggle to find mention of technology.
Here's my list from 2006, most of which is still true.
You know you're in Maine when…
The first thing attendees to your workshop ask is, "Do we have WiFi?"
Teachers are checking their students work, during the workshop, on their comput'a.
When you insist on tech support for your hands-on workshop and none was needed.
When, in a workshop, everytime you ask, "How many of you have done this before…?" and nearly every hand goes up.
When two members of your workshop organize their own workshops in the back of the room.
They don't give out a conference bag at conference registration, because everyone's going to be carrying a computer bag anyway.
The former governor of the state is attending an education conference.
Nearly everything that people say, in an easy-going, slow, mumbly sort of way, carries wisdom!
When you had to fly in a little soapbox derby sort of plane to step into the future.
When you start to feel optimistic, and think, "You know, we may just be able to turn this thing around." 
..then you know your in Maine!
I'd add that if you fly into Portland's magnificent new airport, you can avoid the soapbox derby plane.
keep looking »