Comparing these two storms is like comparing apples and oranges (and there is an infographic that attempts this). The two storms hit landfall in two very different areas, areas with different natural surroundings, different city developments, and different populations. Hurricanes were expected in the Gulf, and so the areas had some sort of a set up against major storms. The gulf is also populated horizontally, and is on flat land. Meanwhile, the Northeast does not expect major Hurricanes like Sandy, especially not when combined with two other storms. They are much more densely populated per square foot, but fortunately, they are populated vertically. Unfortunately, they are a very technology centered environment, and so they were lost without power.
This infographic compares the storms in other ways. It compares the two as far as power, and its affects. Most of them turned out in favor of Katrina, proving Katrina to be the worst storm. But one has to think about the areas that the two hit. The two storms were nearly equally strong, but if Sandy had hit a primarily horizontal population, things may have been different. Also, the temperature may have been a factor. Snow doesn't cause as many casualties as flooding, and the flooding that did occur can't reach the tops of buildings the buildings in NYC.
Challenge your students to compare other storms and natural disasters, and discuss the differences between the natural disasters that lead to one being presumed worse than the other.
Blog: http://goo.gl/9rgFd
Ask your students what they think about daylight savings time. A change of clocks and a change in the times of when the sun is up is most common, but most people do not fully understand daylight savings time. It was originally created to save energy, moving the times people were awake to the times when the sun was up.
But until the 1950s with the economic boom, as well as the further development of the Interstate system, and further travel of people, one could simply rely on local time. It didn't matter what time it was in the next state over, if they followed daylight savings or not. It wasn't until 1966 that the Federal Government stepped in and enacted a law requiring all of the United State to use Daylight Savings time.
This infographic shows how the time change works. It shows the average sunrise and sunset, as well as actual sunrise and sunset times, and how it changes when we change our clocks. Have your students imagine what it would be like without the time change. What would it be like without the time change. At what times would the sun go up and down. How would that change our lives?
Blog: http://goo.gl/d3FQq
On November 14, 2012, a full solar eclipse could be seen in Australia for two minutes and 14 seconds. This natural phenomenon brought thousands of visitors and millions of dollars in revenue to the area. They occur so infrequently (on average every 18 months, a full eclipse only occurring every 18 years that many wanted to see this.
This infographic does a great job of sharing facts about solar eclipses. It shows what a solar eclipse looks like from Earth, and if one was in space, looking at the Earth, sun and moon. It also shows the different types of of solar eclipses and various facts about past eclipses.
Challenge your students to be able to explain a solar eclipse in their own words, and create one using your students and flashlights to better understand the concept. Also, look into history and discovery how they have affected history. Before the phenomenon was fully explained, what were theories. How did regular people explain them, and how did scientists explain them. How did religion explain them?
Even as a History Major who loves modern Western European History, this is a difficult thing to keep up with. The four separate countries of The British Isles have been considered one sovereign country, and four separate countries throughout history, depending on recent wars and decisions made by the different governments. But this infographic does a good job of showing how they stand today, what to call them, and how they have stood throughout history.
The four separate parts of The British Isles are the main Island. They include England (the main one), Scotland (the Northern part of the main Island and the smaller islands North of it), and Wales (a small portion to the West of England). Ireland is a separate Island.
The United Kingdom includes the British Isles and about a quarter of Ireland. But just because they are a citizen of the United Kingdom, does not mean they are English.
The infographic also does a great job of showing how these have combined and separated over time. They were first all together briefly in the 1600s, then again in the 1800s and 1900s. Most of Ireland is currently separate, and in 2014 Scotland is going to consider becoming independent.
This is a great visual aide when studying the history of the United Kingdom. It shows the information in an easy to read and easy to understand way. There are more details as far as why the countries separated and why they came together.
Hold a discussion with your students as to the benefits of having separate countries and having one single country. Divide students into groups based on sides. and have them research information to support their side. For instance, if the groups believes that they should all be one country, why have them come together at different points in history.
Blog: http://goo.gl/015mn
This infographic is a video about spreading information on the poor conditions, specifically regarding water, that some people live in. People, especially in 3rd world countries in the Southern Hemisphere, suffer from bad water.
This infographic does a great job of showing how poor conditions regarding water can affect people. It shows the places most affected by it, and what these people have to go through in order to get bad water. Children just like your students spend hours walking to get water, hours that could be spent in school, and having fun. But these children have other things to do as well, gather food, and help bring in an income for their families.
This infographic does a great job of sharing why this is a major problem in the world. Challenge your students to research ways to solve the problem, and defend what they think is the best way. Possibly have each student choose a way, and then get in groups to make a presentation on why this is the best way. Also, challenge them to figure out ways to get the word out and raise money to help them problem.
Because this was a video, I couldn't attach an image of it. But also on the blog was a photo of a map from 1854 of a small neighborhood in London. This map shows how Cholera was spread throughout the neighborhood just from a single water source.
Another problem that this infographic doesn't refer to is that it isn't just in 3rd world countries, but it also happens here in America. It has been years, but I saw a video in which families here in America have to travel far just to get drinking water, and just like those in this video, it is tainted water.
Blog: http://goo.gl/xpZB5
Many millionares and billionares got their start as teenagers by investing right, and starting the right business at the right time. All teens get money in some way, whether it is through an allowance, gifts, jobs, or a combination of the above. But it is important to begin good habits at an early age. It is important to begin saving early, but continue spending, but doing so healthy.
This infographic shares income and spending habits of teenagers. It is a great comparison of various methods of income and spending habits of teenagers. Use this infographic and ask your students to write down how they compare. Ask you students to think about how their current spending habits and savings plans will help them or hurt them in the future.
It is important for everyone to continue spending money, but use this as an opportunity to share with your students healthy spending and saving habits. Also, share with them how to use a credit card wisely to help their credit. Encourage your students to continue their hard work in order to to a healthy financial future, as well as to encourage the economy, and most importantly, have a fun and comfortable life.
Blog: http://goo.gl/RrzXc
I have felt bad about not blogging lately. It's partly because of travel, but mostly because of three projects that have drawn most of my attention lately. One of those has been preparation for the NCTIES conference later this week. It's a special event for me because NCTIES is the ISTE affiliate for my home state and also because it is an especially successful conference. This year's featured speakers include Richard Byrne, Patrick Crispen (regular), Rushton Hurley, Peggy Sheehy, Kathy Schrock (regular) and Tammy Worcester, with a kickoff keynote by Ken Shelton.
One of my presentations will explore instructional potentials of data visualization and infographics and in preparing for this session, I found one of the coolest things I've seen in a while.  I ran across the link via Nathan Yau's Flowing Data blog, where he quoted Jeffrey Winter…
There was an idea floating around that continuously following the first link of any Wikipedia article will eventually lead to "Philosophy." This sounded like a reasonable assertion, one that makes a certain amount of sense in retrospect: any description of something will typically use more general terms. Following that idea will eventually lead… somewhere.
Winter's explanation of how he accomplished a test for this idea made it sound easier than I'm sure it was.  But the outcome was an intriguing mashup where you can type in a word or numerous words separated by comas, and his app will thread through the first link in each linked-to article until it reaches Philosophy.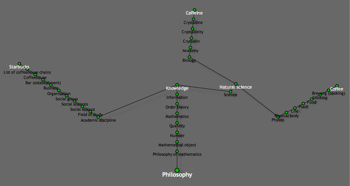 Sitting in Starbucks, I looked for logical connections between Starbucks, coffee and caffeine. (click img to enlarge)
What struck me as I played with this data visualization, was how this operation meshes with our notions of curriculum and of libraries.
When information is scarce and education is defined by knowledge delivery, then the job of curriculum and of libraries is to package content into subjects and units and dewey decimal classifications.
When I watch seemly unrelated topics threading their way to a common subject and re-examine Boyack, Klavans and Palen's Map of Science, which shows how various disciplines are interconnected by citations, it seems clear to me how schools and libraries need to become more like learning-literacy playgrounds than managed corals.
But that's me!
The other day I featured an infographic on IGad (InfoGrapthic-a-Day) that illustrated the declining or less than satisfactory level of confidence that the American public has in it's education system. This was probably not an appropriate graphic to share on what was, for many, their first day back to school. But hey, what do we have to be exuberant about in the world of education today, besides the intrinsic joys and rewards of teaching — and having a job teaching. So I posted this GOOD.is graphic because I think it's conversation needs starting.
At the top of the graphic is a not quite so striking decline in confidence since 1977 — 54% then to 38%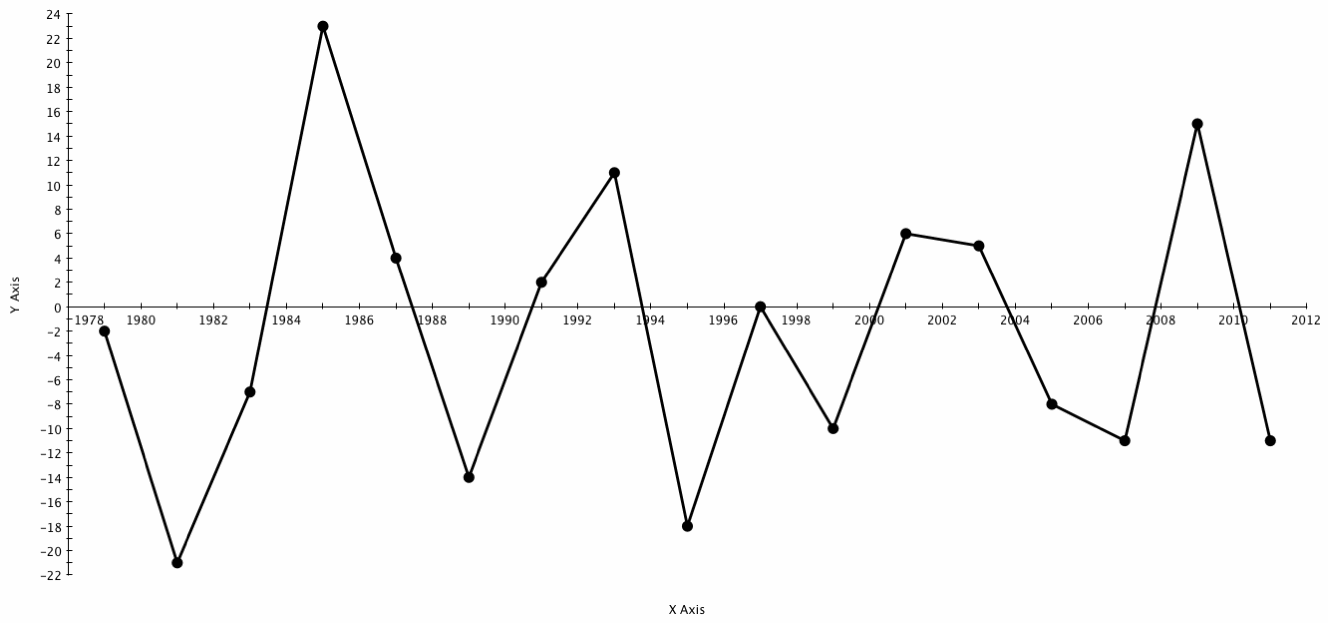 today. Of course, we understand that this is merely a symptom of things going on that are much deeper and broader than what's happening in real classrooms. What I found most interesting with this part of the graphic was that the decline was not steady. I dumped the data into one of my favorite graphing tools, OmniGraphSketcher, and produced the line graph at the right. It would be interesting to correlate the rather dramatic ups and downs of confidence levels with what was going on outside of our classrooms — the stories that were being told by people who had influence to gain by telling those stories.
What I found most interesting about the entire graphic was the portion that compared confidence values for other institutions, ranging from the military, with a confidence rate of 78%, down to, well, need I say, congress, with only 12% expressing confidence. ..and where did they find them?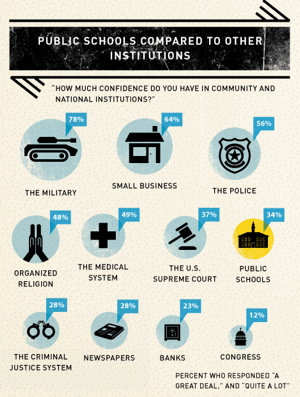 Looking at the ranking on the right, I see an interesting, though blurry difference between the institutions earning more than 40% confidence, and the ones getting less. The military protects us and we feel it. The threat of terrorism is on our minds. We walk into small businesses everyday and we encounter the police, our churches and doctors every week — or there is a potential of encountering them.
On the other hand, most of us have very little direct weekly experience with the inner workings of our courts, schools, criminal justice system, newspapers, banks and congress. It is worth noting that Americans experience a significantly greater likelihood of being in jail, prison, or on probation or parole than we do of graduating from high school this year.12
Admittedly, there is a lot of gray space in this distinction. But my point is this. People will be less confident in something that they do not see regularly, or they can be more easily be dissuaded of their confidence by political spin. We've got to do a better job of inviting the public into our schools. We've got to sell them on "21st Century Learning" by showing it to them. We've got to inspire confidence by making people wish they could go back to high school. We need to ask ourselves the question, "How do we inspire confidence?
Data? ..or Performance?"
"Total Correctional Population." Bureau of Justice Statistics. U.S. Department of Justice, 7 Sep 2011. Web. 7 Sep 2011. [↩]
"Fast Facts." National Center for Education Statistics. U.S. Education Department, n.d. Web. 7 Sep 2011. [↩]
This from a recent Mashable post,
It's clear that today's students rely heavily on electronic devices even when they're not incorporated in the class room. In one survey of college students, 38% said they couldn't even go 10 minutes without switching on some sort of electronic device.1
As a writer, I know how we try to seek out words and wording for impact readers, so it is possible that Sarah Kessler did not mean to imply some sort of Un-natural relationship between students and their devices. Yet that's what it sounds like and I suspect it's what some people want to hear, that "my child is addicted to his cell phone!"
Is this three individuals or a meeting that's larger than it appears? (Flickr photo (cc) by Susan NYC
I don't know, but it makes more sense to me that they can't go "10 minutes without switching on some sort of electronic device," not because they want to listen to a hum or see the glow. It's because that device is where their friends are. Perhaps asking how long they can go without their tech is more like asking, "How long could you last in solitary confinement?" Possibly, my generation could last longer, but there's probably less reason for alarm in that. (TINTSTWSNBV)2
As an aside, the blog entry I've quoted includes an infographic.  If you want to read it, I would suggest that you do so with a critical eye and especially with the intent of the publishers in mind.  My concerns were best described by Dan Meryer in Stop Linking to "Top 100 Blogs" Lists.
Kessler, Sarah. "How Students Use Technology."Mashable. Mashable, Inc., 10 Aug 2011. Web. 11 Aug. 2011. <http://mashable.com/2011/08/10/students-technology-infographic/>. [↩]
This is not to say that we should not be vigilant [↩]
blogging
,
podcasting
,
video games
,
MUVEs
, and others. This year, well who knows. But to get a glance, I collected the text for all of the session, poster, and workshop descriptions and anayized them for key terms and phrases. It's something that I do frequently, but this is the first time I have compared an upcoming conference with a past one — in this case, it's ISTE 2011 with ISTE NECC 2008.
The attached file is a PDF that includes a word cloud of the most used terms in this year's program descriptions, and a count of the occurrences of session descriptions with key words that I scanned for back in 2008. There is little that is scientific about this, but interesting, none the less.
For me, I was surprised to have seen infographic mentioned only once in all of the session descriptions. Although we've had infographics almost for ever (think The Periodic Tables), it has emerged as something of a buzz in recent months. I've started a new blog called IGAD (InfoGraphic A Day), where I feature different graphics or datasets that could be translated into graphics. Today's infographic is "A Better Life Index."
Another one that I was surprised not to see a lot of (and not entirely disappointed) was QR-Codes. In state and regional conferences I've been a part of recently, QR-Codes seem to have become something of the rage. Again, they've been around since 1995, but only recently have educators been testing out applications in classrooms and schools. I think they have a place in education, but there are logistical limitations, and do only one thing really well — they can turn a flat surface into a hyperlink for smart phone users.
See you at ISTE 2011!
keep looking »