I appreciate all of the valuable feedback so many people gave me regarding the initial posting of "The Game of School," my first animation with a message. I've decided to post it on the original blog article and re-date it to the present. The original blog text follows.
As I ease into retirement (over the next five to ten years), I'm giving myself permission to learn some new skills that I always wanted to try my hand at, but never made the time. One is learning to create animations.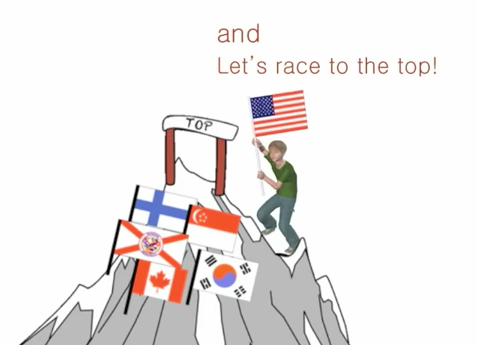 Here is my first attempt at an animation with a message. Its message is based on a blog post I wrote for Smart Blogs a few months ago but never got around to reposting here. This is version 4.1 5.0 of the video, which has been edited and re-rendered MANY times and will likely be rendered many more times.
I'm learning!
To create this video, I used Apple Keynote for the text flow, Poser Debut for the character animation, iMovie 11 for the video editing and iSequence on the iPad to produce the music.
Enjoy! ..and let me know what you think…
We hear it just about everywhere and every time we turn around –– STEM. The country (USA) desperately needs more scientists, Technologists, Engineers and Mathematicians. It's our way of securing our superiority and prosperity and ramping up S, T, E & M instruction in our schools is the way to succeed.
In preparing for a talk to parents in suburban Edmonton, Alberta this week, I searched for data on Canadian college graduates and the degrees conferred to them. In the process, I ran across a report from the U.S. Institute of Education Sciences.* I copied a data table called Bachelor's degrees conferred by degree-granting institutions, by field of study, and converted it to an Open Office Spreadsheet (ODS) file to see what I might learn from the data.
The table offered the number of graduates receiving degrees from 32 fields of study, from selected years between 1970 and 2010. I devised and ran formulas that calculated the percent of change in the number of degrees by decade. I also created an additional set of rows that calculated the percent of each years total graduates receiving specific degrees to factor out the effects of changes in the total number of graduates. When sorting the degrees by the percent of increase from 2000 to 2010, the rank was somewhat surprising.
At the bottom of the list, the fields showing the least growth, was Computer and Information Sciences. Though the 1970s saw an impressive increase in computer science degrees (469%), the increase dropped to 42% during the 80s, 33% in the 90s, and then a decline (-32%) during the first decade of the 21st century.
Other fields suffering declines were education, and english and literature/letters, both bested slightly by Engineering technologies, which fell only 17% (-17% change). Falling less than that were agriculture, architecture, liberal arts, sciences, general studies and humanities, topped by engineering, with a 6% (-6% change) decline. Just better than engineering was theology and religious vocations (-5% change).
Enjoying substantial increases in degree from 2000-2010, from high to low, were communication technologies; military technologies; legal professions; parks, recreation, leisure and fitness; homeland security, law enforcement and firefighting; library sciences; and visual and performing arts. (see graph)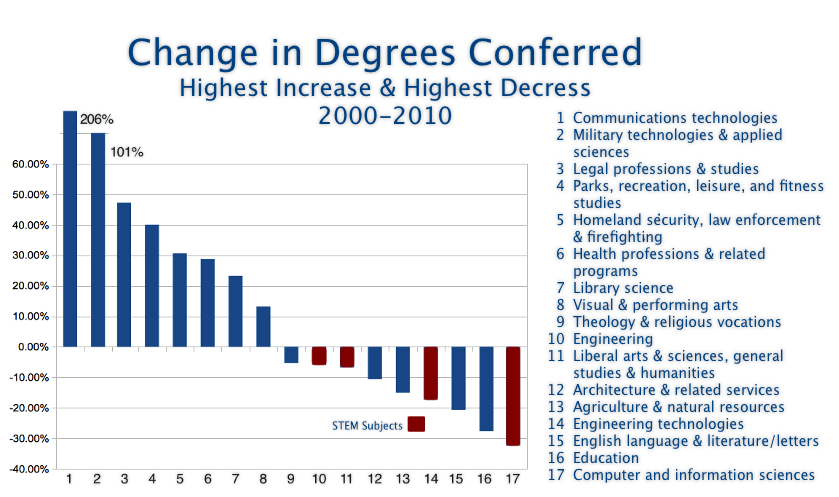 Click Graph for Larger Version
This was a fairly startling discovery to me, considering the funding, resources, and time invested in STEM education and its cost to other subject areas, not to mention the political capital gained from reciting the mantra to constituents and voters.
It the results were such a surprise that and I've questioned my math several times, checking and rechecking the formulas.  I invite you to double check my spreadsheet [here].
If this is, indeed, an indication of our students' interests in science, technology, engineering and mathematics during the early 21st century, then is STEM education doing what its suppose to do –– even if test scores are rising?
Please double and triple check my spreadsheet. and if you find problems with my formulas, please post them in my comments.
* United States. Institute of Education Sciences. Bachelor's degrees conferred by degree-granting institutions, by field of study. Washington, 2011. Web. <http://nces.ed.gov/programs/digest/d11/tables/dt11_286.asp>.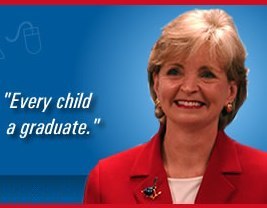 June Atkinson
My state, North Carolina, has a decision to make in November – and it's not a hard one, in my opinion.
It's the race for state superintendent of schools. We elect our state superintendents, unlike many states, and from the time that I graduated from High School until I joined the NC Department of Public Instruction (NCDPI) 20 years later, my state's education system was lead through the election and continued re-election (five terms) of Dr. Craig Phillips, a professional educator. Since he left office, we have elected a number of different superintendents.
For the last eight years, Dr. June Atkinson has held the position. Dr. Atkinson is a professional educator, having served leadership roles at NCDPI since 1976. When I was at the department, I attended several meetings with Dr. Atkinson, who was heading up business education, and observed the respect she had earned from everyone else I knew. Shortly after I left, the morale at the department was boosted when June became Director of the Division of Instructional Services.
Dr. Atkinson was elected to the office of State Superintendent in 2004 and then re-elected in 2008.  During this time we have seen North Carolina's graduation rate rise from 68.3% to 80.2%.
Challenging Atkinson in November is Tea Party darling, John Tedesco. He is not an educator, but he has held a variety of positions –– admirably, several of them have been with charitable organizations. Mr. Tedesco was elected to the Wake (Raleigh) County Board of Education in 2008 and is still serving his first term, a tumultuous four years characterized by secret planning meetings and an often riotous board room. The Wake School Board lost its conservative majority during the 2011 election.
My message is simple. In this time when education is challenged to serve a new generation of learners, within a new information environment and for a future we can not clearly describe…
It is a time for Professionals!
Not for amateurs with an agenda.
Please Support Dr. June Atkinson for North Carolina State Superintendent.
I just facebook'ed a link to dontforgeted.org – but 140 characters were not enough to add my 2¢ worth.
I think that education should be among our candidates top priorities. But our problem is not education nearly as much as it is educating so many children who live in poverty.
When you compare the scores of American children from higher socio-economic backgrounds with nations that do not suffer the levels of poverty that are tolerated in the U.S., then we actually do quite well! For instance, schools in the U.S. with fewer than 10% of their students living in or near poverty scored 551 on the PISA math test, second only to Shanghai, China.
So, at the same time that I think public education in the U.S. should be a top priority, the problems of education won't be solved by government mandates or privatization.
The welfare of all the "people" in the United States is the top concern.
That said, here's the link – http://dontforgeted.org
I was scanning through an infographic the other day from Occupy Educated, called "The Illusion of Choice." It tells the story of how six media giants control 90% of what we see, read and hear.
Because you're curious, they are GE, Newscorp, Disney, Viacom, Time Warner and CBS.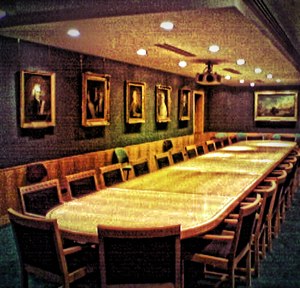 Is this where the future of education is being planned –  corporate boardrooms?
I could go on and on, as many have already, about the threat this poses to a nation, formerly known as "Democratic."
But – might there come a time, when we see at the bottom of this infographic how 90% of our schools are controlled by, say, three corporations, three boards of directors instead of local boards of education.
Thousands of educators, from around the world will be gathering in San Diego next week to share, teach and learn, tell stories, celebrate, eat and drink and leave, knowing more about supporting their students in their learning journeys. We'll be talking about pedagogy, emerging and cool technologies, school and classroom management, creativity and games, and our students – and how to motivate them to want to make learning a lifestyle. We will also share stories about the multitude of barriers we face in promoting a progressive retooling of our classrooms.
But I have come to worry about a greater threat to the democratic foundations of education, a threat so big, so strange, and so insidious, that it is going largely Un-noticed.  It is so large and comes from such high places that I hesitate to do more than whisper it.  I am not a cynical person.  But people whom I admire and respect have gone this far and for some time now – and I will too.  I fear that there is, and has been, an organized and orchestrated effort by people in high places (and low places) to privatize education in America – to take over our classrooms.
Let's look at this from a corporate entrepreneurial point of view.  According to a recent U.S. Census report, funding going to U.S. "public" schools in 2008-2009 totaled 591 billion dollars, with $55.9 billion coming from the federal government, $276.2 billion from states and $258.9 billion from local sources.  In many powerful circles, that translates to almost 600 billion dollars that are certainly being poorly spent by the "government" – and with zero bankable profits.
We're being convinced that:
The U.S. is falling behind other nations in education – that  our schools are failing.
The success of schools and education can be precisely measured and quantified by a corporate testing industry and the constant testing of our children.
Teachers, protected by labor unions, do not know what they're doing.
Business can do it better.
Each of these are so easily debunked.  But exposing their fallacies does not tell a story, and stories are what we need.  Are you a story?  Are you successful in your work and happy in your family and friends.  If so, then YOU are the measure of the success of your education – not the tests you took 5, 10, 15 or 40 years ago.
For me, I'm going to ISTE to find new language and new stories for proving that the purpose of education is not to prepare our children to be weighed and measured at the end of each year, but to prepare them for their future – and in ways that are as exciting as their future has the potential to be.
Oh yeah!   I'll also be looking for cool new tech.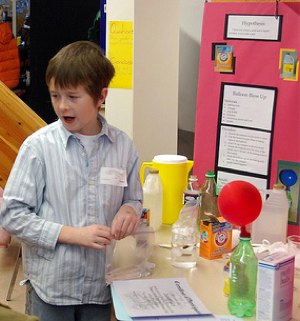 Look what we did in school today
(cc) nordicshutter
It has been a while since I've written, though it's not for lack of anything to say. I've been re-strategizing some of the functions of Citation Machine for the approaching peak usage that comes as the semester hastens forward. Most of my strategies have been abandoned, but some may be fruitful. We'll see.
Nice to have digital grease under my fingernails again ;-)
Last week, I ran (via Skype) an unconference session for a PadCamp in Long Island, NY. It was one of those events I'd love to have been there for, where just the right people are having just the right conversations — and that pretty much characterizes my unconference session on the future of the textbook.
There were lots of progressive ideas that resonated loudly in that room. However, I kept wondering how these ideas might resonate in school board chambers or among elected legislators? I kept asking, "What's the story we need to be telling?"
Of course, that was the wrong question, because that simply got more high-minded ideas percolating. What I should have asked was, "Who should tell these stories?"
I keep coming back to the kids.
A principal of a special project school of kindergardeners described some of the fabulous things going on there and I asked, "What do those kids say at dinner, when their parents ask, 'So what did you do in school today?'"
The initial answer was, "Oh, nothing!"
But then they corrected themselves realizing that we were talking about kindergardeners. These young children are excited about school — and their parents are excited about school. So might we ever expect middle school or high school students to talk excitedly about what happened in school today?
I suspect that the answer to that question, with notable exceptions, is, "No!"
But can we help parents to instigate those conversations, to break through their children's adolescent cool, and get them to talk about learning experiences that defy boundaries, generate curiosity, and where innovation and creativity are common and not the exception.
I wonder how a school or classroom might start that dinner table conversation by sharing everyday glimpses of teachers and learners exploring, experimenting, discovering, and sharing passionate and inventive learning.
What do you think?
There is much that can be said about Steven Jobs. I would like to simply say that he was a man of great ideas and the skills to make them happen.
During the creation of the original Macintosh, he told the designers that he wanted a computer that was as easy to operate as a telephone. It seems proper that last night I learned about the passing of Steve Jobs from a telephone that he turned into a computer.
I was especially moved by President Obama's statement. He said that,
Steve was among the greatest of American innovators – brave enough to think differently, bold enough to believe he could change the world, and talented enough to do it.
I hate to be so crude as to inject politics into this time of mourning, but if the President truly values the qualities he attributed to Steve Jobs, then he will do what he can, fire who he needs to, hire who he needs, to turn our classrooms into places where teachers are less often prompted to say,
"That's the right answer!"
and more often hear themselves saying,
"That's a great idea!"
- Posted using BlogsyApp from my iPad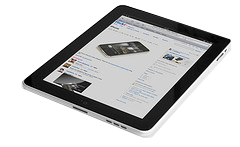 This is from an infographic that will appear next week in Infographic-A-Day (IGaD). I found it from TICs y Formación, one of the infographics blogs that I monitor through my iPad. It's a Periodic Table of World Internet Facts. It's a frequently used theme, a periodic table, for expressing information. I like to use the Period Table of Elements as an example of how "There's nothing new about infographics!"
To the far right of the table are a set of lists, the top ten of countries around the world concerning their use of the Internet. Here are four of the lists:
Top 10 (Number of Users)

China
United States
Japan
India
Brazil
Germany
United Kingdom
Russia
France
South Korea

Top 10 (% of Population)

Iceland
Norway
Sweden
Netherlands
Denmark
Finland
Australia
New Zealand
Luxemborg
South Korea

Top 10 (Bandwidth Speed)

Japan
(South) Korea
France
Finland
Netherlands
Germany
Australia
Denmark
Portugal
Iceland

Top 10 (Fastest Growing)

China
Japan
India
South Korea
Australia
Taiwan
Malaysia
Hong Kong
Singapore
New Zealand
As an educator, I believe that there is much to be excited about in the world of teaching and learning. At the same time — and in the autumn of my career — I am haunted by a nation (my nation) that seems less than inclined to invest in itself — except for an elite part of itself.
This is the antithesis of learning to be innovative
The new school year is starting, marked by more daily requests for Class Blogmeister accounts; professional development institutes; and the ubiquitous opening school event with the color guard led pledge of allegiance, acknowledgements from the chairman of the school board, and the out-of-town speaker.These years are different and not just for the throngs of teachers who are still looking for positions rather than schools struggling to fill classrooms with teachers. What's different are education leaders who are mentioning with increased frequency phrases like 21st century skills and 21st century learning. Yet, I would find it interesting to challenge them to clearly and succinctly define and describe either phrase as a concept.
For certain, Innovation or its near cousin, creativity, would be a part of that explanation, even among those who stumble and stutter their ways through. ..and as professionals, we proceed to break down, classify, and sequence an approach to teaching innovation and creativity in a step by step fashion where by its achievement can be measured and accounted for. It makes me stop and wonder, "If you can teach and measure creativity, is it still creativity?" I don't know.
I suspect that there are ways to help learners develop creativity as an assembly of resourceful problem-solving and goal accomplishing skills. Smarter people than me would know. I am certain, however, that innovation can be untaught.  Acknowledging that some skills and knowledge should be assured, we should also accept that applying education and measuring it's achievement requires a "right answer" and "wrong answer" approach. You're either right or Wrong. It reminds me of the high school student who said, "The purpose of school is to not get caught being wrong."
Learners are required to fill in the bubble of the right answer with a machine readable No.2 pencil — when, to help learners become innovative, we should ask, "How many different solutions can you think of for this problem — and defend?" Rather than how many students can come up with the same answer, we should celebrate the different answers that they can suggest — and defend.
My country is in a real mess, and it's spread way beyond our own boarders. But I'm not pessimistic. You see, in the nearly sixty years that I have been around, the world has changed dramatically. Some of that change has happened too us. But much of it has been a result of really smart people (some of whom were not impressive students) thinking of brand new answers and brand new solutions and builting brand new technologies that have reshaped our cultures. Anyone my age has to be astounded by the innovation we have seen in just the last 30 years.
I'm not pessimistic because I think that we can innovate ourselves out of this mess, approaching it with something brand new, something that is not one old right answer — "Raise taxes," "Cut spending," "Regulate industry," or "Hands off business."
It will be something that is interesting, logical, brand new, and something we'll all want to pat each other on the back for — and it will happen because we stopped teaching innovation out of our children.
Government Perspective Panel
I'm among the first to arrive at
CityCamp Raleigh
, a gathering of folks interested in technology and Gov2.0
(see GovFresh)
. I've heard of these things, and had some curiosity about it, and being a former state government employ and devote of the Web 2.0 conversation — well I'm here.
The impression that I have, at this point, is that government 2.0 is about accomplishing a better civil existence through the richness of new conversations made possible by contemporary technologies.
So I'll sit for a bit, listen, and jot down ideas that cling to me. Until they start, they've got Neal Young and Cat Stevens playing through the speakers from someplace decades ago.
Next Day
I took notes during the two panel discussions (Government & Business Perspectives) on XMind, and that PDF file is available here.
A couple of things did cling to me that I'd like to briefly post here, and I'll mention that I was quite gratified by the amount of discussion about education that seemed to naturally emerge out of the Gov 2.0 conversation. Here is a link to the Twitter thread for CityCamp Raleigh.
First, there was a story, told by Jimmy Goodmon, of WRAL.  As a point of context, WRAL (Capital Broadcasting) is a local TV Station and an Internet pioneer. They where among the very first public ISPs in North Carolina, along with the Raleigh News & Observer (anyone remember Nando.net?). Goodmon has a son who is approaching school age, and he wanted to collect some data on schools that are available.
He said, "So I got the files, and they were PDFs," followed by a rift of laughter in the audience.  But — and here is my point — how many of this year's graduating high school seniors would get that joke?
Here's the problem. A PDF file is essentially a paper publication that's printed on your computer screen. You can read it and it looks just like the paper-printed version. There are important advantages to this type of file, but the drawback that nicked the audience's funny bone is that you can do very little with the information. It can be searched. But you can't sort or filter the school data by any particular criteria. You can just read it, but you can't work it.
The preferred file format would be XLS or CSV, both of which can easily be imported into MicroSoft Excel and other spreadsheet programs. From here, the data can be analyzed deeply, the best schools surfacing to the top and the more worrisome schools sinking to the bottom.
This conference is largely about data, and how, with free access to workable public data, citizens can understand, discuss, and ultimately improve their civil environment be generating new solutions to local problems. But this requires an understand of data and how to use it as a raw material.
I've written before that all of this talk about data driven decision making is good. But I think it would be better if it actually became a part of what we help children learn.
So again, how many graduating seniors know what they can do with a CSV file? How many Wake County teachers understand that knowing this is important?
The other point that I'd like to share was actually a personal thread of thought that went through my mind during one of the panels. It's about open source. I am by no means an expert on open source. But we, in education, tend to light-up when we hear about open source software, because we learn that it's free. But what makes a piece of software open source is not that it's free, it's that it is free to be improved.
So if we were to carry this idea through to government, or a school –
What does a local government look like that is free to be improved?
What does a school look like that's free to be improved?
keep looking »