Yesterday (or several days ago) I wrote about success as the element of learning that trumps lazy. By success, I mean learning that accomplishes a meaningful goal, as opposed to one that achieves an external and often symbolic outcome. This morning, I thought of a classic example.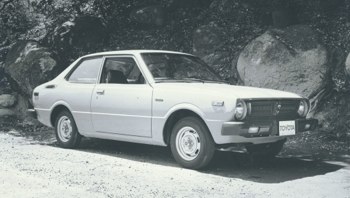 1977 Toyota Corolla
After my first year of teaching, I traded in my aging Fiat station wagon for a brand new 1977 Toyota Corolla. It cost $2,700 and was a wonderful car; drivetrain, chassis, body and four wheels – basic transportation that I kept tuned myself. It cranked every time and never failed to get me to work or to Arizona or wherever I was going. Until four years later.
The starter motor would turn, but the engine simply would not engage. However, if I left it alone for about a half hour, it would start right up. This didn't happen every time I used the car, but each time it did, the pattern was the same. I took it to a number of auto repair establishments, but, as is always the case, it would start flawlessly.
I remember as if it was today, a rather short stocky fellow, slipping his Exxon cap off as he leaned under the hood and with grease- and tobacco-stained fingers, flipped open a plastic box that was mounted to the wheel well. Seated into a circuit board were several microchips. He said, "That's your problem. I don't know what that is, but that's your problem."
The car cranked right up and I drove back home. It was the next day that I was telling this story to a teacher friend, outside our rooms, during class change. Several students were lingering close by, including a young man we'll call Bobby.
I can picture him today; a good looking kid, tall, straight as an arrow, curly back hair and day-old stubble (before it was cool), and the broadening chest and shoulders that come to some boys as early as 15. ..and he was still in the 7th grade.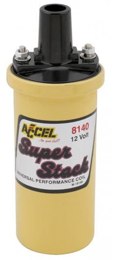 Ignition Coil for a 1977 Toyota Corolla
From the other side of the radiator he said something that I didn't understand. My teacher friend asked him to repeat and he said almost clearly, "h'it's yer cule mista Warlick."
After engaging him in something similar to a conversation, I got that my coil was the problem. An ignition coil is "an induction coil in an automobile's ignition system which transforms the battery's low voltage to the thousands of volts needed to create an electric spark in the spark plugs to ignite the fuel."1
This was better advice I'd gotten from any of the trained and experienced auto mechanics I'd consulted, so that afternoon I stopped off at Advance Auto, bought an ignition coil for a Corolla, installed it myself, and the car ran without fail until I sold it a couple of years and 95 thousand miles later for $2,300.
I'd never taught Bobby, but I knew that the teachers liked him, one of those guys they didn't mind holding back year after year. I told the story to another friend, whom I respected deeply, a woman who'd taught Bobby for all of these years, and she said,
"Don't worry about Bobby. His Dad owns a trucking company that hauls trees to the pulp wood plant. He's a millionaire, though you'd never know if you saw him. Bobby's going to go work for his Dad when he turns 16 and he'll inherit the business. He's not dumb, he's just lazy, and he always will be when it comes to learning."
I don't know what happened to Bobby. I do know that pulp wood played out in the region, and Bobby's business either folded, or he found some way to repurpose his assets into another line of business.
What I do know is that Bobby was not a lazy learner. That he was able to diagnose the problem with my car, just from the telling of my story, convinces me that he engaged in deep and powerful learning experiences that taught him not only fundamentals, but how to apply those fundamentals for solving real problems.
They were learning experiences that were qualified by
SUCCESS,
not by a SCORE.
Ignition coil. (2013, March 15). In Wikipedia, The Free Encyclopedia. Retrieved 11:16, May 17, 2013, from http://en.wikipedia.org/w/index.php?title=Ignition_coil&oldid=544257271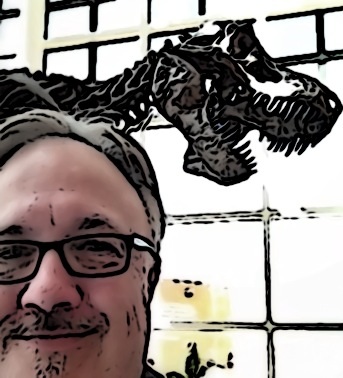 OK! This was Wyoming. So there were dinosaur skeletons everywhere.  Tyrannosaurus on the right and Warlickosaurus on the left.
During my presentation, Finding 'It' on the Net, at the WyTECC conference the other day, someone asked in the backchannel,
"How do we get educators to understand that students (should) have the freedom of using the Net during class?"
It's what I love about being able to visit the chat transcript and comment on the attendee's observations and questions. It extends the conversation and broadens the learning – including my own.
I seems that one way to convince reluctant teachers might be to ask that they imagine their classrooms with really smart students, and imagine the energy that they would generate – and then help them to understand how the Internet is becoming an extension of our/their own brains. Ask them to think of the things that they do today, that they aren't smart enough to do without the Net. I'd have no trouble doing that.
If students can lookup and evaluate information on the Net and on the fly during classroom work and classroom discussions, extending their own brains, then it may elevate the class, not to mention empower the learners.
As a matter of disclosure, Ethan Warlick, whose comment I am responding to here, is my nephew. He will be graduating from the University of North Carolina in Wilmington next month and moving on to the real world of work and learning by joining a social media startup. I'm not sure if this is why I've elevated my response to full blog-status, or because of the story he tells, that..
..one of my roommates recently received a failing grade on a paper for "plagiarism." Whether it was or wasn't, he says he "missed a quotation mark," I think that it will be interesting to learn new ways to deal with plagiarism from the summit! Especially from a collegiate perspective, as I hear about issues on campus constantly.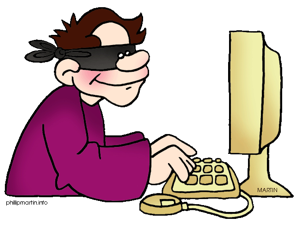 I scanned through a number of definitions of plagiarism from a number of sources and the most inclusive one came from Wiktionary, "The act of plagiarizing: the copying of another person's ideas, text or other creative work, and presenting it as one's own, especially without permission."(Plagiarism, 2013)
There seem to be three parts here, or three questions. Did he copy the work of another person? Did he present the work as his own? ..and Did he get permission to use the work? Considering these three questions, I would have to read the offending paper to determine if he committed plagiarism. But in my own work, attributing the expressed ideas of another person is more than just punctuation.
When I write (or draw, paint, compose, etc.) something, I am presenting it as my work — a representation of my ideas. When the expressed ideas of another adds value to my work, and I include the expression of those ideas, then it is my responsibility to credit the creator of that expression; and that is not simply a matter of punctuation.
Quotation marks simply, "..set off and represent exact language (either spoken or written) that has come from somebody else." ("Purdue online writing") They indicate ownership, but they do not attribute the owner. To avoid plagiarism, I must identify the creator and do so in a way that the reader will not fail to recognize the information's source and the roll that it plays within my work. That credit best falls within the text along with some form of assistance to the reader who wants to validate its accuracy, reliability and validity. If Ethan's roommate credited the work with a phrase such as, "John Battelle recently said in a lecture.." or "Berkman Center fellow, David Weinberger wrote in …" Well, the writer isn't presenting the work as his own, and is not plagiarizing.
So, if the roommate was simply careless in his punctuation, then was the failing grade fair? From a student's point of view — that is to say, academically — then perhaps it was not fair. However, from a learner's point of view, especially if the learner is preparing himself for endeavors that will rely on written communication, then I might consider it a fair, if not authentic, response.
When we finish school and begin to work (and continue to learn), we can still fail by leaving out a quotation mark. A potential client, customer, or employer can, and often does decide to choose another provider because it appears that I have used the words of another as my own. In my opinion, the concept of intellectual property should be an integral part of our basic notions of literacy — receiving, perhaps, even more attention than it already does.
But that said, I'll let you in on a little secret; something that my teachers never shared. In the world, after formal schooling, we almost never do anything, that's important, alone. It was one of my surprises when I left the solitude of classroom teaching to work more directly with other educators (district office). Those other professional educators were constantly asking me and each other to read their writing before they sent it; and I adopted the habit myself, when what I needed to say was important. Almost every day Brenda and I ask each other to read our emails before we hit the send button, and we usually catch each other's careless mistakes. When the conveyance of an idea is important, then it takes more than one head to effectively construct its expression.
This leads me to wonder, are your school writings important enough that instructors encourage you to read each other's work? ..or are they just grammar?
Plagiarism. In (2013). Wiktionary. Wikimedia. Retrieved from http://en.wiktionary.org/wiki/plagiarism
Purdue online writing lab: How to use quotation marks. (n.d.). Retrieved from http://owl.english.purdue.edu/owl/resource/577/01/
Clipart, curtesy of http://internet.phillipmartin.info
It's a great question, that, like so many things, deserves a good answer and acknowledgement that the answer will be complicated. We too often treat plagiarism like many labels, red neck, communist, democrat, republican – black or white, right or wrong.  Gray areas complicate teaching, doesn't it. But life happens in gray areas as do the ways that we use information.
American Copy Editors Society
Associated Press Media Editors
Society of Professional Journalists
Online News Association
American Society of News Editors
Canadian Association of Journalists
Radio-Television Digital News Association
Local Independent Online News Publishers
A cluster of media organizations (see right) are organizing the National Summit on Plagiarism and Fabrication, which will begin April 5.  The participants, invited by the American Copy Editors Society, will be conducting research aimed at producing a practical set of recommendations for combating and dealing with plagiarism and fabrication.  Their conclusions will be presented at the ACES conference in St. Louis that begins on April 4.
It is hard to predict what will come out of the summit, but the conversations have already begun, much of it aimed at bringing some sanity to how we treat the practice. Roy Peter Clark tried to describe the difference between plagiarism and carelessness in a Poynter blog post,
A classic case of overcharging occurred in 2007 when journalism teachers at the University of Missouri condemned a colleague of plagiarism after he used quotes from a student newspaper in an opinion piece without attribution. I argued then that while the practice may have been sloppy, to call it plagiarism was like "shooting a fly with a bazooka."
Clark goes on to suggest four books on the subject:
Contemporary literacy is a subject I've not written about in a while. In fact, I've not been asked to talk about it at a conference in a number of months. Is it a message that's been received? I don't think so. I continue to read comments on my blog promoting the integration of technology, like tech is the goal, rather than an essential tool for accomplishing the goal of contemporary learning-literacy.
One element of this literacy is, in nature, ethical. In a 2007 2¢ Worth blog post, I wrote
..it is now our ethical responsibility, as information consumers, to assure that the information you are using is accurate, reliable, valid, and appropriate to what we are trying the achieve.
And then,
It is equally our responsibility to assure and document that the information we are producing is accurate, reliable, valid, and appropriate. 1
In another time, we were mere consumers of content. Today we are full participants in the information economy and this compels us to accept new responsibilities that have, in my opinion, become a part of what it is to be literate today – contemporary literacy. We are no long held only to the value of the information we consume, but also to the information that we pass on or produce.
This is what came to mind when I was browsing through my copy of MLA Handbook for Writers of Research Papers: Seventh Edition.
Hey, you've got to find excitement where you can.
I found a section with descriptions for formatting parenthetical notes (endnotes or footnotes) about cited sources. It describes two kinds of notes for documenting sources.
Content notes offering the reader comment, explanation, or information that the text cannot accommodate
Bibliographic notes containing either several sources or evaluative comments on sources2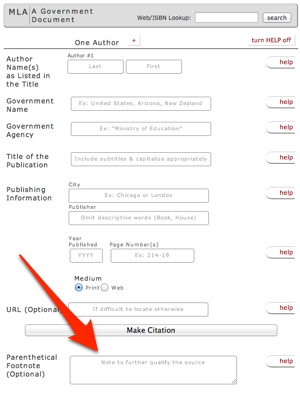 I added the footnotes form element just beneath the "Make Citation" button, so that it would not interrupt the normal flow of CM use.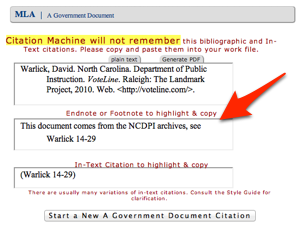 If a parenthetical footnote is provided, then the footnotes box will appear here between the bibliographic and the in-text citations.
It seems that when we are all overwhelmed by information, much of it from other people like us, it is note merely a courtesy to cite our sources, but it is a practical measure to justify and invite readers to judge our sources' accuracy, reliability and validity. We should make it easy for our readers to check its appropriateness to the message of our writing.
With these MLA documentation notes (footnotes or endnotes), we can provide that justification where the comment does not really fit into the prose of the document.
All of this leads up to a new feature on Citation Machine. My plan is to add a textbox to all of the forms, where you have the option of typing in some "comment, explanation or information." Citation will formate the comment, along with proper reference to the source, into a footnote/endnote.
Thus far, I have only added the feature to MLA Government Publications. It seems that when ever I make any type of change to CM, a few people get disoriented, not to mention madder than a mule chewing on bumble bees. ;-) I understand this. What sets Citation Machine apart from most of the other citation generating sites is its simplicity and speed. Change does not simplify.
So I thought I'd take this slow. Look at the Government Publication form and try it out. The note text shows up in a box just like the bibliographic and in-text citations. Feel free to comment on this blog post and concerns or recommendations.
1 Warlick, David. "Ethics Challenges & Information." 2¢ Worth. The Landmark Project, 26 Jan 2007. Web. Web. 18 Mar. 2013. <http://davidwarlick.com/2cents/?p=858>.
2MLA Handbook for Writers of Research Papers: Seventh Edition. 7th. New York: Modern Language Association of America, 2009. 230. Print.

Click the word cloud to enlarge
NCTIES
is my state's
International Society for Technology in Education
affiliate (
ISTE
). It stands for North Carolina Technology In Education Society. They will be holding their annual conference this week at the relatively new Raleigh Convention Center. In the last few years the state capital's downtown has become a descent place to hold a conference. More restaurants, museums, night life and many more people living downtown, making the streets safer.
I finally went through the conference program yesterday and was struck by several trends that seemed apparent during that scan. So I thought I'd spend a few minutes this morning doing a casual frequency analysis.
Number of term mentions in the conference program
Term
2012
2013
Trend
SD
Game, gamilfy, etc.
14
73
3.5
iPad or iPads
34
68
2.1
apps
25
49
1.5
Common Core
15
42
1.6
resources
72
42
-1.8
Web 2
67
34
-2.0
play
6
34
1.7
Professional Development or PD
65
34
-1.9
free
37
33
-.2
engage
33
33
.0
Google
61
32
-1.8
1:1
77
30
-2.9
Apple
8
22
.9
Collaboration or Collaborate
24
22
-.1
Twitter
10
15
.3
iOS
14
14
0
tablet
5
13
.5
blog
28
11
-1.0
Minecrqaft
0
8
.5
Android
2
1
-.1
laptop
11
1
-.6
In a casual counting, I found 205 concurrent presentations being made during the conference including the student showcases and not including the two keynotes. Of those 205, 51 of them (24.5%) are being delivered, at least in part, by vendors. 35 are being delivered by presenters representing elementary schools, 20 by presenters from middle or intermediate schools, 15 from high schools and 14 from universities. I am especially happy to see so many presenters from five of our state supported universities, two private universities and one community college.
The happening place in North Carolina seems to be Rowan-Salisbury Schools with 14 sessions being facilitated by 33 district educators. Also notable is Union County Schools with 7 sessions and 18 educators.
I'm doing one session. But hopefully, I'll be setting a productive tone for the conference.
I'm looking forward to seeing old friends at NCTIES
Added March 5
I finally found a list of last years presentation descriptions, and searched for the frequency of the terms in this table (above and left). I inserted a column for the 2012 conference and then added a column with arrows to indicate the trending up and down. To quantify the change, I added a final column with the number of standard deviations of the total change. This sounds like I know more about statistics than I really do.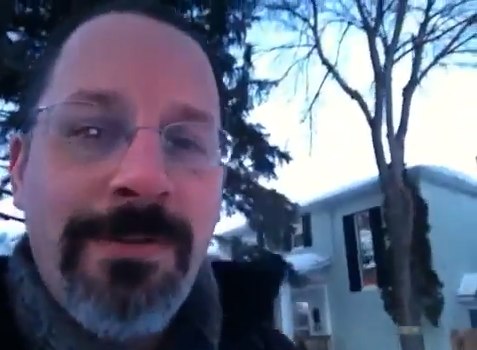 Darren Kurpatwa delivering his WhileWalking episode 73
My friend, Darren Kuropatwa, mentioned me in one of his "WhileWalking" video reflections, referring to one of the conversations we had at Educon last week. I love his new reflections series for many reasons, not the least of which is the delightful sound of Canadian snow crunching as he walks.
In that conversation, on the last day of Educon, he told me about how students were using Google docs in preparing their presentations and how convenient it was that Google built in an image search tool that returns only Creative Commons licensed media and even includes citations for the images that can be pasted into the document.
I was less than thrilled about this and Darren, in his reflection, wonders why. He's asking if there is a relationship between my reluctance about Google's bundled services and why many educators resisted their student use of calculators decades ago. It's an excellent question, which I guess is why it occurred to Kuropatwa, while tundra-walking.
There is a very real relationship between the emergence of calculators in the early 1970s and the rise of the World Wide Web, dynamic search engines, and smaller useful information tools like Creative Commons licensers and citation generators. But to understand why I feel Darren's described scenario is, in ways, counter to the mission of education, I need to briefly define that mission, as I see it.

A sliderule like the one I used as a high school student
A continuing factor in my own reflections is the fact that from my time as a high school student to the waning years of my career as an educator, the tools for working with information have advanced from sliderules to tablet apps – an astounding revolution in information and communication technologies, from sticks to chips. Our mission is to prepare our children for jobs, lifestyles, tools, processes, problems and goals that we can hardly imagine. We're preparing them for the unimaginable.
I am certain that their lifestyles will be (is) fueled by the daily practice of learning and that the mechanisms of that learning will be constantly and sometimes rapidly evolving.
Many of us were fairly certain that calculators would be a prevailing information processing tool in our students' future, as we know that our children's future will continue to afford them a vast and dynamic aggregation of information – that also obliges them to new and interesting ethical responsibilities.
Each of these advances in information and communication technology warranted a role in our children's formal (and informal) education.
Now, my objection to Darren's scenario has little to do with Google's purported desires to dominate the world of information, or even the fact that Google has made research, production, and attribution easier – as was implied in several tweeted responses to Darren's post. We should probably be concerned about the dominance of one company in any realm of interest, but there's nothing wrong with "easier."
What concerns me is how these tools might be packaged to help children do school work, at the expense of helping them learn to use information to do real work.
If Texas Instruments had created a curriculum-friendly calculator, one designed to help children learn math, as apposed to using math to work numbers, then I might have had the same objections – though I can't confidently speak for the 22-year-old me.
What I believe today is that our children need to be developing a learning lifestyle, with the skills and habits of utilizing a tumultuously shifting and advancing information environment and the unimagined opportunities that an unwritten future provides. This is the mission of education.
Darren has invoked the best word for my thinking, that learning should be be "deliberate," as deliberately authentic as possible.
Kurpatwa, D. (Performer) (2013, February 7). Whilewalking 73: Should we be deliberate?.WhileWalking. [Video podcast]. Retrieved from http://www.youtube.com/watch?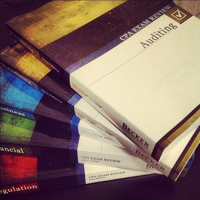 My niece posted an Instagram photo last night of a stack of textbooks. In her description she wrote, "I never thought I would be so happy to receive textbooks."
I commented, "But isn't it all on the Internet?" — mostly in jest. She knows me.
The information is out there on the network, of course. But her need for those textbooks is absolutely critical, regardless of what she can Google and in spite of how she will continue her essential professional learning after her textbooks are digested. You see, my niece is preparing for her CPA — and the right answers for that exam are not on the Internet. You can count on that.
A textbook, as a product of packaged content, is essential when we are tasked to learn the right answers — when we are being certified in some way as having x knowledge or y skills. But in my opinion, based on my own rather peculiar career, this is not education. It's training.
Training is not bad. There are certainly elements of formal education that require training — to learn facts and skills that are both useful and stable. 2 x 2 will always be 4 and 9 x 9 will always be 81. Yet, what it means to be educated changes, when answers shift with a rapidly changing world and when a dynamic global library is accessible to us from our own pockets.
Both of my grandparents had college degrees. But after their degrees were conferred, they prospered in a relatively stable world of information scarcity. Being educated was based on remembered knowledge.
Today, we function within a networked, digital and info-abundant environment, whose conditions are constantly changing. Being educated today is being able to skillfully, resourcefully and responsibly mine and utilize this infoscape within meaningful and reliable contexts to accomplish goals — which often involves learning something new. Using a traditional textbook does little to help students become skillfully, resourceful and responsible learners.
If preparing our children for their future means certifying them based on a measure of their remembered knowledge or certifying schools/teachers based on the measured knowledge of their students, then bring on the books, the bigger the better.
But if it is not a trainable/teachable worker who brings prosperity today, but the imaginative information artisan with a lifestyle of learning, unlearning and relearning, then we need to completely rethink the tools of education.
I will confess here that this is not exactly the article that I sat down to write. But it may lead into a next, and slightly more specific (if not more practical) article about these learning tools.
So check back by!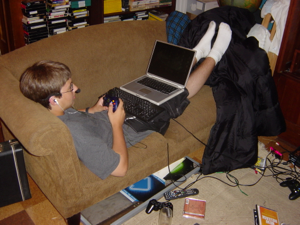 Plugged in with iPod, head set to communicate with game guild members, game controller, game keyboard to text players without broadband, and a laptop for IMing.
Several years ago, I wrote a blog article describing a picture that I'd taken of my son, in the TV room, wrapped up in his "technology." I'm including the picture here, since he is no longer a minor and I can no longer so easily peak in on his techventures.
In the article I suggested that it wasn't technology that defined his experience nearly as much as it was the information that he was playing with. It continues to be a central theme of my work, that it's a new information experience we should be facilitating for our learners, not simply applying technology to old teaching pedagogues.
A few days ago, an old friend from my state agency days, John Spagnolo, gave me reason to revisit that article, when he commented with some questions that got me to thinking.
Among them was:
How have "smartphones" and cellular connectedness changed the nature of information over the past 8 or so years since this was written?
I think that one significant change that has occurred over the past seven or eight years, is that I, and many other seasoned adults have, for various reasons, begun to utilized this networked, digital and abundant information environment. I often say to friends, as I slip my phone back into my pocket, that we live in a time of no unanswered questions. The answer is almost certainly waiting in our pockets or on our laps. My cellular iPad has become a welcome and valued companion as my wife and I drive across North Carolina to visit with family and old friends. It helps us to continue conversations about the news, movies, the best route around Charlotte and settle minor arguments.
For my son and daughter, I suspect that their use of these connective tools has not changed significantly over the past several years. They cultivate networks of friends and acquaintances, which have probably grown with my daughter, whose interested have expanded, and grown smaller with my son, whose interests have narrowed and become more focused. They use Twitter more and Facebook less, and are probably more likely to be interacting with friends via a specific application, such as a game or Pinterest category.
I also wonder if, in many instances, we might be finding more creative ways of using this new info-landscape than our children.
Spagnolo also asked,
How does your son connect to and interact with his information today?
I suspect that both of my children interact with information more through games and through specific applications. I was so terribly disturbed a few years ago when smart people started suggesting that the Web was dead, that apps were changing the way that we used the Internet. But apps have certainly changed the way that my children use information and I find myself preferring to use Amazon and Craigslist apps instead of their respective web sites.
Apps have become an intriguing new avenue of economy, that I've suggested to me son, where people are making a living by designing highly specialized and compelling tools for using and playing with information.
Finally, he asked,
Has the nature of information influenced the emerging "appropriate technologies" like the digital learning object called an iBook?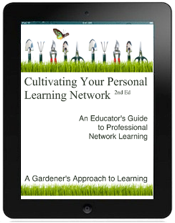 My knee-jerk response is, "Not nearly enough." This current push toward digital textbooks, urged on by our Secretary of Education, concerns me. I worry that we're engaged in a race to modernize schooling, rather than a sober and thoughtful imagining and designing of learning materials and practices that are more relevant to today's learners (ourselves include), today's information landscape and a future that has lost the comforts of certainty, but become rich with wondrous opportunities.
What I enjoyed, though, about my experience in publishing an iBook was learning to hack some features into the book that were not part of Apples general instructions for using their publishing tool. This is the ultimate opportunity of digital learning objects and environments, that they can be hacked into new and better learning experiences by information artisans who see what's there and what it can become.
I spent Wednesday morning at the "Every Teacher Every Learner" conference in College Park Georgia. The event was organized by Woodward Academy and mostly for private school teachers from the area. I talked about contemporary literacy (learning-literacy) and about new pedagogies.
In reviewing and commenting on the backchannel transcript this morning, I ran across a comment/question that deserves a little more exploration here. The question was:
"Should the tools and environment drive the learning or vice versa?"
It's a common question in the greater edtech conversation that begs the answer, "No! the learning drives the tools." My answer, which I inserted into the backchannel, was "Both!"
One of the mistakes that I believe we make is believing that the principle purpose of these information and communication technologies is to enhance education – as we've known it. This is a reasonable assumption and the way that we have all promoted technology for education since the early '80s.
However, personal computers and the Internet are the pencil and paper of our time.  Like pencil and paper, the productive use of these technologies will not end at graduation.  We continue to use them as we continue with our lives and work.  They are our prevailing tools of accomplishment.
But perhaps even more important to this discussion is the fact that we are preparing our students for life-long learning.  Many, if not most of the students I graduated high school with (more than 40 years ago) went to work in the textile mills of my hometown, fully expecting to spend the next 35 years doing pretty much the same job – a job that required almost no continued learning.  Of course, those jobs have moved thousands of miles south and west – and my former classmates who continue to be employed accomplished it by learning new skills, and learning to continue learning new skills.  
It is a defining quality of a time of rapid change, that you live a lifestyle of learning.
The readers of this blog live that lifestyle, and we know that information and communication technologies have changed the way that we learn.  We learn from large and small networks that we create and cultivate with machines that we carry under our arms and in our pockets.
If it is a learning lifestyle that we should be preparing our students for, and if these tools are a principle mechanism for that lifestyle, then to that degree the tools should drive the how and even what our children are learning in school.
keep looking »