Yesterday (or several days ago) I wrote about success as the element of learning that trumps lazy. By success, I mean learning that accomplishes a meaningful goal, as opposed to one that achieves an external and often symbolic outcome. This morning, I thought of a classic example.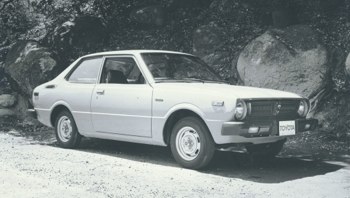 1977 Toyota Corolla
After my first year of teaching, I traded in my aging Fiat station wagon for a brand new 1977 Toyota Corolla. It cost $2,700 and was a wonderful car; drivetrain, chassis, body and four wheels – basic transportation that I kept tuned myself. It cranked every time and never failed to get me to work or to Arizona or wherever I was going. Until four years later.
The starter motor would turn, but the engine simply would not engage. However, if I left it alone for about a half hour, it would start right up. This didn't happen every time I used the car, but each time it did, the pattern was the same. I took it to a number of auto repair establishments, but, as is always the case, it would start flawlessly.
I remember as if it was today, a rather short stocky fellow, slipping his Exxon cap off as he leaned under the hood and with grease- and tobacco-stained fingers, flipped open a plastic box that was mounted to the wheel well. Seated into a circuit board were several microchips. He said, "That's your problem. I don't know what that is, but that's your problem."
The car cranked right up and I drove back home. It was the next day that I was telling this story to a teacher friend, outside our rooms, during class change. Several students were lingering close by, including a young man we'll call Bobby.
I can picture him today; a good looking kid, tall, straight as an arrow, curly back hair and day-old stubble (before it was cool), and the broadening chest and shoulders that come to some boys as early as 15. ..and he was still in the 7th grade.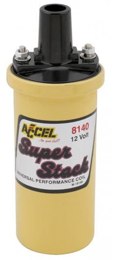 Ignition Coil for a 1977 Toyota Corolla
From the other side of the radiator he said something that I didn't understand. My teacher friend asked him to repeat and he said almost clearly, "h'it's yer cule mista Warlick."
After engaging him in something similar to a conversation, I got that my coil was the problem. An ignition coil is "an induction coil in an automobile's ignition system which transforms the battery's low voltage to the thousands of volts needed to create an electric spark in the spark plugs to ignite the fuel."1
This was better advice I'd gotten from any of the trained and experienced auto mechanics I'd consulted, so that afternoon I stopped off at Advance Auto, bought an ignition coil for a Corolla, installed it myself, and the car ran without fail until I sold it a couple of years and 95 thousand miles later for $2,300.
I'd never taught Bobby, but I knew that the teachers liked him, one of those guys they didn't mind holding back year after year. I told the story to another friend, whom I respected deeply, a woman who'd taught Bobby for all of these years, and she said,
"Don't worry about Bobby. His Dad owns a trucking company that hauls trees to the pulp wood plant. He's a millionaire, though you'd never know if you saw him. Bobby's going to go work for his Dad when he turns 16 and he'll inherit the business. He's not dumb, he's just lazy, and he always will be when it comes to learning."
I don't know what happened to Bobby. I do know that pulp wood played out in the region, and Bobby's business either folded, or he found some way to repurpose his assets into another line of business.
What I do know is that Bobby was not a lazy learner. That he was able to diagnose the problem with my car, just from the telling of my story, convinces me that he engaged in deep and powerful learning experiences that taught him not only fundamentals, but how to apply those fundamentals for solving real problems.
They were learning experiences that were qualified by
SUCCESS,
not by a SCORE.
Ignition coil. (2013, March 15). In Wikipedia, The Free Encyclopedia. Retrieved 11:16, May 17, 2013, from http://en.wikipedia.org/w/index.php?title=Ignition_coil&oldid=544257271
Application of information is the only reason to gain information, and thus it is a very important skill that was not adequately taught when I was in school. It is useless to make students memorize and recall information, if they don't know how they can use it later in life. This is why I have chosen today's infographic. Part of the fifth grade curriculum is weather in North Carolina, and in my own experience, many students do not know why they are taught this information. However, this infographic is a great example of why it is important to learn something that can be sought otherwise.
Hurricane Sandy affected many businesses. Many were forced to close their doors, and those who served the entire country were greatly affected, and greatly affected others. For instance, I worked in a stationery store for a few months this past winter. Several major stationery companies were forced to close during the winter months because they were based in the Northeast. There was no way to call about questions, and production time was increased due to these closures. Another example involves a friend of mine here in North Carolina, who works in the marketing department of a major supplier of electronic supplies. When Japan was hit with the earthquake and tsunami in 2011, many plants were forced to rebuild their machinery, and she noticed a drastic spike in sales. So companies can be affected in two ways, by weather where they are located, as well as by weather to their suppliers.
Challenge your students to make other correlations. How will they use other skills in their future lives? How do politicians use history? How do marketing analysts use science and math? In the end, why are your students learning this information?
Blog: http://visual.ly/how-storms-affect-businesses
With all of this hype about Mars and the exploration of Mars, there have been many infographics about Mars and space exploration. I have found yet another that is very interesting. Using pixels, this infographic shows how far away Mars is. However, it is not as far away as it used to be.
Most people who remember SPUTNIK and America's landing on the moon are retiring, so in order to get a first hand experience, most teachers will have to speak with parents or grandparents. But the goal is to get first hand memories of this momentous event that can be related to your students today. For instance, what was someone doing when they found out about these momentous events, what were their thoughts? What did children play with and what were children excited about?
Then have your students imagine what it would be like to walk on Mars. Write a news article about the first Mars landing, or a diary entry as though they were the first person to walk on Mars. Have students discuss what landing on Mars would mean, and what they think will be the next goal after we do land on Mars.
Infographic: http://www.distancetomars.com
Constructing a building takes into consideration a great deal as this infographic shares. To begin with, the materials, climate, and foundation must sustain the structure, there must be enough men and women to complete the project with enough knowledge to put into the construction, finances are a major consideration, and of course time.
These construction projects take these into consideration, and a great deal more. Do research into various construction projects your students find interesting and find out how these ideas were factored in. For instance, the Leaning Tower of Pisa, what could have been done then, and what can be done now to prevent a building from leaning.
What other things must be considered during construction? What simple machines are used during construction? How is the climate and the soil under the building a factor when choosing a location? How do people finance the building of these massive projects?
Blog: http://visual.ly/most-amazing-construction-projects
Infographic: www.rockanddirt.com
This infographic, found on Cool Infographics, shows how the climate has changed over the past 2,000 years in seven regions of the world (nearly all five continents, but not quite). Each color change represents the 30 year mean, and the increase and decrease of the temperature over time can be viewed. How do you think the mean was found before modern technology?
First of all, the infographic shows that North America and Antarctica share a similar temperate trend, and the five remaining regions share an opposite trend. On top of this, the arctic regions are experiencing a warm up and the other regions are showing a cool down. What could cause each of these phenomenon?
Share this with your classroom while studying global warming and other long term weather changes. This is a good example of what global warming can lead to. However, it can also be noticed that the major changes in temperature in North America and Antarctica began around 1200, long before the modern chemicals that are blamed for these changes. What are other explanations?
Blog: http://goo.gl/MFlTU
Preceden (click to view video)
I have been working on the history of my home town, and the book I am using is organized by subject and time, making it a little difficult to keep track of events as they occurred. I just came across this great website that easily allows you to create a timeline. It can be useful for both you and your students.
This will allow you to create both events and time periods, categorizing items by color, and by creating new layers. This is a great way to organize history for your students, and it can be accessed at home as well.
The other day I came up with a great way to give extra credit while strengthening your students. Giving extra credit for bringing in necessary supplies, such as tissues, is great, but students who give an extra push that will help them later on in life should get rewarded. Tangible rewards are one of the best ways to motivate students.
In todays infographic, three major cities were surveyed based on the job skills employers in the cities seek. A lot of what was found was collaboration, project management, and internet skills. Well why not encourage your students to harness these skills in middle grades, upper grades, and even elementary grades, and reward them when they exhibit these skills.
This can be done in multiple ways. By having your students come up with their own marketable skills they already have and give them a confidence booster by rewarding them with these. You can also compile a list of marketable skills with you students, and have each student choose a few to work on, and then later assign them to students to give the students something to work on.
During assessments, if the students choose to go for this extra credit, have them outline how they used these marketable skills to complete the task. For instance, with collaboration, how did the students divide the work evenly based on each students skills? How did the students then come back together to share what they learned and put it together. Offer this explanation as extra credit. Many curriculums are teaching these marketable skills, but taking this extra step allows students to realize that this is a marketable skill and share how they used it, as well as receive feedback from you the teacher. Possibly even bring in professionals to give feedback.
Blog: http://visual.ly/employers-identify-top-5-job-skills
As you, and some of your students, know, the water bill is not very expensive. It is not typically something people think about when they try to cut expenses. But what people don't think about, is the impact on the environment. Growing up, I would see commercials about this, but not as many anymore.
Share with your students the reasons why we want to conserve water. Talk about the impact on the environment, and what is going on with various species if we use too much fresh water. Also, talk about the amount of fresh water we have access to, and what will happen if that runs out.
This infographic goes over how much water we use in a year in the average household. Explore with your students ways to cut down on water use. Also, brainstorm and research ways to turn salt water, or contaminated water, into fresh water for drinking. Discuss with your students ways to get salt water in for things that fresh water isn't needed for, such as the toilet. Get your students thinking about their future!
Blog: http://visual.ly/amount-water-wasted-your-home
A few decades ago, it was suspected that today we would be wearing metallic space suits and eating food in pill or goo form. But life has changed very little over the past several decades. Our food has become much more processed, but we more or less eat the same things. Styles have changed, but they are recognizable in fashion from the mid to late 20th century.
This makes me wonder where this infographic got their information (although it does have a list of sources at the bottom). According to this infographic, we will be eating bugs and wearing billboards in 10 years. What do your students think about this? Do any of your students wear Hollister and American Eagle now? They are now walking billboards. What about the delicacies of the future? Have any of your students traveled? What things have they eaten that would be considered strange by American standards? Maybe this infographic isn't too far off. Challenge your students to make their own guesses as to what the future will be like, with references.
Blog: http://visual.ly/future-10-years-now
What is the most devastating storm in your memory? For me it was Hurricane Fran, which swept inland into the heart of North Carolina, causing power outages for days and even weeks, and kept us out of school for around two weeks. Trees feel everywhere, and many roads were impassible for weeks. Then there was the crazy snow storm when I was in high school. Two feet here in Raleigh, leaving us out of school for two weeks again. They ended up just telling us to go to school if we could, but absences wouldn't be counted against you. Power was out for days and even weeks again, but the aftermath wasn't as bad.
What about for you? Depending on where you live, you may remember other storms. I don't remember Hurricane Katrina very well, except for deciding to drive home from college that weekend and there not being any gas Charlotte and West. But I'm sure those along the Gulf remember things very differently.
This infographic shares information on how devastating storms were each year. Some may not have affected you at all, and you may have been in the heart of others. For those that you didn't experience first hand, ask you students to find before, during, and after photos to get a better idea of the devastation. I did this for Hurricane Fran when I was in college. I found photos of flooded streets and had my father back home drive around and take photos of the same streets today, to show how busy the streets are. Everyone was very impressed and this particular project stands out in my mind.
Blog: http://visual.ly/extreme-weather-extracts-heavy-toll-across-states-1992-2012
keep looking »